There is, probably, no steam yacht on the St. Lawrence River that brought more delight to passengers, or spectators, than the Cangarda, from the early 1900s to the summer of 2011!

So, we are pleased to reprint another history of this very special vessel.  Kim Lunman of Brockville, and the writer and publisher of the print magazine  Island Life, wrote three articles for TI Life about Cangarda, (also remembered as the Magedoma), once owned by the Canadian Fulford family in Brockville: Fulford's Steam Yacht Afloat Again, Sequel: The Cangarda's 'Faithful Guardian' and Fulford Yacht's Historical Homecoming.

Following Kim's article about the vessel's return to the Thousand Islands in June of 2011, Charles Maclean Cauchand wrote Charlie and The Magedoma… Romance and Tragedy on the River telling the (romantic) story of how his grandmother and grandfather met on the Magedoma and were given a wedding present from the steam yacht's crew.

We thank Dick Sherwood for sharing the full Cangarda story with our readers.  Dr. Robert McNeil is responsible for its restoration to its former grandeur and its visit to Brockville. It is a beautiful ship and he is to be applauded for his efforts to preserve a piece of history.
The Gilded Age of the Thousand Islands brought its share of luxury yachts to the St. Lawrence River and northern New York. This is the story of one of those yachts – one with an unusual connection to the Finger Lakes Region. Cangarda spent nearly three decades docked on Rochester's Genesee River (generally unnoticed), was nearly lost but ultimately survived in a beautiful restoration.
---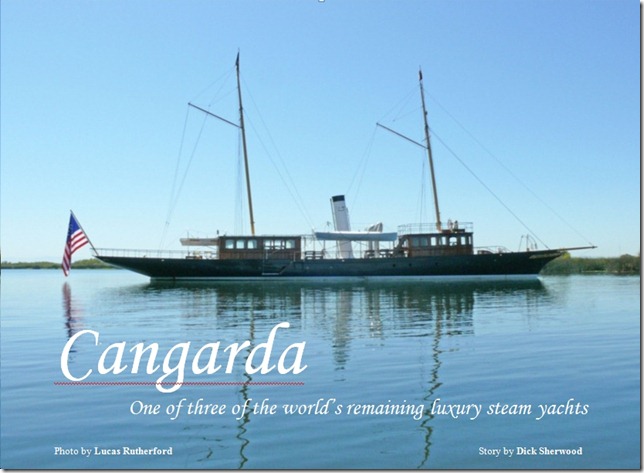 Photo by Lucas Rutherford.  Photo courtesy Rutherford's Boatshop, Inc. Richmond CA.
It was May 2010, and four members of the Sherwood family had met in Portland, ME for a spring trip to the Canadian Maritimes via the Maine coastline. The preseason harbor at Camden, ME had only a few boats docked and one of them was a most unusual-looking craft. It was over one hundred feet long with a rather narrow beam, had two separate cabins on its main deck, and carried a long bowsprit reminiscent of the old clipper ships.
Not to be discouraged by a small sign next to the boarding ladder which read PLEASE DO NOT BOARD, I got the attention of Steve Cobb who had been working in the engine room. He turned out to be the boat's chief engineer and part-time skipper. After establishing my interest in old boats, he invited me aboard and outlined the history of the boat. That's when I realized that I had seen this boat docked on the west bank of the Genesee River in Charlotte, NY, a suburb of Rochester. It had been there for years, and for years I had looked down on it as I crossed the old Stutson Street Bridge en route to and from rounds of golf on a nearby course. But for one reason or another, I had never stopped to learn more about the boat or why it was there.
This is the belated story of Cangarda.
__________________________
The year was 1901, and Charles Canfield had been very successful in the Michigan lumber business. To celebrate that success, he and his wife, Belle Gardner, had a luxurious clipper-bowed yacht built named Cangarda, derived from portions of their two last names. In remarkably short order (five months), the steel-hulled yacht was built and outfitted. On the main deck it had a dining salon forward and a drawing room aft. A flying bridge was located atop the forward cabin. Below decks it had two single staterooms, a double stateroom and an owner's stateroom, the latter featuring a Tiffany skylight and an adjoining "head" with shower. A second Tiffany skylight was located below the aft deck.
However, during Mr. Canfield's first and only cruise on the brand new yacht, he was caught in a rather indiscreet situation with a young married woman onboard as a guest. The resulting Canfield divorce caused the yacht to be put up for sale as part of the settlement.
__________________________
Second Owner
George Taylor Fulford of Brockville, ONT, Canada bought the boat in 1904, for $100,000.
Appointed a Canadian Senator in 1900, Fulford made his fortune selling "Dr. Williams' Pink Pills for Pale People" in 87 countries around the world. His secret was pervasive advertising which promoted the curative powers of his pills. They contained mostly sugar and iron, but because anemia was a common undiagnosed ailment among many populations of that era, the pills may have actually made some people feel better.
Sen. Fulford changed the name of the yacht to Magedoma, using the first two letters of his wife's name (MAry), and the first two letters of his three children's names (GEorge, DOrothy and MArtha). Fulford Place, his family's 20,000 sq. ft. Victorian home in Brockville, ONT, became Magedoma's homeport. Tragically, the Senator was killed in a 1905 automobile accident in Newton, MA when his chauffeur-driven limousine was sideswiped by a trolley. Nevertheless, Magedoma remained in the Fulford family estate until 1913, when ownership was transferred to Mary Fulford. She retained possession until 1941, and the start of World War II.
In those intervening years, Mrs. Fulford frequently used the yacht for a variety of occasions including one notable dinner cruise from Brockville to Kingston, Ontario on August 5, 1927. Dignitaries onboard included Prince Edward of Wales (later to become King Edward VIII of England in 1936, only to abdicate later in the same year to marry Wallis Simpson), the future Duke of Kent, Prince George, British Prime Minister Stanley Baldwin, former Canadian Prime Minister Wilfrid Laurier and the Canadian Prime Minister Mackenzie King.
In 1941,Magedoma, was loaned to the Royal Canadian Naval Volunteer Reserve, Kingston Division, for cadet navigation training for the Royal Canadian Navy during World War II. After the war, it was returned to the Fulfords along with a check for $13,000. (in 1947 dollars) as compensation for the wear and tear incurred during its time in the naval service. However, $13,000. wasn't anywhere near enough to cover the cost of repairs, and as a result, the Fulfords put the yacht up for sale.
__________________________
Third Owner
 D. Cameron Peck, of Chicago, an avid collector of vintage automobiles and yachts, bought the boat in 1951 (price not identified), with W. Gordon Edington of Toronto acting as his agent for the acquisition. With the yacht berthed in Toronto, Peck also gave Edington direction to do whatever was necessary to fully restore the yacht, including the conversion from coal to an oil-fired boiler.
However, in 1952, Mr. Peck became convinced that he was suffering from terminal cancer and his remarkable collection went up for sale. (Although certain of his immediate mortality, Mr. Peck moved to Arizona and lived for another 30 years!)
__________________________
Fourth Owner
Frederick Burtis Smith of New York City, Miami, FL and Rochester, NY bought the boat in 1954, changing its name back to Cangarda. The son of a wealthy Minneapolis attorney, Mr. Smith was a New York City architect who socialized with the Rockefellers, John Barrymore, et al, in the 1920s. He was a life-long bachelor and was characterized as a "retiring, very proper Edwardian gentleman." He was fascinated with steam yachts and lived aboard boats for 60 years.
When Mr. Smith bought Cangarda in 1954 (price not available), it was still lying in Toronto, and Canadian authorities pressed him to have the vessel removed from Canadian waters immediately after the purchase. So, Smith had the boat towed across Lake Ontario to Rochester, NY, "…simply because it was a place to dock the boat," he said. And that place was the west bank of the Genesee River in front of the New York Central freight terminal on River St. in Charlotte, about a quarter of a mile from the mouth of the Genesee where it flows into Lake Ontario.
Smith lived aboard Cangarda for the next 29 years, always intending to restore it. Although that restoration never did occur under his watch, he did do routine maintenance and is credited with keeping the boat in fairly good shape for nearly three decades.
Finally in 1983, Smith put the yacht up for sale for $150,000. plus a commitment that $750,000. would also be spent on its restoration. Nearly 40 inquiries were received in the first month after its availability was announced, and the boat was sold within the year. With that transaction completed, Mr. Smith moved to Rochester's University Club in the city. He died in 1987 at the age of 86 – the same age as the boat he had lived in for so many years.
_________________________
Fifth Owner
Richard Reedy of Gloucester, MA became the yacht's next owner. After acquiring it in 1983, he had it towed to Boston Harbor ("wearing" a swimming pool liner to keep it afloat) for an intended restoration. He had the boat disassembled and the joinery stored in the Boston area. The main and auxiliary engines were restored at the Kew Bridge Steam Museum in London, England. However, after spending $850,000. on the restoration, poor health halted the project, and in 1999, the gutted hull sank in Boston Harbor!
__________________________
Sixth Owner
J Class Management, Elizabeth Meyer, President. Founded in 1988, J Class Management provides engineering, design work, publicity, charter and sales brokerage and management of classic yachts – mostly classic sea-going sailing craft.
In 2000, Ms. Meyer, known as the "Savior of Classic Yachts," accepted Cangarda as a donation just as the Massachusetts Port Authority was set to scrap the sunken hull. She raised the hull, collected the scattered parts of the boat in Fairhaven, MA, and began looking for a buyer who would undertake the yacht's restoration. Asking price was $500,000.
__________________________
Seventh Owner
In 2002, Dr. Robert McNeil, a venture capitalist from Marin County, CA, (just north of San Francisco) purchased Cangarda, retaining J Class Management as consultants.
Dr. McNeil earned his Ph.D. in the fields of molecular biology, biochemistry and genetics in 1972. In 1979, he founded Sanderling Ventures, a successful biomedical investment firm, and has been the company's Managing Director ever since.
Early on it became clear that the original hull could not be salvaged. So, using the latest in laser measurement equipment and techniques, the lines were carefully taken off the old hull in Fairhaven, MA, corrected for distortions, and a new hull was designed. The top two strakes, rudderpost, bulkheads, stem, machinery, deck houses, skylights, hatches, cowling vents, davits, fittings and interior joinery from the original hull were shipped to Rutherford's Boatshop, Inc. in Richmond, CA on five flatbed trucks. (The remains of the original hull were scrapped.) In 2004, Jeff Rutherford and his crew, restorers of classic yachts and specialists in marine woodworking, and Steve Cobb, project manager and engineer began a six year, $12 million restoration project.
Instead of fastening the steel hull plates with rivets as in the original construction, the new hull was welded throughout and included four water-tight bulkheads.
The plated hull was primed and painted using modern paints, and a modern high efficiency prop was installed. The Cuban mahogany joinery, including the two main-deck cabins and interior, was refurbished and reinstalled. New teak decks were laid and new wooden masts and a new bowsprit were turned.
In the engine room an oil-fired boiler replaced the coal-fired unit for cleaner operation and simplified fuel handling. The rebuilt original Sullivan engine was reinstalled along with the six auxiliary steam engines and all the necessary interconnecting piping.
Electrically, the original 32-VDC slate electrical panel was retained with its wire fuses for display, but a modern panel now takes the load for safety. And all new wiring was run throughout the vessel. To meet federal maritime laws, the yacht has been equipped with a modern navigation system, radio and autopilot. Also, a computerized boiler monitoring and control system has been installed to eliminate the need for a full time "fireman" in the engine room while underway.
On Aug. 24th, 2007, Cangarda was taken by trailer to a launch ramp in Richmond's Marina Bay as the first step in returning the completed boat to the east coast and Camden, ME via the Panama Canal. After stepping the two masts, it was backed down the ramp in the time-tested manner of launching many a boat. However, with the stern section afloat and the bow section still on the trailer, Cangarda rolled heavily over on its starboard side without warning. Quickly, the launch crew backed the trailer further down the ramp so the bow could float free and the ship righted itself, fully afloat in the water. The heart-stopping event was captured on video and can be seen on You Tube at SY Cangarda Launching.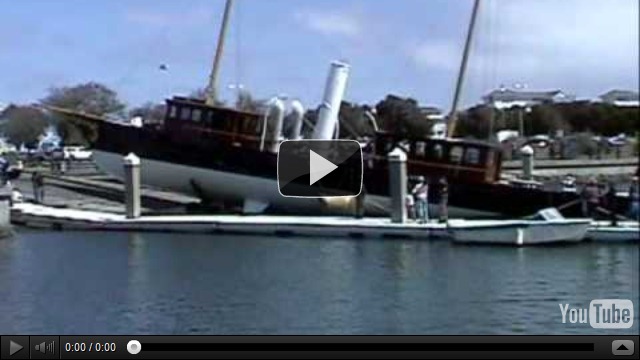 The launch of the "Cangarda". The video was shot by Steven Harcourt of South Lake Tahoe, California. His son, Wesley Harcourt (also of SLT, CA, USA) edited and posted it on YouTube. The Harcourts are avid steamboat aficionados with three steamboats in their family fleet; a 21ft and 22ft launch, and a 40ft boat that is currently under construction. (See http://www.youtube.com/user/bilgerat671 for Wesley Harcourt's other videos)
Immediately after getting its Certificate of Inspection from the US Coast Guard, Cangarda left San Francisco Bay on April 24th, 2010, and steamed south down California's west coast to San Pedro and the Port of Los Angles. En route, boiler problems surfaced and are described in a blog at www.tallshipdesigner,blogspot,com/
The plan had been to continue down the west coast, through the Panama Canal, through the Caribbean, and up the east coast to Camden, ME, Dr. NcNeil's summer home. But the inshore nature of the yacht, the lateness of the season, the desire to minimize wear and tear on operating systems and avoid several hundred miles of fuel consumption, convinced the skipper that it would be best to transport the yacht by YachtPath, a transport service which moves boats – big and small -- all over the world by sea-going carriers. So, reservations were made for Cangarda to be loaded aboard one of Beluga Shipping's heavy lift ships at Ensenada, Mexico for its trip to Port Everglades.
However, the transport ship was running three weeks late, so Cangarda made a stop at San Diego where it competed in a friendly but colorful race with Medea, owned by the San Diego Maritime Museum. Medea is a 137-ft. luxury steam yacht built in Scotland in 1904. The third remaining Edwardian steam yacht, Ena, is home-ported in Australia.
The big race took place on May 15th, 2010, over a ten-mile course on San Diego Bay and took one and a half hours to run. Medea won the test, although Cangarda can produce steam at 250 psi. vs. Medea's capability of only 100 psi. That difference directly effects engine power output and gave Cangarda a distinct speed advantage. Dr. McNeil allowed that as a guest, he was being polite and let the other boat win.
Finally, Cangarda was loaded aboard the Beluga ferry and reached Port Everglades, Florida two weeks later. There, it was off-loaded and immediately got underway, steaming north for six days, using the Intracoastal Waterway only briefly near the Florida-Georgia border due to heavy seas in the Gulf Stream. The yacht made its way to Camden, ME and that's where, on May 8th, I unexpectedly came upon Cangarda, just as related at the start of this story.
While in Camden, the yacht was hauled to repair damage incurred during the launch back at Marina Bay and to address a series of cracks in the paint caused by the dark green hull color. Work was also done on the new boiler and its control system, addressing the problems encountered while steaming down the west coast from San Francisco.
One of the first objectives after returning to the east coast had been to return to Fulford Place on the St. Lawrence for a memorable homecoming. So, on May 24th, 2011, Cangarda left Camden, stopping briefly at Portland, ME, Gloucester, MA and New York City, then up the Hudson River to Albany and a stop at Scarano Boat Builders to unstep the masts. It entered the eastern end of the Erie Canal at Waterford, NY for passage to Three Rivers (near Liverpool) where it entered the Oswego Canal taking it north to Lake Ontario. The next port of call was the Antique Boat Museum at Clayton, NY on the St. Lawrence. After just a few days at the ABM waiting for a weather front to pass, the yacht headed down-river to Brockville, ON.
At Fulford Place, Cangarda docked alongside the former Fulford boathouse, now a private residence owned by Isabel Young and husband, Michael Bottigoni. The Toronto couple bought the residence in 2006, and have maintained an interest in its unique history ever since. They opened their home and historic dock to the yacht and its crew for several days during the vessel's visit, hosting a private reception on June 3rd. Dr. McNeil told the crowd of about 80 people that the $12 million restoration had not been an easy task after several years of delays. He paid tribute to a team of restoration experts led by Jeff Rutherford, one of a large crew of family and friends who accompanied the Cangarda on the voyage home to the Thousand Islands. Later, the yacht moved to the city's Blockhouse Island for several days where the visiting public enjoyed tours of the yacht for a nominal fee as a fund-raiser for Fulford Place Museum.
After Brockville, the yacht visited Montreal, QUE and then returned by the same route stopping briefly at the Fulford boathouse and the ABM at Clayton before running for four days on the Oswego and Erie Canals to Waterford and Scarano's to step the masts. Then, down the Hudson into Long Island Sound, a stop in Newport, RI, and home to Maine with Dr. McNeil's classic sail boat, Joyant (a 1911 P-Class Nathaniel Herreshoff classic racing yacht), in tow.
In the summers ahead, Dr. McNeil plans to use the yacht for cruising and appearances at various marine events. For winters, an arrangement has been struck for the yacht to winter-over at the Mystic Seaport Museum in Mystic, CT where visitors will be able to see it from the wharf.
By Dick Sherwood, former Editor,  Finger Lakes Chapter's (ACBS) newsletter Brightwork.
Dick Sherwood is a retired Eastman Kodak Co. Engineering Manager who has been active in the Antique and Classic Boat Society since 1985. As the Finger Lakes Chapter's (ACBS) former newsletter editor, he has written extensively about vintage boats and boating primarily in the Finger Lakes Region over the last 20 years. He lives on the south shore of Lake Ontario near Rochester with his wife, Cynthia. This is his first article to appear in Thousand Islands Life. [Photographs courtesy Tri-Costal Marine]
Author's Note 

A huge thanks to Steve Cobb for providing information used in this article and for critiquing the finished piece. His willingness to share his experiences is greatly appreciated. And thanks to Ian Coristine for the use of his excellent

The above article was first published in Brightwork, the quarterly newsletter of the Finger Lakes Chapter of the Antique and Classic Boat Society in December 2011. That resulted in a number of letters and phone calls, and some updates and corrections about Cangarda's history, all reflected in the above article. But excerpts from a series of e-mails from Rochester resident, Louis Richards, provides some unique insight into the time that Cangarda spent while berthed on the Genesee River:
I very much enjoyed your recent (December 2011) update on SY Cangarda. Burtis Smith was like a second father to me, and it is likely that I am the only living person who can resolve some of the questions that remain from the decades Burt owned the vessel. Cangarda was fortunate to have had two loving stewards -- Mary Fulford and Burtis Smith -- without either of whom she would not exist today.

Burtis was living in Miami at the time, aboard a boat as he had since the 1920s. His desire was to restore Cangarda. As an architect, he appreciated her fine lines (what a stunning sheer line) and he was an avid steam enthusiast. Unfortunately, he suffered some business reverses, as happened to the next owner, Richard Reedy.

Burtis told me that he acquired Cangarda at a time when Peck, believing himself ill and at death's door, sold a great part of his vintage collection (probably including Cangarda). There remains chatter on the Internet about this incredible sale in 1952. Peck lived, perhaps for another decade or more. He was a very colorful individual and information is available if you Google him.

Burtis was put off by an inappropriate and disproportional fireplace and mantle that D. Cameron Peck had begun to install in the owner's suite. It was not part of H. C. Wintringham's original design and Burt removed it. I only recall the hearthstone remaining during the decades that he lived aboard the yacht.

Burtis occupied the commodious owner's stateroom, which features a Tiffany skylight and an adjoining full bath. I frequently used the single stateroom on the port side; there is another single stateroom and a head across the passageway on the starboard side. At the end of the passageway there is a sitting area and the entrance to the double stateroom, also crowned with a Tiffany skylight, located beneath the afterdeck.

I met Richard Reedy. He was a charming man and an avid steam enthusiast, too. He had a ton of money and spent it liberally on the boat. Burtis liked him, desired to see Cangarda restored, and spent time at his home in Massachusetts. When Cangarda reached Boston, Burtis (who had remained aboard during the tow) was interviewed by The Boston Globe. Sadly, the boat would continue to languish.

 

When Burt was living at Rochester's University Club, another resident member was quite elated after he had just purchased a Rolls-Royce, and he took Burt for a drive. Traveling along, the proud owner asked Burt if he had ever ridden in a Rolls before. Burt replied, "Well, never in the front seat."

Thank you for this wonderful opportunity to return to the past, full of so many memories of delightful dinners in the dining saloon, cigarettes and coffee on the fantail and, of course, grubbing around in the engine room. Thinking about Burt at this time of year (Christmas Holidays) makes me feel great. A bit of an anachronism -- he was very quiet, reserved, proper, always wearing a tie -- he possessed an almost childlike naiveté and openness that you rarely see today. I think the strongest curse I ever heard him utter was, "That burns me up!"

Louis
  In 2004, Jeff Rutherford and his crew of restorers of classic yachts and specialists in marine woodworking, and Steve Cobb, project manager and engineer, began a six year, $12 million restoration project for Dr. Robert McNeil. The architectural firm responsible for the structural engineering, production drawings, specifications and supervision of the fabrication was Tri-Coastal Marine (TCM) located just 50 yards from the Rutherford Boatshop, Inc. in Richmond California.   Both the Rutherford Boat Shop Inc. and Tri-Coastal Marine have additional photographs of this very important restoration work on their websites.