I love history. When I'm in residence on Grenell, I'm surrounded by history. Our cottages are layered in memories of generations who have summered here since 1880.
One hundred and thirty years seems like a long time, but after reading Shaun McLaughlin's book, Counter Currents: A Story of Smugglers, River Pirates, Love, War and Freedom Fighters in 1838, I realized that 100 years is just the top veneer, the most recent history of the Thousand Islands as a summer resort area. Before that, the Thousand Islands was a place where people lived, toiled and eked out a living. The islands seem so peaceful, but as a border between two countries, this area has had its share of conflict.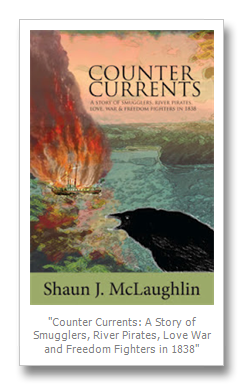 Shaun McLaughlin maintains two history blogs: one on the Patriot War and other Canadian-American border clashes and one on William "Bill" Johnston, the Thousand Island legend. Shaun recently published two books: one a novel called Counter Currents and the other a nonfiction book on the Patriot War. I recommend both for your island libraries.
The novel also deals with the Patriot War fought between 1837 and 1842. I asked Shaun when I called him if the Patriot War was something he learned about in Canadian schools when he was growing up. I love American history—but I've never heard of the Patriot War. Shaun said he did learn about the Patriot War growing up as a lad in Canada, but it wasn't covered extensively. If you're like me and have never heard of the Patriot War, Shaun sums it up best on the back cover of his nonfiction book, The Patriot War Along the New York-Canada Border: Raiders and Rebels: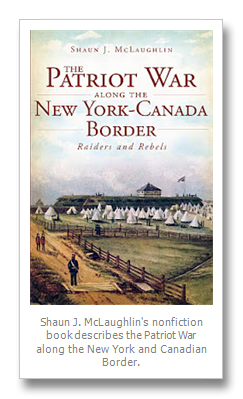 "During the Patriot War, fought between 1837 and 1842, hundreds of men on both sides of the New York-Canada border took up arms to free Canada from supposed British tyranny. Infused with the Spirit of '76 and inspired by the recent Texas revolution, they fought bravely in battles, skirmishes and attacks…"
While I hadn't heard of the Patriot War, I've certainly heard of Bill Johnston, a central character in the novel. Shaun came across Bill Johnston while in college. He wrote a 5,000 word paper on the man back in 1974 and knew then that someday he would write a book about the pirate/smuggler turned lighthouse keeper. Shaun's nonfiction book is loaded with sketches and diagrams and serves as a great companion guide to the novel.
Counter Currents actually started as a short story back in 2007 with an invented character named Ryan Lone Pine, the protagonist of the book. Friends who read the story liked the character so much they encouraged Shaun to expand the short story into a full-length book. I'm so glad they did.
Of all the named characters in the novel, only the protagonist Ryan Lone Pine and six others are fictional. "Any character presented with a Christian name and surname existed in the occupation and location at which this story places them (to the best of my knowledge)," Shaun says. "Where I had a physical description of them, I gave it. None of the major historical events and institutions is an invention. The names of the towns and places are those used in 1838, and several have since changed."
A researcher, journalist and technical writer for over thirty years, Shaun did not skimp on research. "If I write that there is a quarter moon that night, then there was a quarter moon that night," he told me.
Meet-The- Author & Book Signing
 Novel Idea Book Shop

Saturday, April 7
1-3:00 p.m.
156 Princess Street
Kingston, ON.
While based in historical fact and imbued with relentlessly researched detail, it was the story that captivated me. I was hooked from page one. The protagonist is a likable lad. Ryan is a recent Irish immigrant to Canada who spends his first year in the new world living with an Algonquin family, who teaches him to live off the land and gives him his new surname, Lone Pine. I was most intrigued with Ryan's feathered sidekick, a raven named Zak. The details were so compelling, that I wondered if Shaun had a pet raven. No pet raven, but Shaun does have a dog. Shaun decided a raven would be a better companion for his protagonist and named the raven after his dog, Zak.
I was impressed with the language of the book. The phrases and words Shaun used made me feel I had stepped back in time. I wasn't surprised when Shaun told me he had diligently considered every word and every phrase to make sure it was period appropriate then pruned and edited until the prose was not just accurate, but readable.
Shaun is a kayaker and more than once has put in either from the Ontario or New York shore and paddled about the islands. That is why the scenes with Ryan in his canoe with his raven, Zak, on the bow ring so true. I know this summer as I sit on the dock I will be able to close my eyes and see Ryan paddle by in his canoe or row by in his skiff on a smuggling run for Bill Johnston.
I can see the Rock Island Lighthouse from our front dock and I know my view of that sight will be forever enhanced knowing more about the man who was once the lighthouse keeper there and his escapades in the islands during the War of 1812 and the Patriot War.
2012 marks the 200th anniversary of the War of 1812 and the 175th anniversary of the Patriot War, so both the books are a timely read. Good news to readers out there. Counter Currents is an e-book. You can download it right now and start reading it in the next five minutes. If you're like me, you've been away from the islands for awhile and need an island fix. I was also happy to learn that Shaun is working on a sequel and that Ryan Lone Pine will paddle into my life again.
By Lynn McElfresh, Grenell Island
Lynn McElfresh is a regular contributor to TI Life.  She is an author herself as well as a ghost writer for several children's books.  Lynn and her family live on Grenell island and she has captured the spirit of the island in several stories over the past three years.  See  the complete list of Lynn's article here:  Lynn E. McElfresh .