In January I had a phone conversation with Charles Darwin Snelling, from Estrellita on Fairyland Island which is near Alexandria Bay. I asked how he and his wife, Adrienne, had discovered the Thousand Islands. He began by talking about the weekends they spent in the Islands on the Pot Pourri (French for "a little bit of everything"):  "My invention was a hodgepodge , and unconventional, so I thought that Pot Pourri was an appropriate name.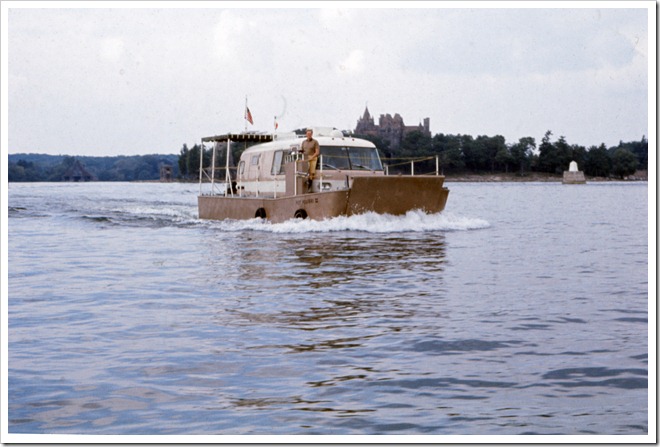 The "Pot Pourri" with a Dodge Motor Home perched on top!
Photo courtesy the Snelling Family Album
What you see is a photograph from 1965 of the Pot Pourri plying the St. Lawrence River with a Dodge Motor Home perched on top! Its designer, or perhaps a more appropriate name, inventor, is Charles Darwin Snelling who like his father is responsible for dozens of patents.
Our story begins not in the Thousand Islands, but in Pennsylvania where Walter Otherman Snelling, a chemist, raised a large family in Allentown.  Walter O. is also considered the father of the propane gas industry.
From the New York Times of March 31, 1912 we learn : "Camping out parties and bungalow residents can now have a lighting plant of their own. Dr. Walter O. Snelling, consulting chemist of the U.S. Bureau of Mines, has developed a liquid gas and a steel bottle that will carry enough fuel to light an ordinary house for three weeks or a month."  Dr. Snelling was also an adventurer to insisted of showing his children his world.  Each year they took three-month, summer, family trips.  One year to the Eastern USA, the next to Western USA, and then to Europe.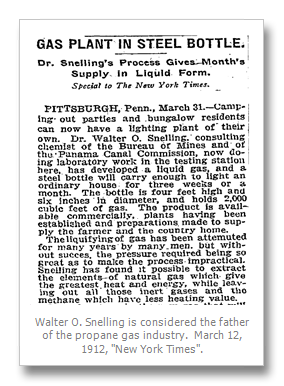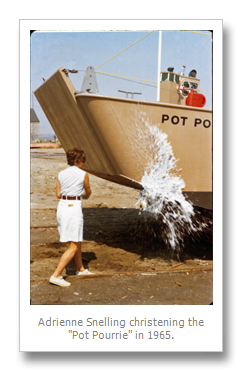 The Eastern circuit was along the Atlantic coast to Martha's Vineyard, Nantucket, and Bar Harbor. Then across Maine, the White and Green Mountains, to Lake Champlain, and eventually the Thousand islands and finally through the Finger Lakes back to Allantown.
The mode of holiday transportation was also unique for its time, "All this was accomplished in a slightly battered but still respectable seven-passenger Packard limousine with a huge trunk on its luggage rack and towing a Gilkie camping trailer."  writes Charles.  "This latter device, incidentally, was always the cause of excitement and interest.
Bought from the inventor of the travel trailer and one of the first dozen ever built, it folded down for road travel to a metal box about 8 feet wide and 12 feet long and 5 feet tall, but when "opened up" it became a huge tent house. It was designed to sleep four very comfortably in extended sides with plenty of room to get to the ample cupboards and the wash basins and all that. As the youngest at the time, I got to sleep inside with my sister and my parents. My three older brothers slept on cots sheltered from the weather by being arranged under the extended sides."  In fact the Snelling family still owns its Gilkie!
Throughout those years Charles' visits to the Thousand Islands were his favorite.  So in 1954 he brought his Adrienne to the islands for the first time. Over the next ten years, the Snellings did a lot of boating in the ocean off New Jersey, New York, Connecticut and Massachusetts and they bought a Dodge Motor Home and towed a 20-foot, Brunswick, offshore cruiser.
"When we went out on the boat on Friday, we always had to come back to our starting point, to get the car and trailer, in order to return to Allentown. I found that very limiting, so I came up with the idea of cruising with the motor home."
He took his rough design of this new watercraft to a well-recommended shipyard in Newport, Rhode Island to have it built. He also took out a patent on the design, although there was no business plan involved in those young entrepreneurial days.
When the new invention, complete with engine, was christened, the family began their excursions.  They went away each weekend by heading south to, and around, Manhattan, or up the Hudson River. The  NY barge canal took them to Oswego and they headed for the Thousand Islands.  Over time they travelled around the River region.
Eventually, they purchased Belle Island, which had a safe harbor but no house. It was here that Pot Pourri spent its weekends, returning to the mainland on Sunday. She would be tied up for the week while the family would dirve back to Allentown in the Dodge Motor Home!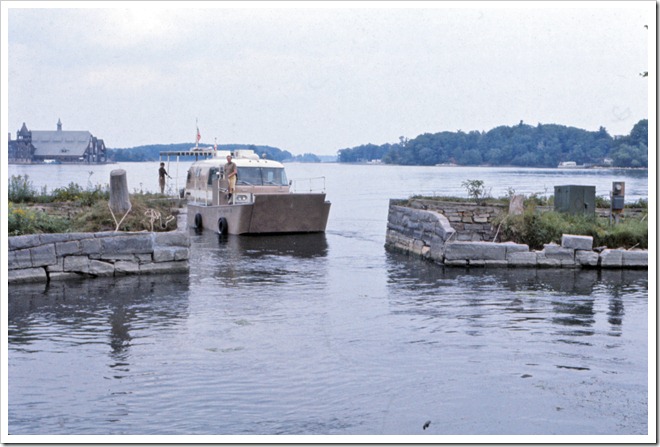 The "Pot Pourri" spent weekends in the bay at Belle Island.
Photo courtesy the Snelling Family Album
After ten years of excursions the Snelling bought Florence Island and a yacht called Sublimation. The purchase of a two-engine airplane allowed them to travel from Allentown, so they didn't really need the motor home. However, she was used on a few Western trips and they took her to Stowe Vermont for ski holidays.
In 1976 an oil barge hit a shoal and spilled 300,000 gallons of oil in the Thousand Islands, Charles sold the Pot Pourri to be used as a cleanup craft. He believes the old girl is still afloat but has no idea where!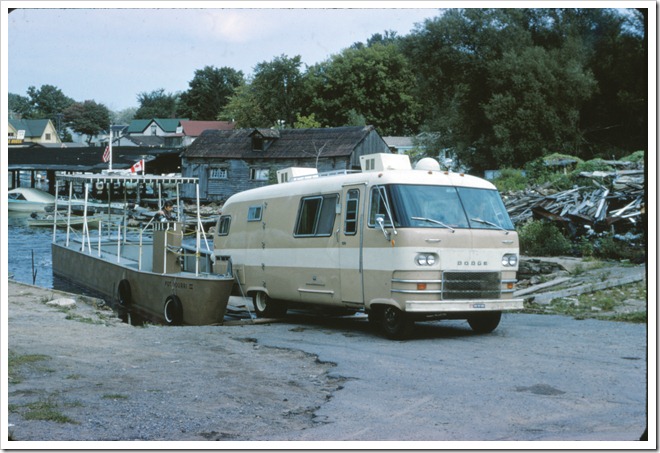 After a weekend cruising the Islands, the Snellings could easily head home to Allentown.
Photo courtesy the Snelling Family Album
I asked Charles if his ''project'' was successful?  He was frank, " The project was never successful except for my own personal use. The folks that I talked to about developing the idea loved it, but their market researchers turned up some unpleasant market realities. People who could afford my patented boat and a Dodge motor home found it not stylish enough. For the money, they preferred a real yacht, even with all of its limitations.
Charles's entrepreneurial accomplishments did not end with the Pot Pourri.  Charles went on to be an accomplished businessman.   This past October David Brooks of the New York Times asked readers over 70 to write and autobiographical essays evaluating their own lives. The Life Report  by Charles Darwin Snelling was published on December 7, 2011.  An appointee of the  President, he recently completed a term as Chairman of the Metropolitan Washington Airports Authority. His advice to those with an idea: '' If you like it well enough for yourself, just do it! If you're thinking of marketing the idea for profit, do your entrepreneurial investigations and market research before, not after, you build the prototype.'' 
This may be good advice, but the building of the Pot Pourri is a fine example of ingenuity, practicality and just plain weekend fun.
By Susan W. Smith, susansmith@thousandislandslife.com
Update:  It is with great sadness that I report that soon after this article was published in TI Life we learned on March 29, 2012 that Charles Snelling ended his life and that of his wife Adrienne Snelling who was suffering from Alzheimers Disease. the New York Times news article is available here.  In addition David Brooks responded to the news of the Snelling's death in a column published on April 3, 2012.