Editor's Note: I am pleased to introduce Kristen Taylor and thank her for accepting to capture some of the trepidation and excitement required when one makes the decision to give up a traditional "city life" and move to the North Country in the United States, or what is known as Eastern Ontario in Canada.

Kristen and Jonathan Taylor moved from the Washington, DC, area to Clayton in October 2010, three months before Kristen gave birth to their first child, Grace.

Despite advice from friends and family that the couple would be better off professionally and personally living in a metropolitan area, Jonathan and Kristen pushed forward and made the move. Jonathan is a fully licensed architect, and just recently started his own architecture firm, Taylored Architecture PLLC in Clayton. While living in the Washington, DC, area, Kristen was Vice President of a strategic communications firm. She now is the owner and founder of her own Clayton-based marketing and public relations company, Taylored Public Relations LLC
____________________________________
Taking the Plunge…
My husband, Jon, and I moved from the Washington, DC area to Clayton in fall 2010 after a few years of dreaming of year-round River living.
Jon is a native of Thousand Island Park and I a life-long seasonal resident of Fineview on Wellesley Island. In the almost-two-years that we have lived in Clayton, we have introduced our daughter, Grace, to the world, partially renovated our home, started two new businesses, and best of all, we haven't looked back. We always believed that if we were happy with our community, we could grow our family and careers even more successfully, and so far, that belief has served us well. Our inspirations for moving to the Thousand Islands came, of course, from our love of the River and all of the incredible things that come with River living. We credit our fortitude to take this plunge; however, to the many extraordinary stories and people who have successfully made this area home long before we ever did.
This column is an exploration of the stories and people who have decided to make the Thousand Islands a year-round home and the impact of such on the area. In this article, we feature two female entrepreneurs—Kim Lunman (of Brockville, Ontario), founder and publisher of Island Life magazine, and Peggy DeYoung (of Clayton, New York), owner of Porch & Paddle and Deer Run Studio—who made the decision to call the Thousand Islands their home, and from my perspective, have created a substantial and inspiring new layer to the Thousand Islands community.
If you know someone who has made the decision to call the Thousand Islands a year-round home (recently or long ago) and has an interesting story to tell, please let us know so we may continue this column and see how the River stories unfold.
Living Her Dreams of Island Life: An Interview with Kim Lunman
Born and raised in Brockville, Ontario, Kim Lunman journeyed to Canada's far west and east coasts as an award-winning journalist before landing back in her hometown year-round and eventually founding and publishing the internationally distributed magazine, Island Life, which is now in its third year of publication. Here is my interview with Kim: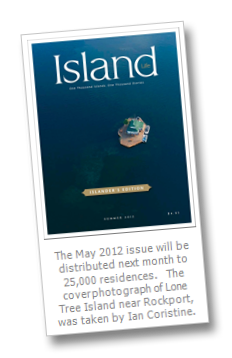 Why did you decide to move back to the Thousand Islands?
I didn't want to go back to the rat race or come here once or twice a year from somewhere else. I've been all over North America and it's awe-inspiring when you go down the River and see all the islands, castles and cottages. There's something inexplicable about growing up in the area. The River will always be a part of you.
What was the reaction of your family and friends to your move?
One reaction I got was, 'Where's Brockville?' People thought Brockville was a place to stop for gas. Some people are envious and some people don't get it.
Did you consider your decision a leap of faith?
Yes. I didn't have a 'Plan A' let alone a 'Plan B'. I was lucky to have a severance, which gave me a bit of a financial cushion. It gave time to think and time to be here. I thought about where I wanted to live and the answer was I want to live here.
How did you decide to start your magazine, Island Life?
After I moved back to Brockville, I got an offer to write at a local paper. I had an opportunity to meet Ian Coristine and I was blown away by his images. I pitched a whole series on the Thousand Islands to the local paper. The series evolved into a magazine because it was so popular. In fall 2008, the crash came. I was one of 600 people laid off by Canada's largest newspaper chain. A publisher in Kingston then approached me to do another magazine on the Thousand Islands. I soon after decided to create my own publishing company called Thousand Islands Ink in 2009  and launched the first issue of Island Life magazine in 2010.
What are the keys to success for your business?
Perseverance, discipline, hard work, and building relationships. Being and staying positive is also important. Obstacles will always come your way. I think there's no use in dreaming small. Dream big.
What's next for the magazine? What do you have coming up?
The 2012 issue of Island Life and the Islander's Edition are coming out in May. We currently distribute 25,000 free copies of the magazine through local newspapers in the U.S. and Canada and the Islander's Edition will be available to buy at stores throughout the Thousand Islands. In this issue, I write about my experiences living on an island called What If? and my adventures learning how to drive a boat. [She laughs.] I also write about Comfort Island, Carleton Island, Red Top Island, Temagami Island, the castles and more.
What are some advantages and disadvantages of living here year-round?
I call it the mouse race, because you get to work at home on your computer. I actually think it's an excellent place to draw younger people who want to work from home for themselves. Advantages are the lifestyle and cost of living. For me, I can also go to Montreal, Toronto, Ottawa, or even New York City anytime. The biggest drawback for me is the winter.
What are your three favorite things about Thousand Islands life?
Nature. Solitude. Fun. People who are truly River people speak River. They're happier. They're fascinated by its history and beauty. They don't just like the River, they love the River. It's so refreshing. It doesn't matter if you're on the Canadian side of the water or the American side, the River brings people together.
For more on Kim Lunman and Island Life visit www.islandlifemag.ca.  
An Internet Search for Island Life: An Interview with Peggy DeYoung
Looking for a change after spending her life in Wisconsin, Peggy DeYoung and her husband, Gary, looked up "island" and "jobs" on the Internet and there on the computer screen found a link to their future home, the Thousand Islands, New York.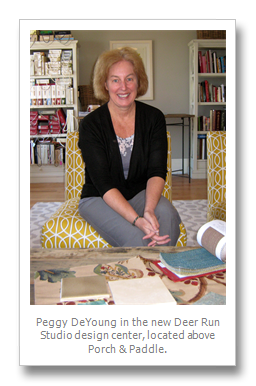 After Gary secured a position as Director of Tourism of the 1000 Islands International Tourism Council, a position he still holds today, Peggy and Gary made the move to Wellesley Island, where they have now lived for the last 14 years. Since their move, Peggy has made her mark on the Thousand Islands as the owner and founder of two successful businesses—Deer Run Studio, a full-service residential and commercial interior design business, and Porch & Paddle, The Cottage Shop, in Clayton. Below is my interview with Peggy:
Tell me about your decision to move to the Thousand Islands.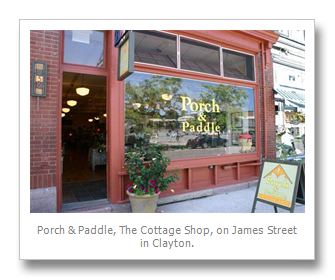 We were sitting in our home in Wisconsin and it was negative thirty degrees outside. We wanted a change. We did an Internet search for 'islands' and 'jobs' to find a tourism job for Gary, and the Thousand Islands came up. We were like, 'Where is that?' The pictures reminded me of visiting 'Up North' Wisconsin with my grandfather, where we would rent cottages along the lake. Gary and I came here for the interview and we knew we loved it. The area offered us things our vacations had, but we knew we could also work here.
How did you start Porch and Paddle and Deer Run Studio?
I knew I wanted to start my own business here. I opened Deer Run Studio and started doing commercial interior design. I had also always wanted to open a store and that fell into line. I founded Porch & Paddle and started out selling more accessories than big pieces, things people could add to their homes like area rugs, table linens, candles, dinnerware, and hammock swings. Word slowly spread. We ended up buying a building on James Street, which is our current location. The larger space allowed for more inventory and furniture, which enabled me to do more residential interior design work.
How do you choose your products?
Porch & Paddle offers home accessories and furniture at all price points. We want to meet everyone's needs—summer people, local people, and tourists. We offer items from five dollars and then also larger furniture pieces. We focus on vibrant summer colors and patterns of awning stripes, garden flowers, dragonflies, herons, and fish. This makes our shop unique to our area. We carry new lines and patterns each year for our new and repeat customers.
What's new this year with your businesses?
We have discovered thirty new lines, which will be available at Porch & Paddle when we open in May. We are a 'green' retailer. We recycle all of our packaging products and use recycled shopping bags. In line with that, we also are offering more reclaimed, recycled, and green accessories and furniture, much of which is also made in the USA. A lot of people also don't know we do interior design. Deer Run Studio is a full-service, by appointment interior design firm. We'll be opening a design studio above Porch & Paddle this year.
What are your three favorite things about Thousand Islands life?
First, the River. I'm a water person. I want to be in it and on it and under it. Second is the community and culture. The places, including the architecture, and the people here are so interesting. I also like that I can wear flip-flops and no makeup if I want to. [She smiles.]
For more on Peggy DeYoung's Porch & Paddle and Deer Run Studio interior design services visit www.porchandpaddle.com.
By Kristen Taylor
Kristen Taylor lives with her family in Clayton, NY. She is the owner and founder of Taylored Public Relations LLC  a Clayton-based marketing and public relations company.  Before moving to Clayton, Kristen spent eight years in Washington, D.C., where she graduated from The George Washington University and worked as Vice President of a strategic communications firm.