The first sign of the shipping season came early, one full day early to be exact.
Mississagi made its way from Hamilton, Ontario to Prescott prior to the official start of the season, but to many it happily began a new season. Temperatures hovering around 80 degrees in mid-March started to give river rats the summertime itch and seeing ships meant more beautiful island days were ahead.
As the Seaway officially opened for business on Thursday, March 22 at 8 a.m., ships lined up waiting their turn in the locks. Seaway tugs Robinson Bay and Performance returned channel markers to their summer resting places and Coast Guard cutters, which were left with little to cut, began their trek back to their homeports.
The islands region would enjoy its first full day of ship traffic on that Friday.
Disaster Strikes Early
It would only take less than a week before the first issues of the shipping season would arise.
In the overnight hours of March 27, the 105-foot tug Patrice McAllister, en route from Toledo, Ohio to the East Coast, caught fire. Crews from the US and Canadian Coast Guards would respond just after 2 a.m. to find the vessel completely in flames and crew members in the water. The Chief Engineer, who was stationed in the engine room where the fire began, would suffer the worst injuries of the 6 crew members, later resulting in his death.
Clayton's Abaco Marine Towing would be called to assist around 4 a.m.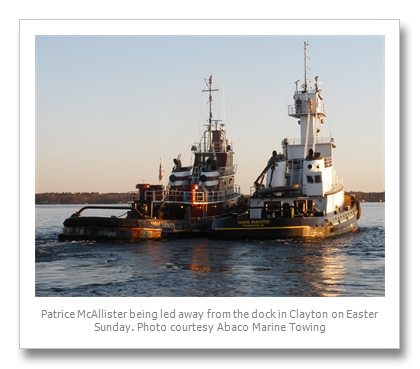 Bowditch, the former Army tugboat now owned by Abaco's Dewitt Withington, made the roughly 7 hour ride from Clayton out into the open water of Lake Ontario. When the tug arrived, the crew found the Patrice McAllister adrift, abandoned and still smoldering. Almost ten hours had passed since the emergency call was made.
"It took two hours of cooling before we could safely connect the tow," Withington shared in an email after the experience. "The heat was intense and made connecting the tow tough."
Withington would go on to proudly boast that his little tug, in comparison to McAllister, held up well and completed the task of towing the burned out tug all the way back to Clayton without incident, despite it taking nearly 12 hours.
McAllister would then sit at the Thousand Islands Regional Dock in Clayton for a little more than a week as investigators from the US and Canada came to take a look. Finally, on Easter Sunday, a sister tug would tie up alongside Patrice and lead the damaged vessel to the East Coast.
Leak Shuts Down Lock
The SLSDC reported on March 29 that the Captain Henry Jackman, carrying a cargo of salt, was stopped for inspection at Snell Lock after it was found to have released oil into the river.
A light sheen of oil was detected by SLSDC lock crews as the vessel departed Eisenhower Lock downbound the afternoon prior. The vessel was quickly directed to Snell Lock and boom was deployed around the vessel as a precautionary measure.
Navigation ended up being suspended at 6:30 pm and resumed at midnight while an assessment was conducted by U.S. Coast Guard and Seaway inspectors.
It is not known how the leak began, but the Coast Guard deemed the ship capable of continuing on its journey nearly 24 hours after being stopped.
Tall Ship Event Planning Underway
Last June was the first of what many are hoping becomes a long tradition of tall ship visits the Thousand Islands Regional Dock in Clayton.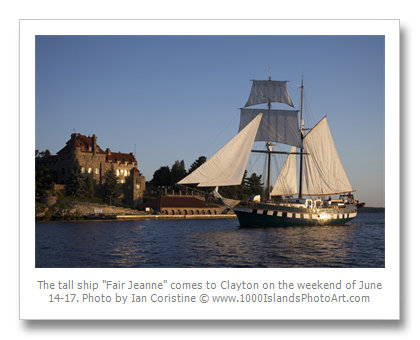 Sailing Seaway Clayton quickly became the talk to the town when tall ship Lynx sailed into port and spent more than a week docked in the small tourist driven village. More than 5,000 people would venture to the water's edge for a peek at the ship and some 450-plus adventure seekers would go sailing.
This year's event, presented by Caskinette's Lofink Ford, looks to be much of the same as well-known tall ship Fair Jeanne comes to Clayton on the weekend of June 14-17. In addition, a new feature has been added to the festival – Seaway Splash presented by TIMIS, Inc. This event will capture the heart of pet lovers. DockDogs, based in Medina, Ohio, will come to Clayton to put on this exciting dog jumping competition. Participants need no prior competition experience. Registration for Seaway Splash is now open by visiting www.dockdogs.com.
More event information is expected to be announced through the month of April as preparations move into full swing.
Lynx Launched Campaign; Honored by Village
The Lynx Educational Foundation, operators of 'America's Privateer,' War of 1812 replica tall ship Lynx, recently announced a capital campaign aimed to raise funds and awareness for both the Foundation and national armed forces charity, Intrepid Fallen Heroes Fund.
The 122-foot square top-sail schooner Lynx will officially launch a "$200,000 in 200 days" campaign on Saturday, April 14 when the ship is rededicated to her mission during a fundraising event at Mystic Seaport Maritime Museum in Mystic, Connecticut. The campaign is aimed at raising $200,000 between April 14 and October 31, 2012, or a total of 200 days, in honor of the 200th anniversary of the War of 1812.
Through a public donation program, the Lynx Educational Foundation will look to achieve this goal and share the funds raised with the Intrepid Fallen Heroes Fund. Lynx is scheduled to participate in various War of 1812 celebrations throughout the sailing season with multiple ports of call where visitors to the ship will have the ability to make a donation. In addition, those interested in contributing online are encouraged to log onto the Lynx website at http://www.privateerlynx.com/.
"Our quality of life endures through the efforts of modern-day heroes who continue to defend liberty, freedom, and justice for all," Jeffrey Woods, Executive Director, Lynx Educational Foundation said. "Let us not to forget those who fought for our nation's freedom and those who continue to defend it today. We need all hands on deck to join in our journey and help support America's Privateer Lynx and the Intrepid Fallen Heroes Fund."
In addition, just this past week, the Village of Clayton formally recognized Lynx as it's 'adopted tall ship' when Mayor Norma Zimmer proclaimed it such. The proclamation, signed by Zimmer, was sent to Mystic, CT in time for the ship's rededication ceremony.
Lynx will return to Clayton in the summer of 2013.
By Michael Folsom
Michael Folsom is a regular contributor to TI Life. He covers the Seaway News on his popular web site, http://www.theshipwatcher.com/, as well as a twitter site: http://twitter.com/theshipwatcher. His work has been featured in other various outlets, including Thousand Islands Sun, Know Your Ships, Boatnerd.com and more. In addition, he is the creator and organizer of Sailing Seaway Clayton and currently serves in the role of Campaign/Public Relations Manager for the Lynx Educational Foundation and tall ship Lynx.
TI Life followed Sailing Seaway Clayton last year and once again it promises to be a great success.  Many in Clayton consider the week last year as the best organized and most successful event ever!  Be sure to watch for the Fair Jeanne to arrive and, of course, those jumping dogs!