Written by
Martin Zonnenberg
posted on May 13, 2012 07:41
Editor's Note:  Martin Zonnenberg is one of our region's most patient and accomplished photographers.  I wrote his profile in June 2010 with his photographs from Grindstone Island.   This winter I visited Martin at his home in Mt. Dora Florida.  I was able to "squeeze" into his photographic blind that he placed on the shoreline on his property.  From there he can watch the world of wildlife go by.  That day we did not see any gators, but we did see many birds.  In late April Martin sent this photo essay to TI Life.  I am certain you will be just as amazed as he was.
One early morning in April (2012), while sitting in my photo blind in Mt. Dora, Florida, and observing all kinds of wildlife activity going on around the nesting boxes on our shoreline, something all of a sudden  a noise caught my full attention.
A female wood duck left her nesting box and landed right underneath her box.  She started to make a very special kind of call, very softly...…  A call which I had never heard before.
She kept on looking upward and 'the miracle', which I had never seen before, started to happen.  Very quickly, one after the other, 15 baby ducklings came all tumbling down without any hesitation, they splashed in the water and started swimming right away to 'momma duck' who kept on calling until all baby ducklings were there.
Right away, without loosing any time, she took all 15 ducklings to safety, deep inside the reeds.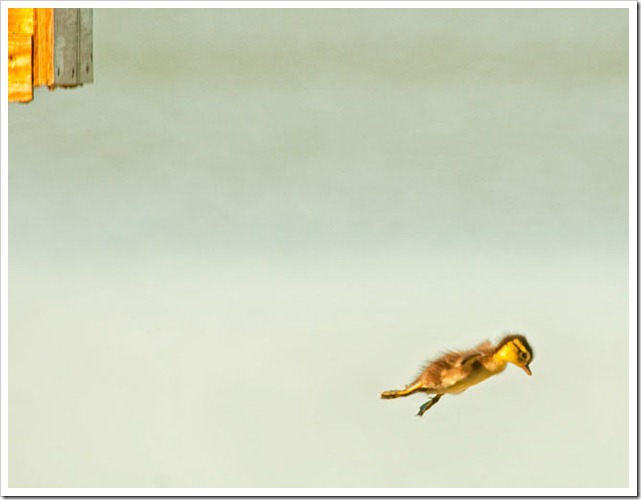 One after the other came tumbling out of the next box…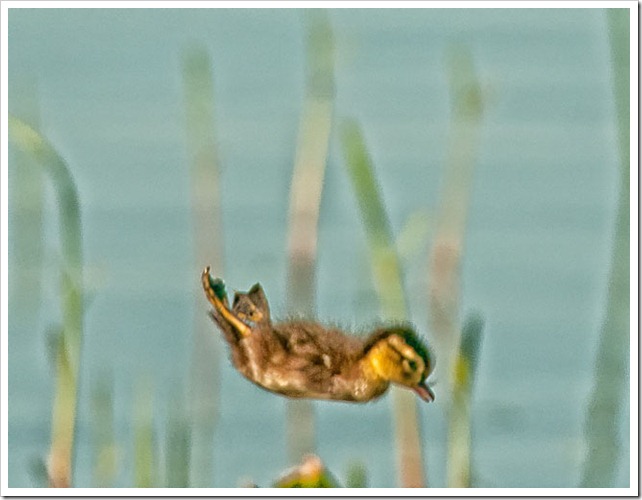 A duckling came tumbling down…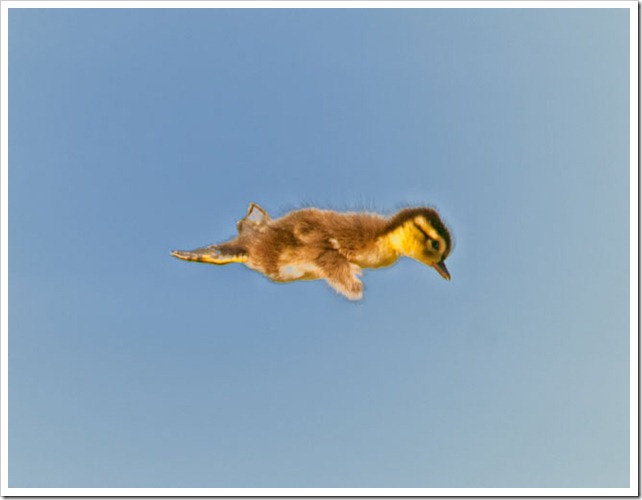 And tumbling down they came a total of fifteen…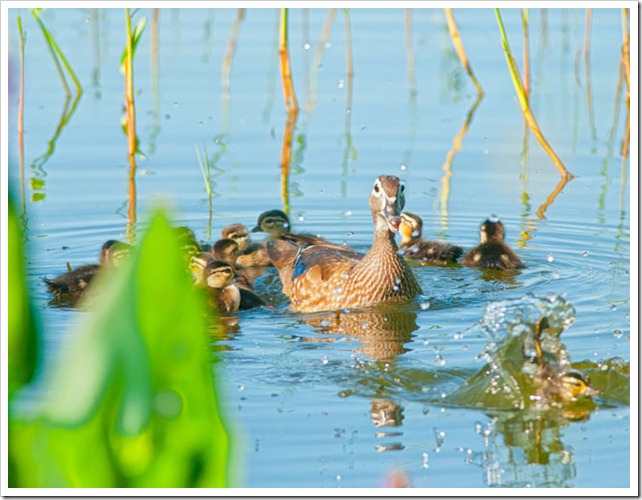 Splash…  another arrives.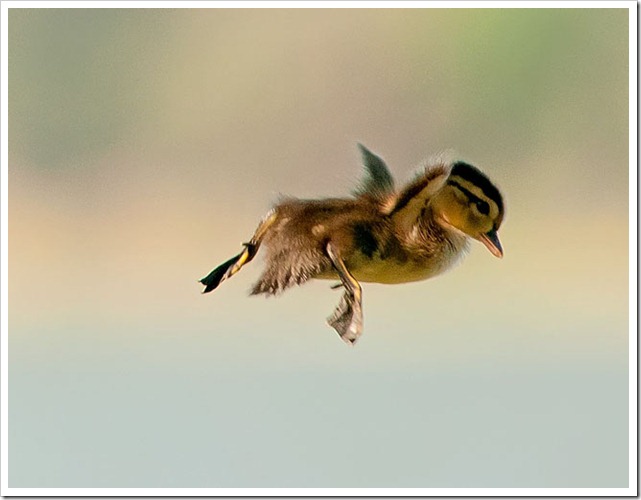 A prefect specimen…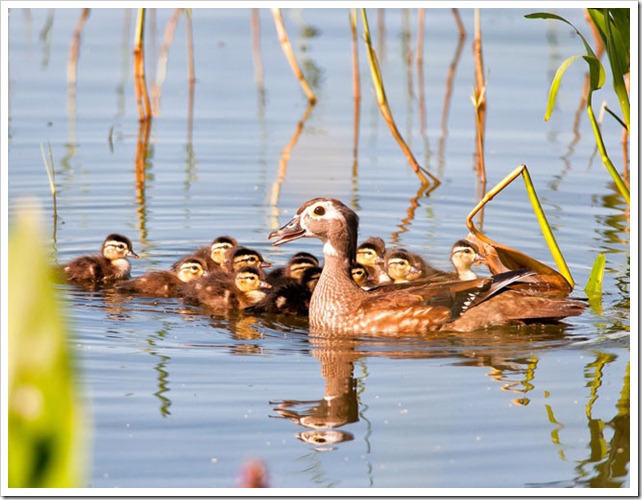 Mother gathers her brood, is she counting?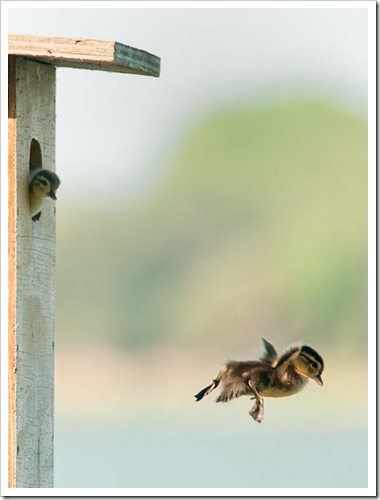 The final one waits its turn…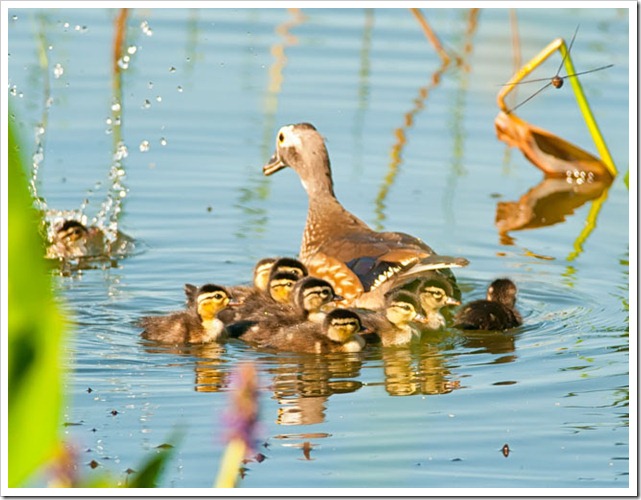 And tumbling down they came…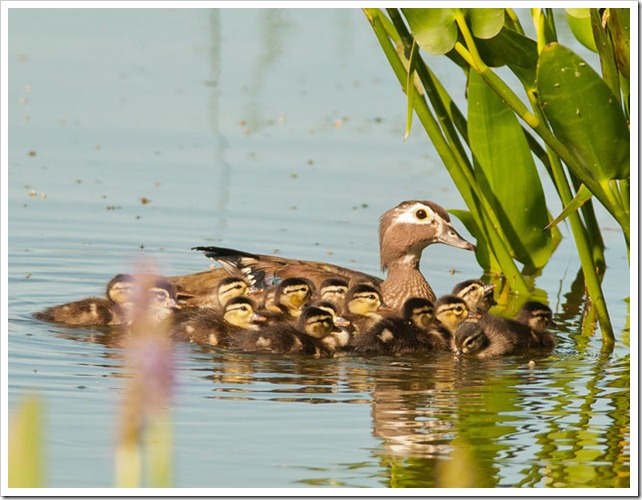 Finally ready to move to safety amongst the reeds.
By Martin Zonnenberg
Martin and Ineke Zonnenberg have two homes, which truly have some of the best habitats for water birds- Grindstone Island in the 1000 Islands and in Mount Dora on Lake Dora in Florida. Martin is out in his boat at dawn when the birds begin their day.  "By 9 A.M. you might as well go and have a coffee", he says, "by then the birds are gone". His specialized digital equipment allows him to capture hundreds of images, daily, and the evenings provide time to sort, discard and choose the very best memories.  He does not sell his photographs  but shares them with family and friends.  He is also extremely generous by providing prints to non-profit organizations in the region.  A number of his beautiful photographs can be seen in office of the Thousand Islands Land Trust in Clayton.