Editor's Note:  This is the second article written by Kristen Taylor who together with her husband Jon, made the decision to  give up a traditional "city life" and move to the North Country in the United States.  This month Kristen interviews the owners of three new businesses in Gananoque.  She describes their decision to invest and settle in what is known in Canada as Eastern Ontario. 
Taking the Plunge: Stories of Year-Round Thousand Islands Life:  Owners of Gananoque's Pig Iron Barbeque, The Socialist Pig Coffeehouse and Steel Style Garage Give their Take on Thousand Islands Life

Siblings Shannon and Zachary Treanor, and their respective partners (in business and love), Jason Cameron and Shannon Yates, took a serious plunge two years ago when they moved to Gananoque from Prince Edward County (for Shannon Treanor and Jason Cameron) and Toronto (the previous home of Zach Treanor and Shannon Yates). Soon after their move, the partners renovated the former Gananoque Spring and Axle building (which housed Beaver Hall Antiques for decades)—a complex they now call "Axleworks" to play off of the building's history—located in Gananoque's historic Lowertown and opened three new businesses: The Socialist Pig Coffeehouse, Steel Style Garage and Pig Iron Barbeque.
I visited Gananoque with my family to try out the barbeque (which was out-of-this-world) and talk to the business owners about year-round Thousand Islands life. Read my interview below with Shannon Treanor, Shannon Yates and Jason Cameron:
Tell me about your journey to Gananoque.
Shannon Yates: Zach and I have always had a love for architecture, heritage, historic buildings, salvaging, restoring and recycling. We did a mad search for stone buildings near water and fell in love with this building. We loved the water, the St. Lawrence. I actually never even heard of Gananoque before. None of us had. We purchased the building. We continued to work for a year while we researched the area to see what the community needed. An old-style coffee shop and clothing store were number one and two on our list. We came up with the master plan. We added an artistic twist to everything.
Jason Cameron: I immediately saw the potential. First it was just the building. Then I saw the water and I said 'oh'! We had pretty strong beliefs in what we wanted to do and that we could do it well. The girls [Shannon and Shannon] didn't have the same faith that Zach and I did. I was here first by myself. I had three things: power, a mattress and a squirrel. Literally. We had no heat, no plumbing.
What was the reaction among your friends and family to your move?
Shannon Treanor: It was very hard, unbelievably difficult, when we moved here. The six of us were living upstairs with a dog and a cat. It's one massive space. Three-thousand square feet of open space. We just had a toilet and sink—no shower. For eight weeks we went to the municipal marina and showered there at different times. We survived that. I cried myself asleep a couple of nights. We worked every day for the first year-and-a-half. It's not for the faint-of-heart.
Shannon Yates: Mine thought I was crazy. I had quite a good job. Zach and I had only been seeing each other for a year before we started taking this max-adventure. I'm a Virgo. Perfectionist. Stable. Organized. Zach is a Gemini. Whimsical. Creative. There's a balance between the two of us. I think we're the perfect combination to take on such a venture like this. It's pretty scary. After a couple of months it started to feel like home for me. My sister loves bringing my nephew here. I'm trying to get my sister to move. Shannon's sister with three children just moved here. 
Tell me about the evolution of your businesses?
Shannon Treanor: When winter came we learned we could host events. We held a cocktail class, a class on gin, a class on the history of single malts… we also had a Mad Men party. People dressed up. We had live music. It was a sold out event. We've done private parties. There's so much potential. There wouldn't be this much potential in a big city because there's already so much variety. The Barbeque opened in May 2011. It was good to open it at another stage. There was a renewed interest. It allowed for a bigger experience. We're a place to dine, relax and shop. It makes us a destination. You could spend an afternoon here.
Shannon Yates: It's true. People walk out of the shop [Steel Style Garage] with their purchases and say 'that was an expensive coffee.' In the beginning, we worked from first thing in the morning until late at night. Inventory management was almost impossible. There was no second floor to the store. I never owned or worked at a clothing store before. I did project management. I had to transfer and apply my experience to this environment. 
What has the community reaction been like?
Shannon Yates: Super excited. 
Shannon Treanor: I think we restored a little bit of faith in this community. I've had people come up to me and say 'You guys are the best thing that ever happened to this town.' Through all three businesses, we've touched every type of customer in town—people who were born and raised here, people who worked at factories and lost their jobs, construction workers and military people. We have a great following from Kingston. We've hired a lot of young people. We've probably created fifteen jobs.
What have you learned about yourselves from living here?
Shannon Treanor: I have a responsibility now not just to myself, children and partners, but also to my customers. I love them. No matter how hard it gets, I can't walk away from them either. You do what you have to do. I have a better sense of community.
Shannon Yates: Life is never as bad as you think it is. At the start of this, I thought I may have made a mistake, but it turned out to be a fabulous accomplishment. I may have taken things for granted. I didn't realize how important it was to see my family and friends often until I didn't have them around. There's so much to be thankful for.
Jason Cameron: I learned that I could do construction. I was pretty confident about this whole thing. I'm not a chef. I worked in the front-of-house for twenty years with some of the best chefs in Canada. I learned from great people. It's all about assembly and ingredients. Kudos to everyone I've worked with… They taught me how not to do things and how to do things right. 
What are your favorite things about Thousand Islands life?
Shannon Yates: There's a freedom I didn't have before. I love the water and islands, the sun and outdoors. We're going to make sure we have a boat this year. When you're out on the water it's the best thing in the world.
Shannon Treanor: I love the River. I've lived around water my whole life. The river is magical. You feel happy. It's the meaning of true joy. Here, when times are tough, everyone's helpful. It's playful here in the summer. I don't remember that since I was a kid—being so playful, happy, free. People here have figured out what's important.
If you could do it all over again, would you?
Shannon Yates: If I had an abundance of money, yes. If Zach was here, he'd say, 'Yes. Ten times over!'
Shannon Treanor: Yes. I'm proud of what we've shown the community and what I've shown my girls. I was a stay-at-home mom for ten years. I see a difference in the way my children see me. My kids respect me as well as love me. That's big for having daughters.
Jason Cameron: Absolutely. This for me is the next thing. It's my retirement plan. I want to rubber stamp this. The dream and image that Zach had for this—the way he saw it—is actually starting to come true. To me, it's all very positive. You can quote me on this—I think I'm better than Dinosaur. I do. Test me. [Jason's referring to Dinosaur Bar-B-Que in Syracuse, New York]
Though he wasn't available for the interview, I had the pleasure of meeting Zach Treanor right before I left Gananoque. During my interviews, Zach's partners unofficially labeled him the dreamer or mastermind behind this great adventure. All I can say is—thanks for dreaming! The partners and businesses are truly a great addition to the Thousand Islands community. Make sure to pay them a visit. You won't regret it!
For more on Pig Iron Barbeque, The Socialist Pig Coffeehouse, and Steel Style Garage visit http://www.axleworks.ca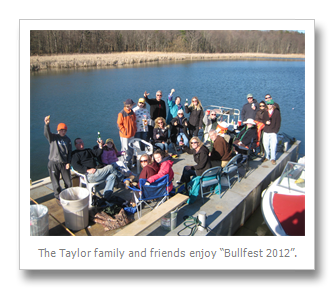 Author's Note:
One of the best things about year-round Thousand Islands life, in my opinion, is the adventure of off-season living. My family and I experienced such an adventure when the whole tribe went bullhead fishing off of my father-in-law's barge in South Bay (near Thousand Island Park on Wellesley Island) on a beautiful April afternoon.

Our tribal leader, my mother-in-law, had a premonition that we would not catch a single bullhead—she was right. She masterfully cooked our in-case-of-emergency, store-bought-in-advance bullheads; however, and we all had a fabulous shore dinner on Murray Isle that evening. It's an annual River ritual my husband's family has enjoyed for generations and one we hope to continue (catch or no catch).



Bullfest 2012" is just one more reason why we're happy we decided to "take the plunge.
Kristen Taylor lives in Clayton, New York, with her family, including her husband, Jon, and daughter, Grace. She is the owner and founder of Taylored PR a marketing and public relations company, and Vice President of Marketing and Operations for her husband's architecture firm, Taylored Architecture PLLC . Before moving to Clayton, Kristen spent eight years in Washington, D.C., where she graduated from The George Washington University and worked as Vice President of a strategic communications firm.

Kristen plans to interview more "new Islanders" so if you know someone who has made the decision to call the Thousand Islands a year-round home (recently or long ago) and has an interesting story to tell, please let us know.