Written by
Jennifer J. Caddick
posted on May 13, 2012 07:34
For more than a decade, River communities have advocated for a new water levels management plan that is protective of River health. In January, the International Joint Commission (IJC) finally proposed a new water levels management plan – called Plan Bv7  - for the St. Lawrence River and Lake Ontario.  The new plan is very close to the 'B+' plan that our River communities have supported in the past.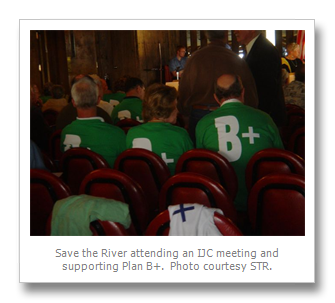 For more than 50 years, water level regulation – only benefitting a few interests such as hydroelectric generation and shipping – has altered the River's natural processes, causing significant damage to the River's ecosystem. The IJC's new plan is a balanced approach that will restore the River's flows to a more natural pattern, in turn improving the River's health. (Learn more about the benefits of Plan Bv7 http://savetheriver.us/?p=2450 and what to expect under this new plan http://savetheriver.us/?p=2592 )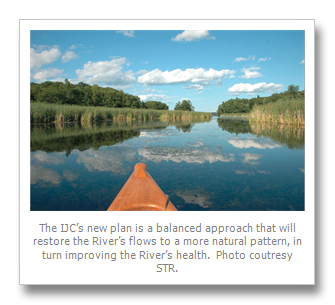 Throughout late May and early June, the IJC will be hosting public information sessions about Plan Bv7  The new plan is by no means a 'done deal' and is still a long way from implementation. The public information sessions throughout the basin are the first opportunity for our communities to weigh in about the new plan. Your voice, speaking out for the health of the River and Lake and in support of Plan Bv7, is critical in the coming months.
How To Get Involved
Make Sure Your Voice is Heard: Attend an information session about the IJC's new water levels plan
The IJC has announced public information sessions for the following dates and locations:
May 15 (7:30 p.m.) – Cornwall, Ontario, OPG Visitors Centre, 2500B Second Street West
May 16 (7 p.m.) – Montreal, Quebec, Jardin Botanique de Montréal, Auditorium, 4101, rue Sherbrooke Est
May 17 (7 p.m.) – Sorel Tracy, Quebec, Auberge de la Rive, 465 chemin de la Rive
May 22 (7 p.m.) – Hamilton, Ontario, Royal Botanical Gardens, Auditorium B, 680 Plains Road West

May 23 (7 p.m.) – Belleville, Ontario, The Banquet Centre, Emerald Room, 1 Alhambra Square
May 24 (7 p.m.) – Kingston, Ontario, City Hall, Memorial Hall, 216 Ontario Street
May 29 (7 p.m.) – Massena, NY, Louisville Volunteer Fire Department, 14818 State Highway 37
May 30 (7 p.m.) – Clayton, NY, Clayton Opera House, 405 Riverside Drive
May 31 (7 p.m.) – Oswego, NY, Campus Center Auditorium, SUNY Oswego, 7060 Route 104
June 5 (7 p.m.) – Olcott, NY, Olcott Fire Company, 1691 Lockport-Olcott Road
June 6 (7 p.m.) – Hilton, NY, Quest Elementary School Auditorium, 225 West Avenue
June 7 (7 p.m.) – Williamson, NY, Williamson High School Auditorium, 5891 Route 21
Can't attend an information session? Write to the IJC
Full details about the IJC's public consultation process can be found here: http://www.ijc.org/loslr/en/process/
Learn More about Plan Bv7
For more information about the plan, visit the IJC's website  or Save The River's website
By  Jennifer J. Caddick, Save The River Executive Director & Upper St. Lawrence Riverkeeper
 

Originally from northeastern Pennsylvania, Jennifer has worked for a variety of environmental and conservation organizations in upstate New York and on the Chesapeake Bay. Her family has spent time along the St. Lawrence River for many years and they are summer residents on Linda Island.

Since 2006, Jennifer has served as the Executive Director of Save The River  having led Save The River through a period of expansion, overseeing both the growth of the organization's advocacy and outreach programs as well as a successful capital campaign resulting in the expansion and renovation of the Save The River offices in Clayton.  In February Jennifer announce she would be leaving STR at the end of June.  She exclaimed that making the decision to move on was a "tough decision"  but that the "time felt right to step aside".

On behalf of the Thousand Islands Life team, we wish her continued success and on behalf of our many readers we thank her for her tremendous efforts in helping to Save our River!  Au-revoir, Jennifer, hurray back with another article about the River you love.