Written by
Don Brown
posted on May 13, 2012 07:38
Everyone loved those seventy degree days we enjoyed this past March. However, one of the downsides of what seems to be a developing trend of milder weather has been an increase in the population of ticks and the related incidence of Lyme disease. In Jefferson County there were 42 confirmed cases of Lyme disease in 2010 and 115 in 2011. With the type of winter we just experienced, cases in 2012 might just dwarf those figures. Taking this into consideration it behooves us to learn what we can about ticks, Lyme disease and most importantly what we can do in the way of prevention.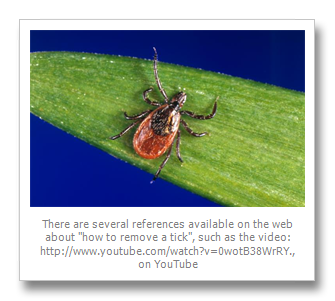 Lyme disease is caused by the bacterium, Borrelia burdorferi and is transmitted by the black legged tick, Ixodes scapularis, commonly referred to as the deer tick. The ticks have a two year life cycle. Adults lay eggs in the fall or spring. A larval stage hatches from the eggs and the larvae feed on the blood of small mammals or birds. The larvae molt into the nymph stage which feeds on small rodents, larger mammals and humans. The adult then emerges and feeds on larger mammals, deer and humans. The white tailed deer is the adult's preferred source of nourishment. The tick becomes infected at any stage of development when the host species carries the bacteria, which it can then pass on.
The tick must feed on its host for at least twenty-four hours to transmit the bacteria.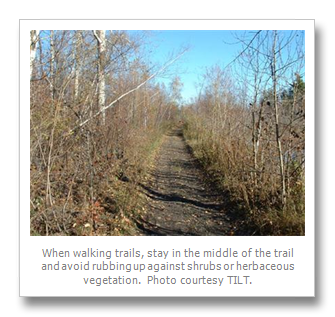 The common symptoms of Lyme disease, developing in days or weeks, include a "bull's eye" rash pattern around the bite as well as tiredness, headaches, fever, and joint and muscle aches. Some research has shown however, that up to twenty to thirty per cent of individuals never have a rash develop and up to forty per cent never see a tick. One commonly held misconception is that the more common dog tick is appreciably larger than the deer tick. While the very infectious nymph stage is only the size of a poppy seed, the adult deer tick can be just as large as the adult dog tick.
In terms of habitat, deer ticks are found in wooded brushy areas and grass lands. They prefer shady and moist locations. This information can be valuable in terms of prevention. Rarely, for instance, will they come off of trees. When walking trails, stay in the middle of the trail and avoid rubbing up against shrubs or herbaceous vegetation. Dressing properly when in tick areas is strongly recommended: wear a hat, long sleeved shirt, and long pants. Light colored clothing makes it easier to see ticks on your body. Tucking your pant legs into your socks or wearing blousers is another good idea. Insecticides containing DEET or Permethrin can also be utilized, but it is recommended they be applied to clothing instead of your skin. An organic remedy is the use of rose geranium oil, carried by health food stores or available online. Mix about 50 drops with 8 to 10 ounces of water and spray it on your skin.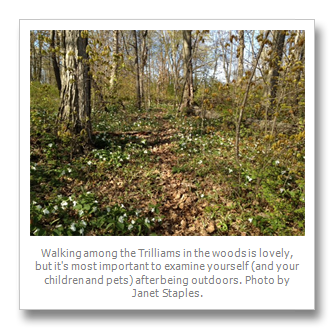 It's most important to examine yourself (and your children and pets) after being outdoors. Removing ticks is best accomplished with a pair of fine tweezers. Grab the tick as close to the skin as possible, never by the abdomen, and gently pull, being careful not to twist or jerk the "cute little critter." Place the tick in a vial with alcohol. The local health department should be able to identify the tick to let you know if you need medical attention or not.
There are a number of things you can do around the home to reduce the risk of ticks being a problem, a few of these are as follows:
1. Keep your lawn mowed, and keep it clean of leaf debris and grass clippings.

2. Trim shrubbery, especially near walkways.

3. Place areas where children play, playhouses or swing sets in dry sunny locations, and mulch these areas with sand or gravel.
So when you are walking on the Macsherry Trail, or biking the Sissy Danforth Rivergate Trail, make sure there aren't any ticks "hitching a ride" on your clothing. If you do find a bite, and have any concerns at all, consult your health care professional for further advice. "It is better to be safe than sorry."
by Don Brown, Stewardship Coordinator, Thousand Islands Land Trust, Clayton, NY
Don Brown is TILT's Stewardship Coordinator, responsible for managing conservation easements and fee-owned lands for TILT. A 1968 graduate of SUNY College of Environmental Science and Forestry, Don worked as a forester in St. Lawrence County with the New York State Department of Environmental Conservation from 1973 until retiring in 2003. Prior to that, he taught middle school science in Liverpool, NY.  Don serves on the board of directors of Indian Creek Nature Center and the Ogdensburg Tree Commission. He is a past member of the St. Lawrence County Environmental Management Council, the Potsdam Tree Commission and the Northern New York Forest Owners Association.