Written by
Susan W. Smith
posted on May 13, 2012 07:43
Kim Lunman, the owner and publisher of Island Life, founded the annual glossy magazine in 2009. The writer and photographer has been a team member of and regular contributor to thousandislandslife.com since 2008. She is an award-winning journalist and former national correspondent for Canada's Globe and Mail.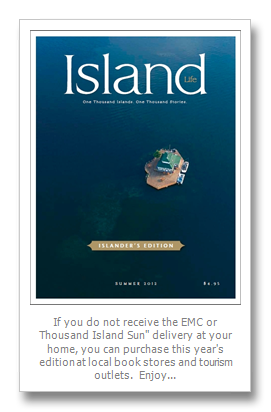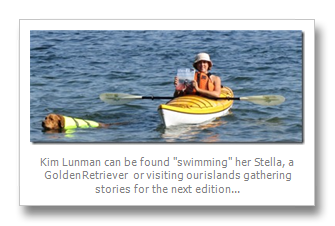 Her company, Thousand Islands Ink, prints 25,000 copies of Island Life magazine. They will be distributed in Brockville, Rockport, Gananoque, and Wolfe and Howe Islands through the EMC on Thursday, May 17th.  Readers in the United States will receive their magazine as an insert in the home delivery of Thousand Islands Sun on Wednesday, May 23.
Kim also prints an Islander's Edition of Island Life Magazine being sold at bookstores and tourism attractions on both sides of the border.  It will cost $4.95 and is also available for purchase online at www.islandlifemag.ca.
The photograph of Lone Tree Island on the cover of Island Life was taken by Ian Coristine www.1000IslandsPhotoArt.com. Kim writes, "The Canadian island used to have only one tree, hence the origins of its name.  There are now two trees on Lone Tree."
On behalf of all of our TI Life Readers, I am pleased to present this photo essay preview of Island Life Magazine 2012.   Be sure to pick up a copy and read features stories on the historic return of the restored steam yacht The Cangarda to Brockville, Paul Island, Wellesley Island, Red Top Island, Temagami Island, Heart Island, Dark Island, Black Duck Island, What If? Island and more…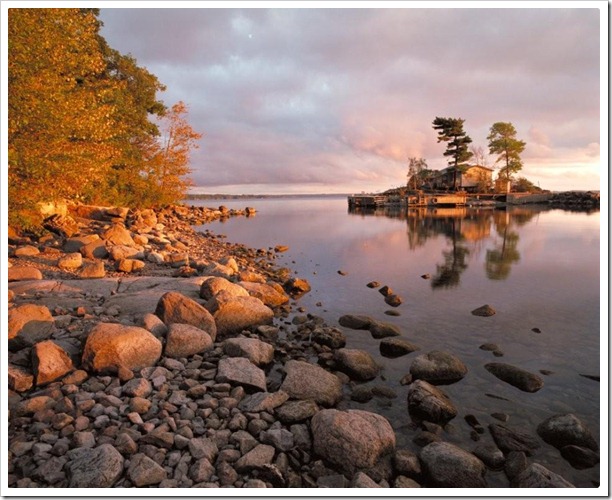 Black Duck Island
This spectacular photograph of Black Duckling Island at sunset was taken by photographer Andrew B. King of Ann Arbor Michigan for a photo essay on neighbouring Black Duck Island. King's family has owned Black Duck Island in the Admiralty Group near Gananoque since 1894.
Photo by Andrew B. King.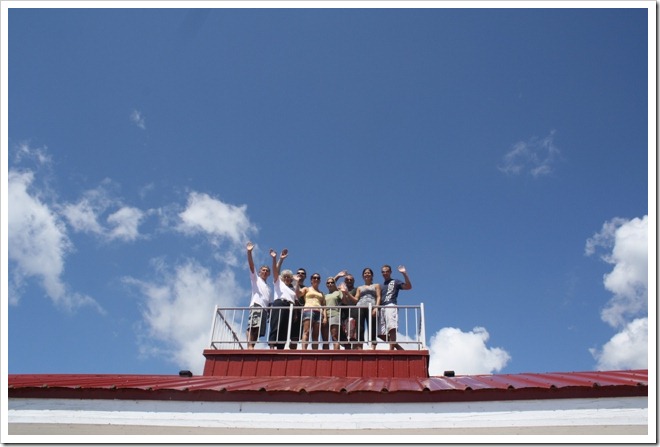 Red Top Island
Red Top Island, located in the Lake Fleet Group near Gananoque, has been in the same family for seven decades. The cottage with the iconic red roof and captain's walk celebrated its 100th anniversary last summer.
Photo by Kim Lunman/Island Life Magazine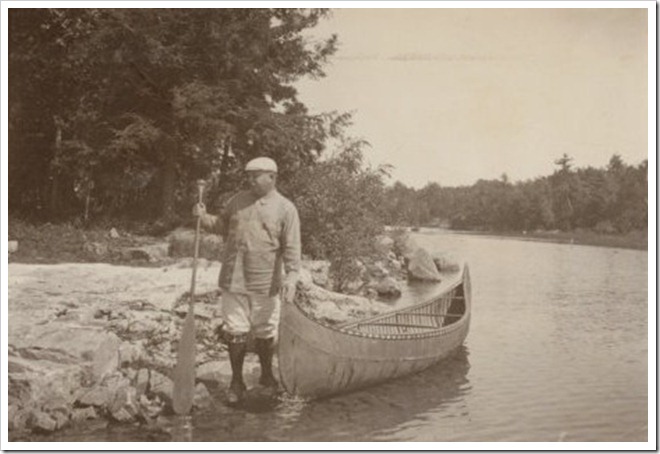 Frederic Remington's 'Temple of Rest' - Ingleneuk Island - now Temagami Island.
The artist famous for cowboy sculptures and illustrations of the Wild West found a peaceful retreat in Chippewa Bay at the turn of the last century. The St. Lawrence became the subject of his later impressionist landscapes.
Photo courtesy of the Frederic Remington Art Museum.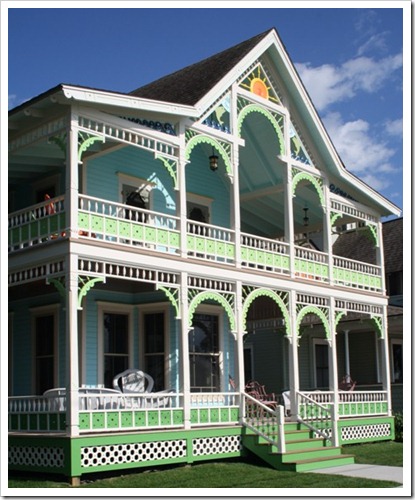 Wellesley Island
Home to the preserved gingerbread architecture in idyllic Thousand Island Park, the historic Thousand Islands Country Club and the Boldt Yacht House, Wellesley Island offers visitors a step back in time.
Photo by Kim Lunman/Island Life Magazine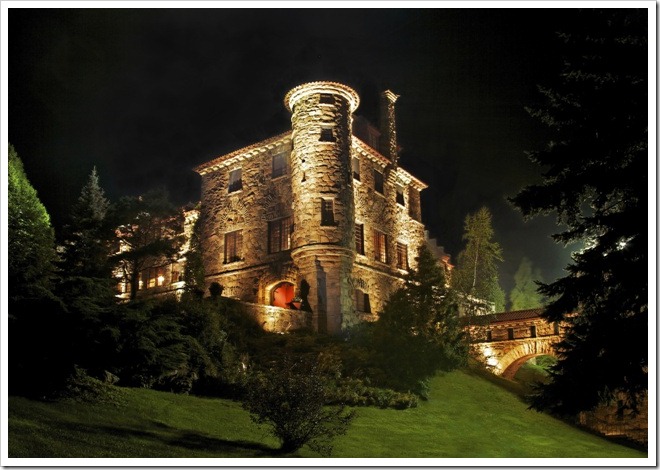 Dark Island's Close Up
Photographer Ian Coristine's illuminating photographs of Dark Island's Singer Castle during the filming of the television reality pilot program The Great Escape last fall are featured in a story about the filming. The magazine also features a story about a new mini-movie on George C. Boldt and the Boldt story playing in a new theatre at Heart Island's Boldt Castle this summer.
Photo by Ian Coristine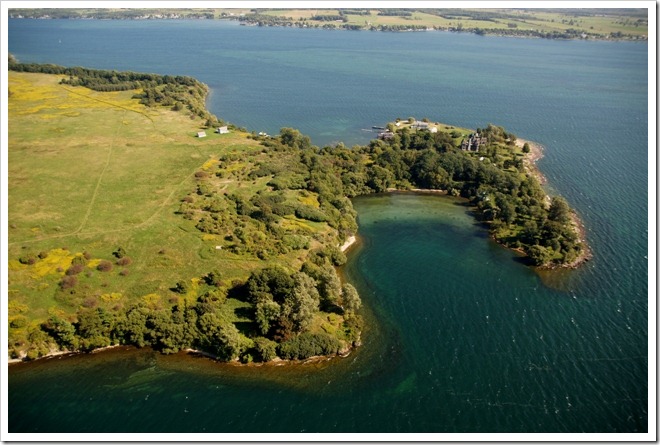 Carleton Island
Carleton Island near Cape Vincent is a lost treasure in the Thousand Islands rich in history with ruins still remaining from Fort Haldimand, controlled by the British during the American Revolution. Some of the largest warships were built here during that time. Long-vacant Carleton Villa was built here in 1894 by William O. Wyckoff, who made his fortune marketing Remington typewriters.
Photo by Select Sotheby's International Realty/Michael R. Franklin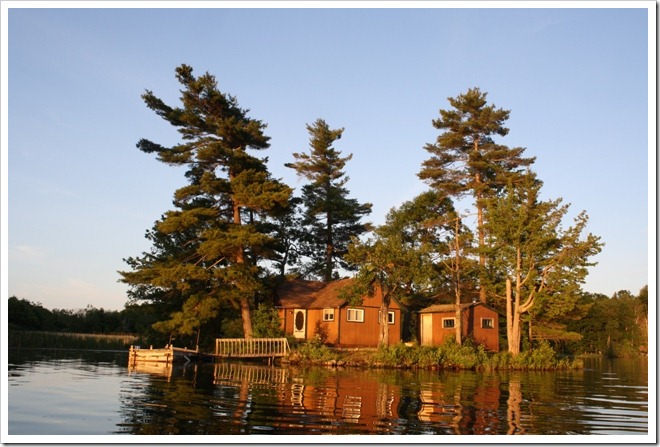 What If? Island
Island Life Magazine owner and publisher Kim Lunman writes about life on this little island called What If? Island located in the International Rift between Hill Island (on the Canadian side) and Wellesley Island, located just 69 feet away in American waters.
Photo by Kim Lunman/Island Life Magazine
By Susan W. Smith, Editor, www.Thousandislandslife.com