Written by
Liz Huff
posted on June 13, 2012 07:23
The Diamond Jubilee of Her Majesty Queen Elizabeth II celebrates a remarkable 60 years on the throne by a monarch who has radiated calm, dignity, and higher purpose for most of our collective memories, whether we live in the Commonwealth or not.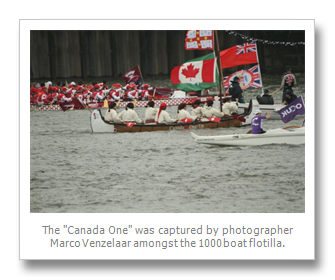 London was not the only place going gaga over the Diamond Jubilee; recently the small hamlet of Seeley's Bay in the Township of Leeds and Thousand Islands, got to play a direct role in helping to prepare for the spectacle of a flotilla of 1000 boats that filled the famous Thames River estuary to celebrate the long and glorious reign of a much-loved queen.
Seeley's Bay, tucked into the northwest corner of the Township, sits right on the UNESCO-designated Rideau Canal system, and it is home to James Raffan.  Raffan is the Executive Director of the Canadian Canoe Museum located in Peterborough, Ontario (about 2 hrs drive for 1000 island area residents and well worth a visit).