The 1000 Islands Then & Now by John McQuarrie with Ian Coristine, Doug Grant, Jennifer McKendry, John Nalon and Don Ross
There is an immediate self-congratulatory aside that firmly offsets John McQuarrie's quite glorious book cover photograph in his July, 2012 coffee-table book on the 1000 Islands. He mentions that his "Then & Now" series on mostly Eastern Ontario waterways have paid his mortgage and whiskey bills. There is a great deal to be said for that, and McQuarrie should be applauded for his successes. And… as he puts it, "if you think that producing these books is simply a matter of traveling around by car, plane, and boat, enjoying all the locales central to each theme – with no real work to be done – then you are remarkably perceptive and have it about right."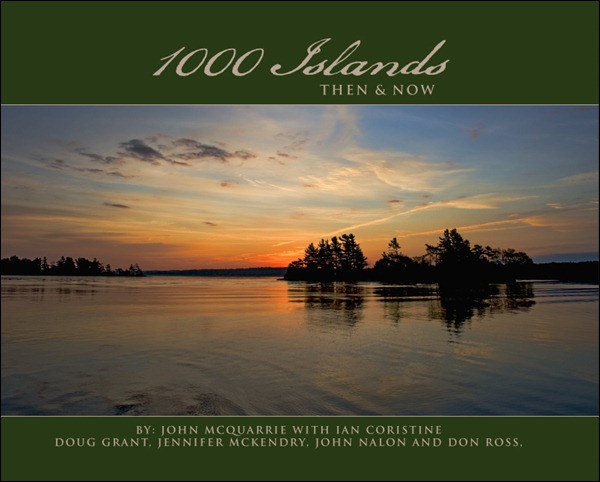 1000 Islands Then & Now is published by Magic Light Publishing, Ottawa ON.
I have not read Mr. McQuarrie's other "Then & Now" books, but I think he has treated us to the same format in this version of it. He supplies photographs that he has taken, plus  old photographs of some of the same places. Others provide text. In this case, other photographers like Ian Coristine also have images in the book.
I for one delight in seeing current photographs compared to ones from a century ago. Who wouldn't? The comparison is evocative, interesting, educational, and well, simply fun. I'm even lucky enough to be able to do it myself. At the drop of an island cap or winter hat, I show interested visitors or winter party goers who allow me to open up iPhoto, contrasting 90 years apart pictures of my own boathouse here on Hay Island, which is just south of Gananoque.
I hoped there might be a plethora of that within the confines of McQuarrie's new book, and there are indeed nice comparatives – particularly in the Gananoque section.
The book includes twenty-six essays on the 1000 Islands region, which in part explains why it totals two hundred and thirty-two pages.
While there isn't an overall thematic sense to the included essays, there is a great deal of historic and other information in the book that is both interesting and informative.
At least eleven of the twenty-six essays, or segments are attributed to Don Ross, and reprinted from his book Discovering the 1000 Islands. McQuarrie's photographs accompany some of the essays, but by no means all.
Other authors included are Ian Coristine, Doug Grant, Jennifer McKendry, John Nalon  Also included in the book are Susanna McCleod's , "The battle for the Royal George" and Kim Lunman's essay on 1000 Islands Kayaking.
Whether it's Edward Weston, Alfred Stieglitz, Ansel Adams, Henri Cartier Bresson, or my own personal favorite Walker Evans, great photographers and their images allow us to see in ways that we hadn't before. Their images foster mystery, a sense of discovery, and even joy in us as we view them. They are tremendously powerful.
While this might be a lofty perch from which to judge someone's art, you have to start somewhere. McQuarrie's book offers up many standard subjects like the castles – Singer and Boldt, Millionaire's Row, and photographs of sunsets, marinas, and people having fun in the summertime. They are a celebration of our region.  In short, his photographs are charming, really very nice.
Ian Coristine pictures also appear in the book, and are memorable.
Other works of this genre include: Jack Chaing's Thousand Islands, George Fischer's The Thousand Islands : Unforgettable, as well as his Castles and Cottages : River Retreats of the Thousand Islands, and Kathleen Quigley's Summer Cottages : Retreats of the 1000 Islands.
What separates McQuarrie's book from the rest is the inclusion of the historic and cultural content that makes this more than the simple coffee table picture book.
While the author casually decries the work that he says he didn't do, the opposite would seem to be true. And it shows.
By Mark R. Russell
Mark Russell first came to Hay Island in1956 as a six month-old.  The family summered on Hay Island every year thereafter.  His mother and father purchased the Cedar Nook Girls Camp property originally owned and built by the Lewis family of Virginia Beach, VA in 1968.  Mark and his three siblings continue to spend as much time there as the seasons allow.  His time away from the River has been consumed by raising three now twenty-something children and working in industrial investment banking and business development.  His first novel - The Adventures of Buster the Black Lab, is with his literary agent in New York.