A.W. Bruce Sherman usually wears a cap. On it, in bold letters, is "Art Matters", and for him it really does.  He and his wife Deborah moved to Rockport Ontario this spring. Both grew up in Brockville and spent many summers at cottages on the River nearby and actually in Rockport. 
Bruce began drawing at an early age.  "My family did not have a lot of money and my father taught me to be frugal. If I wanted to draw, I had to find my own paper.  My first "canvas" was the cardboard, between the Muffets, in the Quaker Oats and Shredded Wheat cereal boxes!   When he graduated from high school, his father had sage advice.  "You are an artist, you always will be, so, find a career which supports your artistic passion, but at the same time offers financial security. Your love of learning and people would equip you to become a fine teacher."
When he graduated from London Teacher's College he began his elementary school teaching career back in Brockville. A move west, to Kingston, resulted in the opportunity to work in what is now called Special Education. He found that his passion for art could be passed on to children with learning difficulties. If there was music, or art, or movement, these children often thrived.  Bruce remained in the Kingston school district for more than 20 years allowing his art to play a major role in education. 
Like many young teachers, he completed his degree at Queen's University by taking one course at time. He graduated in 1988 with a degree in Art History.
One year he took a sabbatical and joined forces with the Canadian Post Office Service, designing a teaching program using the graphic postage stamp, as a medium for learning. 
After his sabbatical he returned to his teaching responsibilities as a consultant with the newly-created Arts Team. This three person team consisted of a music and drama consultant, with Bruce acting as a visual arts consultant. Together, they entered various schools in the county system for a one week period where they collectively created a theme-based learning experience for staff and students alike. They used the curriculum as a device to integrate the Arts... and not to isolate it... as had been the tradition beforehand. 
"After all", he said, "postage stamps commemorate a place, person or an object, and the children could develop their own ideas around themes." One week it might be pigs: the students created stamps with pigs, told "pigs tales" and made up verses and rhymes.
After retiring from teaching, he moved to Ontario's Georgian Bay area but returned to Brockville to assist family members in providing care for their aging parents.  One summer, while in Brockville, he needed some paints.  A friend suggested the "Hobby House", then owned by Deborah. They remembered each other and Bruce, immediately, tried to rekindle a friendship, but Deborah  was not interested. Finally, one afternoon, he walked into the store to ask her out for dinner and the rest is history! Deborah, with her Hobby House, and Off the Wall boutique, had also taught a stained-glass course at Brockville's St. Lawrence College. She is a fine artisan... highly skilled in the creation of her very unique stained glass, tole painting, jewelry making and handmade cards.  
The Sherman's, now married for 6 years, enjoy their blended families and take particular delight in their grandchildren.
Last summer they came to Rockport for the 1st Annual International Plein Air Artists Association. They agreed that it was now time for them to return to the River.   An old friend, Wendy (Johnson) Merkley, offered to rent them a lovely village house, with the view of the River.
Bruce says the decision was a "No brainer" even though there were risks in moving with no guarantees for success. They arrived in April of this year and Bruce has started giving art lessons.  His Tuesday Sessions are offered in July and August. 
A few weeks ago Bruce was the guest speaker at the Rockport Breakfast Club.  He concluded his remarks with, "In every corner of this place and in these islands I see, and feel, the presence of the boy I left behind.  "This is indeed a footpath for us to inner peace and contentment. We are deeply blessed to be back home... to our beloved Thousand Islands Paradise!"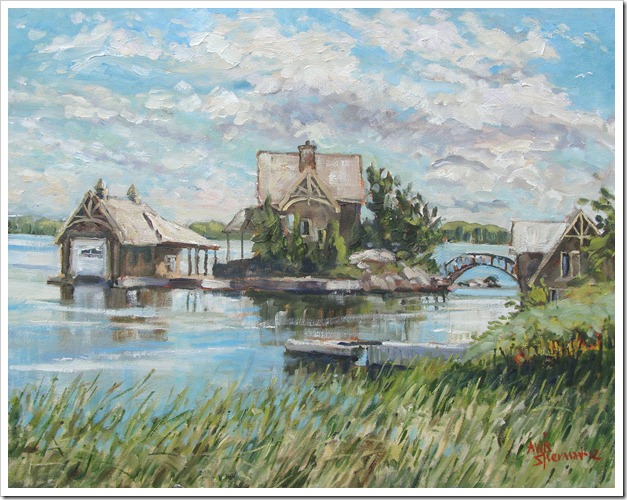 Guild's Island Retreat – oil on canvas 16x20 inches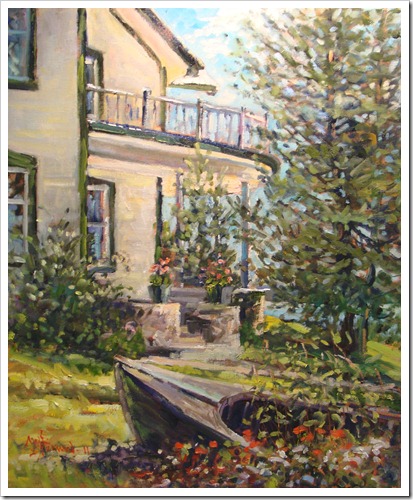 Ed Andress (Master Boat Maker) Spirit's Craft and Spirit Live On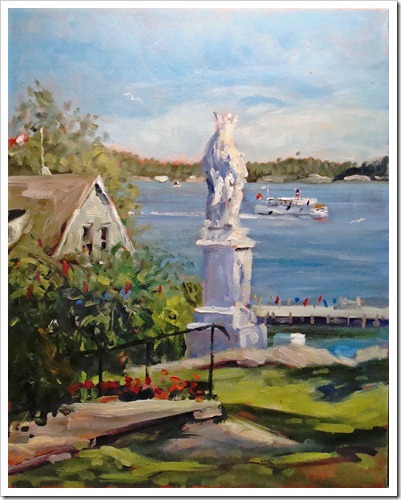 River Blessing – oil on canvas 20x16 inches
"Ishpemig- River Work Tug" - plein air oil on canvas 24x20 inches

Morningshine!… at Chimney Island – oil on canvas 16x48 inches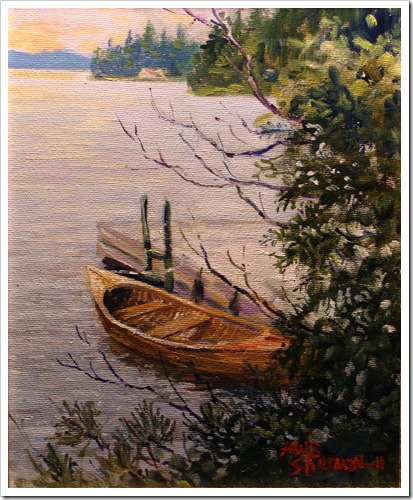 The Craft... and Spirit of Ed Andress... Master Boat Builder Lives On" - plein air oil on canvas 24x20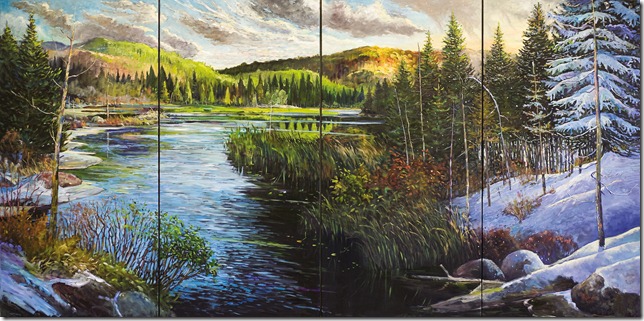 This four panel oil painting forms the centerpiece of the Rockport Studio.  "The Magnificence of Algonquin Park thru' the seasons, 6X12 feet.
Yes, art does matter to Bruce.  He maintains a blogspot website, which provides helpful lessons.  And this summer he reserves Tuesdays to give art lessons at The Paint Box Gallery.  These lessons, with a minimal cost of $35 each, will introduce painters from the novice to the experienced, to the River and the Sherman techniques.  Are you an artist?  If so – visit Bruce and Deborah, if not, then you must visit for you will be both impressed and fascinated.  (Contact Bruce at www.thepintboxgallery.ca  or by email:  dsherman@thepaintboxgallery.ca.) 
By Susan W. Smith, susansmith@thousandislandslife.com