Written by
Susan W. Smith
posted on December 08, 2008 08:18
What's happening? The December issue of our magazine comes to you with a new look!
Creating each issue requires several steps: sourcing or creating content, posting and formatting it and completing a final edit. When Paul Malo was at the helm, he did all of this himself. Mike Franklin assisted when technical problems arose.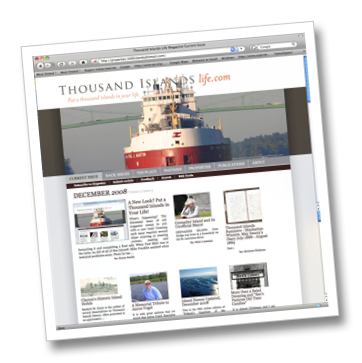 Following Paul's death, the magazine has grown to include several contributors, each needing to post, arrange and edit with their needs all falling on Mike Franklin. It has become a time consuming and unsustainable burden not just for him, but for all of the TI Life team members.
The solution is a new web interface with several new options. A new member of the team, Mike Cox has created a system that allows stories to be posted and edited independently, tremendously streamlining the process. The new format also makes it easier for readers to access material by date or topics such as: people, places or all of historical material originally written by Paul Malo.
We are in the process of rebuilding the entire site within this system, initially posting back issues and then the extensive regional overview, fully updated. We apologize if we do not have all of the material on line and if it is not formatted perfectly for your computer and browser. These problems are being addressed and each week we will have more material posted.
Please keep visiting us between issues to check on the progress.
Special thanks goes to Aerographics Creative Services, who created the look, Mike Cox from Creative Information Solutions for making it work, Kim Lunman's writing and editing expertise and Ian Coristine's magical photographs.
As this issue comes online – we are in the midst of the Holiday Season, We wish you a very happy festive holiday and a safe and joyous new year! May we all enjoy having a thousand islands in our life.
Susan W. Smith, Editor SusanSmith@ThousandIslandsLife.com
TI Life Team: Ian Coristine, Mike Cox, Mike Franklin, Kim Lunman and Susan Smith