Surfing the internet one day, I landed on a 1000-Island tourist attraction and found myself staring into the picture of an oddly familiar room. No wonder—it had been my own bedroom! During the summer of 1977, I slept in the fourth-floor dormitory at Jorstadt Castle—now Singer Castle—on Dark Island in the St. Lawrence River.
A Castle Unknown
Before that summer, I had never heard of this castle though I lived a little more than an hour inland. Even as I worked my way through college in the 1000 Islands summers, I knew only of Boldt Castle near Alexandria Bay. Then, after graduating and receiving weeks-worth of job application rejections, a want ad piqued my interest. A Dr. Martin needed help and would pay $25—a week—plus room and board at a castle near Chippewa Bay. Was this for real? I responded to the ad to find out. After all, I was ready to break up the summer of rejections—and ready for the chance to live in a castle!
No Psychologists Needed I met Dr. Martin for an interview onshore at a picnic table in the town of Hammond, and when he reviewed my resume touting my new degree he looked doubtful. "We don't need a psychologist," he said. But he must have been reassured to learn that I was a farm girl, unafraid of getting her hands dirty; a few days later, I was in a motorboat heading for a dot in the river called Dark Island.
The castle enchanted from the time I climbed its sweeping pathway. The armored knights of the Great Hall cast a spell that would sustain me as I dusted, mopped, and waxed their domain; the castle would keep me singing even as sweat trickled down my neck.
Singer for a Song As head of an evangelical Christian organization, Dr. Martin had bought the castle for $35,000. That may seem like a heavenly deal...but the place was a devil to maintain. Originally built by Frederick Bourne, a "Bill Gates" of the early 1900s, it had 5 stories of nearly 30 rooms!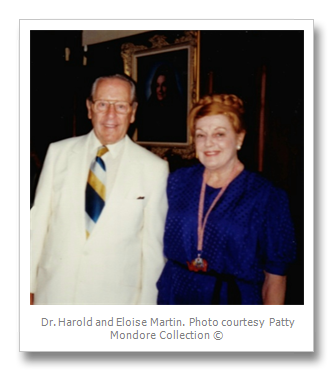 Newsworthy Chapel Every Sunday, the Martins would hold a worship service for the public, and they sent a taxi-boat to the shore to pick up anyone who wanted to attend. The service was upbeat and peppered with music. Wall-to-wall windows of the chapel presented a stunning view of the river, which was surely a large part of the attraction for many of the worshipers—that and curiosity about the inside of the castle.
One of my first duties included washing the chapel windows. Windex, rag, and elbow grease seemed to be doing the job, but it was tiring—there were hundreds of glass panes! Still, as a college graduate, I didn't think I needed instructions on how to wash windows. When Dr. Martin insisted I use newspapers on the dirty panes, I resisted...but he was the boss. News flash! I found this was the best way to remove glass smears. I have made use of his advice many times since.
Doctor of Everything
I hadn't been on the island long when asked Dr. Martin what he was a doctor of. I realized immediately that this was not a man to question casually. Pride like steel glinted in his eyes as he rattled off about a dozen titles, many being honorary degrees, from various universities. At the time, I thought honorary meant inferior; later, I began to think it meant you were something special.
No Lazy Bones For most of my time on the island, I slept alone in the large dormitory. I had shared it briefly, but I suppose the other occupant had been too lackadaisical for the Martins. They worked hard and expected the help to keep up. As I cleared debris with Dr. Martin near the squash court one day, he emphatically pronounced, "There's not a lazy bone in my body!"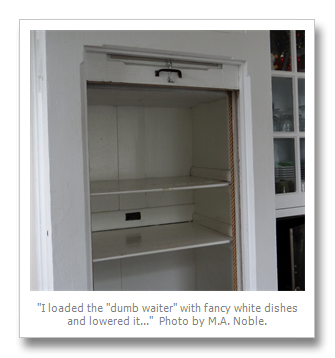 Mrs. Martin was no slouch either. I worked for her, doing the dusting, cleaning, and kitchen work. I learned to clean with a vacuum that held water in a teakettle-shaped see-through tank. Mrs. Martin showed me how to fill it, use it, and empty it. Then I vacuumed designated areas, mostly on the second floor.
From the dining area, I loaded the "dumb waiter" with fancy white dishes and lowered it. I would run down the narrow, spiral staircase to the kitchen and help Mrs. Martin remove them and clean them. Then I would return the dishes to the waiter, run up the spiral staircase, haul the dumb waiter up, and put the dishes away again.
I must have carried out these duties to her satisfaction. On the day I left, Dr. Martin told me, "My wife doesn't know what she would have done without you." He was not one to give praise lightly, and I felt honored.
In the Dark
The other hired hand in the castle was a young carpenter, my only time-off companion, and sometimes we would swim off the rocks on one corner of the island. I had heard that the U.S.-Canadian border ran right across the corner of the island, and I was intrigued to think that I could stand with one foot in each country! (I've since been told that Dark Island is completely in the U.S. I learned even later that in building the castle, Bourne had dumped loads of Canadian dirt on the island, so perhaps I did have one foot in a foreign country!)
One evening, the carpenter and I paddled a canoe to shore. On the way back, it was getting dark, and I felt as if we were wrapped in a cloak of invisibility, vulnerable to any of the enormous ships whose path we might cross. Luckily, none appeared, and we arrived safely.
The carpenter stayed in one of the small servants' quarters along the hallway near the kitchen on the ground floor. I, on the other hand, had to climb two sets of stairs to reach my sleeping area. But I was rewarded with a whole dormitory to myself and, best of all, a private bathroom—in a turret! Rounded stone walls perforated on three sides gave views to blue-gray waters, and the St. Lawrence surrounded me like a giant moat. Each visit to the bathroom made me feel like a queen on the throne.
The Faith of Eloise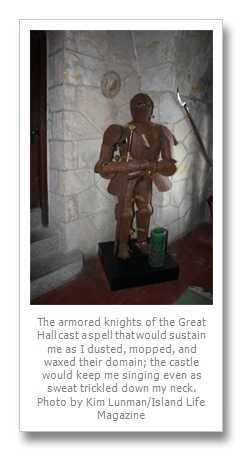 Mrs. Eloise Martin was a gracious lady, strong in faith though the radio often brought news of tragedy. "I don't understand how people can live without believing in God," she would say. She felt that one must surely go mad in this seemingly random world without the conviction that there is ultimate logic and justice—one to which we are now blind but which will be revealed in time.
Eloise Martin had a sweetness that showed not only in her manner but in her speaking and singing voice, and she could often be heard humming as she went about her chores. Though Dr. Martin had named the estate "Jorstadt Castle" because of his Viking heritage, the present name for the castle surely would have been appropriate!
God is in the Sandwich Mrs. Martin exercised care and perfection in all her daily activities and valued the same in those of others. When the bell choir came to stay as guests at the castle and gave a special performance, she asked me to make sandwiches. She was pleased to see that my technique was up to snuff: spreading filling evenly to all edges of the bread so that it was equally thick throughout. She was not happy at all with sandwich makers who put a lump in the middle and called it done!
Bach to Work There was a piano in the chapel. Having several years of piano lessons under my belt, I thought I would regale the lady of the house as she worked in another room. My timing must not have suited her because she asked later who it was that she heard mutilating Bach! After that, I chose to express my creativity in vacuuming and window-washing.
A King Not of This Castle I had been on the island a couple of weeks when the TV in my lunch room announced the death of Elvis Presley. All news channels were filled with the details. Mrs. Martin was bewildered. Why did people make such a big deal of Elvis? To her it must have seemed like idol worship. Likewise, she had trouble with game show participants. "Why do they get so excited they lose their minds over getting money?" To her mind, their focus was backwards. If they could only see the value in things money could never buy.
A Better Job?
Eventually, I was offered a "real" job, and it was time to leave...
But where do you go after leaving a castle?
Many jobs have come and gone, from pitting apricots to selling encyclopedias to teaching and writing. Some offered flexibility, some required little work; some paid much more than $25 an hour—and took less sweat. But they could never replace the memories, the intrigue, of a sun-kissed island castle in the royal blue of the St. Lawrence River.
Twenty-five dollars a week, for toiling in the heat? Best paying job ever.
By M.A. Noble
M. A. Noble spent her early years on a North Country dairy farm then moved to California where she worked first as a teacher and instructional designer. Then as a writer, she moved from technical manuals to short stories for language arts instruction to novels. Now she has returned to New York's farmlands and is once again, as she says, "milking"...her fiction. Her first novel, Taking Hart is set on the St. Lawrence River and combines suspense and regional history, coinciding with the 1812 centennial. It is available at many US retail outlets and on Amazon.
Author's note:  I'd like to extend a huge Thank you! to Singer Castle's manager, Tom Weldon, who recently took time out of his busy schedule, not only to ferry me to Dark Island and back, but to reveal the many secrets Singer Castle had kept from me when I lived under its roof.