There are times in one's life when the stars seem to be in alignment and maybe this to be one of those times.  It is quite simple.  I have the material, Jan Eliot has the voice and TI Life can be the messenger.
Through the years, my wife Prudence and I collected as many publications dealing with the Thousand Islands as we could find.  Later they helped in my research and were the source of my illustrations.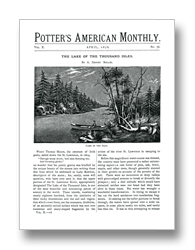 Once I found a pamphlet or magazine article, I spent countless hours researching the authors, artists and the content.  The computer certainly helped as I fumbled along learning what a computer could do.   Now, a couple of decades later, I have a lot of material and rather than leaving it in my filing cabinets, I am  happy to share with Thousand Islands Life readers.
This, the 1878 edition of Potter's American Monthly's article, "The Lake of the Thousand Isles", written by A. Sidney Bolles, is presented as a You-tube slide show video.  It will take you on a five minute tour.
Before we start, let's briefly review the steps in making a woodblock print:  The picture is drawn, given to an engraver who etches the scene on wood. This piece of wood becomes the printing plate. Ink is applied to the plate and the picture is transferred to paper. This procedure is repeated for each drawing.
At the conclusion to the project, Jan Eliot says, "I am always so happy to be asked to work on projects that have to do with the 1000 Islands. It is certainly clear that the love for the islands never gets old and is shared through the generations."
By Robert L. Matthews, Fishers Landing
Robert L. Matthews is our "go to reference" for Thousand Islands memorabilia.

Robert  is also the author of two popular books:  Glimpses of St. Lawrence Summer Life: Souvenirs from the Thousand Islands: Robert and Prudence Matthews Collection, and A History of the Thousand Islands Yacht Club, published in 2009.   He and his wife Prudence (well known River artist whose work was presented in Hooked on Prudence in 2009) have one of the most extensive collections of  Thousand Islands memorabilia.  When not at their beautiful River cottage at Fisher's Landing, they live in St. Petersburg, Florida.
Voice over by Jan Eliot
Jan Eliot works full-time during winter months as an in-studio & on-mountain radio ski reporter for SnoCountry.com. You can hear her voice on over 50 radio stations from New York to California! Jan started out being a producer for commercial editors in the post production world and realized she loved doing commercial voice overs.  Today she has voiced countless e-learning modules, tutorials, Telephone Recording Messages as well as creating bumpers for podcasts and radio shows through www.janeliot.com.  Jan spends summer vacations in the Admiralty Islands.