Most of us ask what a place offers us;  fewer of us ask what we can offer the place.  Thousand Islands Life conveys what the place provides;  we also should honor those who have enhanced the place that we enjoy.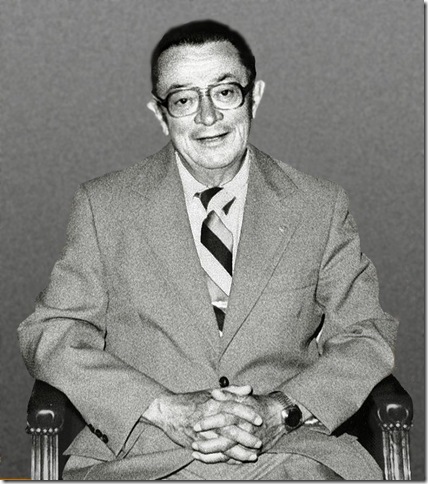 Photograph courtesy Thousand Islands Bridge Authority
Vincent J. Dee (1917-1995) has been gone almost thirteen years now. Some people now on the river have arrived since his death;  many others never knew Vince when he was alive.  He was neither a native, born here, nor merely a summer resident.  An Italian-Irish boy, Vincent de Dominicus, he grew up in Hell's Kitchen, attended New York City schools, went to college on a basketball scholarship, then continued university graduate programs.  Vince was well educated, earning six post-graduate degrees and diplomas.  He pursued two doctoral programs, earning his doctorate from George Washington University, Washington, D.C.
Some who knew him thought that Vince was embarrassed that his parents couldn't afford to send him to college, requiring an athletic scholarship, but Vince remained an avid basketball fan all his life. He followed the basketball team of his alma mater, St. John's, New York and especially the team's annual games with Syracuse University. Probably Vince's athletic experience contributed to his sense of "teamwork" all his life.
What brought Vince to the river?  He and Mary McCormick were wed in St. Mary's Church, Clayton, in 1942.  Five years later Vince planted a foot firmly in Clayton, founding well-known McCormick's Restaurant, Clayton, which he ran for thirty-six years, until a tragic fire there killed one of his sons.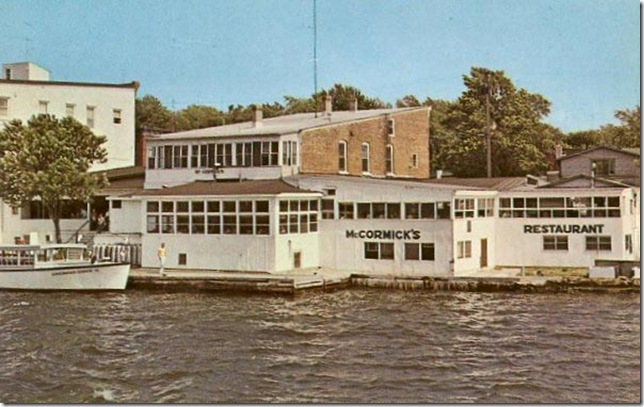 McCormick's Restaurant, Clayton, c. 1970, from a post card.
Although McCormick's Restaurant became a real institution on the river, its role was not merely culinary, since Vince (always an innovator) successfully induced bus tour operators to bring groups of visitors to his restaurant and to tour the islands.  They boarded tour boats directly from his riverfront establishment, its site now a park on Riverside Drive, Clayton.
Those were bleak years on the river.  Recovery after the Depression of the 1930s, followed by World War II, was slow in coming.  Through the 1950s we saw important historic landmarks abandoned and demolished.  Calumet Castle, across form McCormick's Restaurant, became property of Clayton interests in 1950 and burned in 1957.  The monumental building did not serve the marina business of the Clayton owner, but was regarded as a costly liability.
Vince was not merely saddened but outraged that Clayton and the region lost such an important historic asset.  Castle Rest and other landmarks were similarly vanishing at the time.  Vince became determined that Boldt Castle should not go the same way—a fate that he averted some twenty years later.
Although learned in many areas, Vince was not a historian. His natural tropism seemed to be for selling.  Vince was a born promoter and developer.  His college studies had been focused on retailing, as was his early career. He advanced from the function of department-store buyer to management, one of his functions being to locate future stores--this while operating the Clayton restaurant. The marketing function carried over to the restaurant business, when he successfully linked his McCormick's interest to that of bus tour and island tour operators--being probably the first in the North Country to successfully market such package tours.  Vince, as many have observed, had "vision."  He was imaginative about what might be, and bold about what was possible.  His batting average was exceptionally good—most of his ventures succeeded.
My acquaintance with Vince Dee, who was thirteen years older than I, began in the 1970s when I gave my collection of Thousand Islands historic material to the Thousand Islands Museum.  Vince said it was the largest gift received by the institution at the time. The collection became the nucleus for the library there, now relocated at the Antique Boat Museum. A Clayton group of five met at McCormick's Restaurant during the winter of 1964-64, with Vince serving as the first president. They founded the Thousand Islands Museum.  Vince asked me to put together a slide presentation drawn from my historic images.  The intent was not so much to serve as an educational feature for the new museum, but more as a promotional tool for development of the region.  The slide show would provide evidence of how extensive the hotel industry had been at the turn of the twentieth century.  Vince figured that if it happened once, it could happen again.
After the Thousand Islands Bridge Authority acquired Boldt Castle in 1977, Vince felt it was imperative to give Heart Island visitors something more, since the facility had deteriorated and had been vandalized during a half century of minimal maintenance.  Vince asked me to produce an automated media presentation for visitors, which I was pleased to do.  It ultimately grew into my book Boldt Castle, the first volume in a Thousand Islands trilogy.
Vince became a member of the Thousand Islands Bridge Authority in 1971, became chairman in 1977, and served as its dynamic leader for the rest of his life.  A major event for Vince and the Authority was acquisition of Boldt Castle and the Boldt Yacht House in 1977, when Vince became chairman.  The foundation that had operated the landmark tourist attraction for decades had determined to close it to the public, due to ruinous condition. Vince had been determined not to see Boldt Castle go the way of Calumet Castle.  He prevailed.  A heroic campaign of stabilization and renovation has returned the monument to fine condition and its future seems assured as a public attraction and regional resource.
Acquired with Boldt Castle was much property on Wellesley island, including another historic landmark, the Thousand Islands Club.  Vince was similarly determined to keep this institution alive.  He successfully negotiated operation by a Syracuse restaurateur.  Also, much land on the Boldt estate was fallow.  Vince negotiated with a developer to acquire the property from the Bridge Authority.  This proved to me one of his more controversial moves.
More generally, Vince had been concerned with regional development for decades.  Back in 1953, before he was associated with the Bridge Authority, he and the Authority's Executive Director, W. Grant Mitchell, established the International Council of the Thousand Islands.  Vince served as its president until six months before he died.
Vince's vision, combined with his dynamic can-do trait, contributed to founding of many other regional institutions.  The Thousand Islands Museum at Clayton, with Vince as its president from 1962 to 1979, spun off the Shipyard Museum (now the Antique Boat Museum) and the Thousand Islands Craft School and Textile Museum (now the Handweaving Museum and Arts Center), of which Vince became president in 1993.
While Vince was president of the Thousand Islands Museum, a small group of people, calling themselves the "Antique Boat Auxiliary," organized a show of antique boats.  This was in 1964, forty-three years ago.  Thus began the annual event at Clayton, "the first of its kind in the world."  The Antique Boat Show is not merely the big weekend of the year for Clayton, but a major draw to the entire Thousand Islands region, since it "continues to be the model against which all of the more recent shows are measured."
These comments were penned by Dr. William Heady, appearing in his valuable recollection of the Antique Boat Museum origins. Bill Heady also observed, "Working largely behind the scenes, as was his wont," Vince played a role familiar for him. Wearing several hats at once, he "arrayed the resources of several organizations to support the Antique Boat Auxiliary": the Thousand Islands Museum, the Clayton Chamber of Commerce (he served as president of this organization as well), and most important, the Thousand Islands International Council.  He assigned Esther Levy, Publicist for the Thousand Islands International Council to promote the boat show.  There was need for some institutional sponsor, however.  Because the Thousand Islands Museum was the sole organization in Clayton with an appropriate state charter, and because Vince was its president, the original sponsor of the annual boat show in 1968 became the Thousand Islands Museum.
The Clayton Opera House housed the museum at the time, without water access.  The Antique Boat Auxiliary, now a committee of the museum, in the early 1970s, acquired with private donations several parcels of Clayton waterfront property. There began the institution devoted to antique boats that became host to the annual boat show.  The Antique Boat Auxiliary broke away from the Thousand Islands Museum, in 1980 receiving a charter as the 1000 Islands Shipyard Museum.  Ten years later, an amendment to the charter changed the name to the Antique Boat Museum.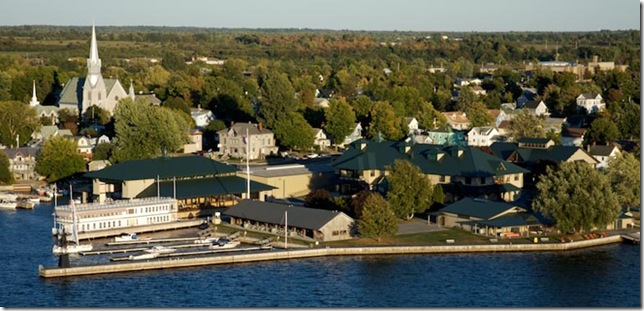 Not all of Vince's projects came to fruition.  Particularly promising was a proposal to establish a visitors' orientation facility on the river.  The project that I initiated was facilitated by planning grants from the New York State Council on the Arts and National Endowment for the Arts. I was pleased to work with Robert Charron on a survey of Thousand Islands historic landmarks, preparation of a media presentation, as well as prototypes for various exhibits. In 1987 the Thousand Islands Bridge Authority sought funding for the interpretive center from New York State.  New York State Senator (now United States Congressman) John McHugh and New York State Assemblyman H. Robert Nortz of Clayton (both Republicans) secured an appropriation of three million dollars for the project from the state legislature. Because state funds recently had been given to build the smaller information facility at the Thousand Islands Bridge, Democratic Governor Mario Cuomo refused to release the allocated funds, also commenting "They don't vote for me up there."
Vince, who in his later years resided in Watertown during the winter and Clayton during the summer, found Sackets Harbor within his orbit.  He was influential in renovation of Madison Barracks, calling on me to appraise the historic value of the stone hospital, the original (or at least the oldest) military hospital in the United States.  Subsequent neglect and deterioration has been appalling, but a campaign is under way to restore this nationally significant landmark.
Restoration of the Union Hotel at Sackets Harbor is one of Vince Dee's lasting achievements. He felt that the Seaway Trail required more of a presence than marker signs along the highway, envisioning a visitor orientation facility along the route that would present exhibits to inform visitors about geographic and historic aspects of the trail. Teresa Mitchell, President and CEO, recalls that "Vince, with State Assemblyman Matt Murphy and State Senator John McHugh, was the driving force in securing the first funding" for restoration of the 1817 Union Hotel and use as the Discovery Center, the central visitors' facility of the Seaway Trail. The Discovery Center opened in July 2000, on what would have been Vince's eighty-third birthday.
Vince realized that a regional tourism industry required a local resource: capable staff to operate visitor facilities. Vince, who had earned diplomas in hotel and restaurant management and as a certified travel agent, developed the hospitality and tourism program at Jefferson Community College, where he joined the faculty in 1966. He served as full-time professor for twenty-five years, continuing in an adjunct capacity for three additional years.  A scholarship awarded annually bears his name.
George W. Forbes, who chaired the committee selecting Vince as 1990 Clayton Citizen of the Year, characterized him aptly:   "He has been a dreamer, a planner and an innovator--all for the good of the Thousand Islands area. . . . He has created more organizations and promotional events than can be listed."
Vincent J. Dee is remembered in many ways.  He was the first inductee into the Seaway Trail Foundation Hall of Fame. For thirteen years the Seaway Trail has sponsored a "Vincent J. Dee, Sr. Memorial Golf Tournament."  Jefferson Community College, the Thousand Islands Museum, and the Handweaving Museum and Arts Center have established memorial funds.  His portrait hangs in headquarters of the Thousand Islands Bridge Authority and in the Discovery Center of the Seaway Trail, housed in the landmark Union Hotel which, beautifully restored, is the dominant landmark of Sackets Harbor, now become an upscale, major tourist destination.
Vince lost his first wife, Mary McCormick, in 1975 after thirty-three years of marriage. They had four children, two of whom survive, son Vincent J. Jr., who is a Clayton businessman with a son living In Florida, and daughter, Dominique, who is married with two children, living in South Carolina. Son Paul, who died fighting the restaurant fire, is survived by his widow Beth, now Mrs. Scott Docteur. Two years after death of Mary, his first wife, Vince married Alana Masters de Meurers at Boldt Castle--a venue that had special meaning for him. The second marriage ended in divorce.
Like George C. Boldt, Vince encouraged many students attend college, co-signing notes to enable this financially. Some of these people still with us testify to his support. Vince believed not merely in getting a proper education, but in going on to get more and more education. Then he believed, as Teresa Mitchell recalls, he felt obliged to "give back to the community"--that as leader "he empowered people's dreams and ability to move forward."
The most monumental and virtually eternal memorial to Vincent J. Dee is Boldt Castle, together with the Boldt Yacht House and other historic structures acquired by the Thousand Islands Bridge Authority.  It seems fair to say that these irreplaceable landmarks would have been lost to future generations had not Vince, with his usual "vision" and activism, made preservation, restoration, and public use a personal cause.  We have the castle, yacht house, and other monumental structures of Heart Island as landmark centerpieces of a regenerating region thanks to Vince--my friend and fellow River Rat, Vincent J. Dee.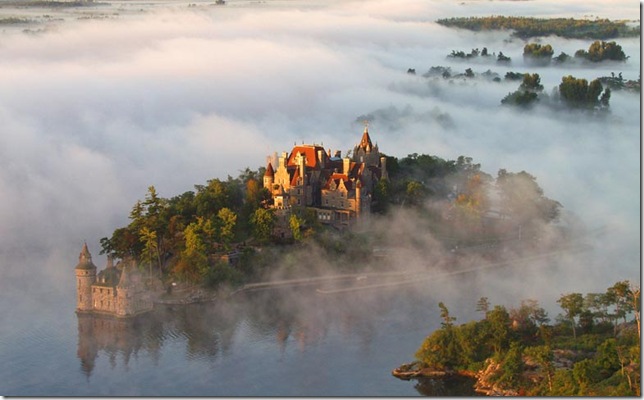 Boldt Castle, Heart Island: the landmark we owe to Vince Dee, his monument.
Vincent Dee Memorial Funds

Linda Schlerer, Executive Director of the Thousand Islands Museum, Clayton, tells us that "donations to the Vincent Dee Memorial Fund are used for new program initiatives, capital equipment, projects, and renovations, benefiting the growth and development of our organization and preservation of our history.

"Clayton proudly remembers Vince Dee as a man who put hospitality, tourism and customer service to work in helping found many organizations in the Thousand Islands." For more information on contributing to the Vincent Dee Memorial Fund, contact the T. I. Museum at 686-5794.

Contributions also may be made to the Vincent J. Dee Hospitality and Tourism Memorial Scholarship at Jefferson Community College,

and to the Vincent Dee Memorial Fund at the Handweaving Museum and Arts Center, Clayton.
by Paul Malo