Written by
Paul Malo
posted on January 15, 2008 12:54
I was initially drawn into the bay by the sight of a heron hunting there. The mist and the early morning light and still water made magic. If memory serves me correctly, it was taken on Bingham Island, just slightly down river from Waterson Point State Park, on the northern side of the island.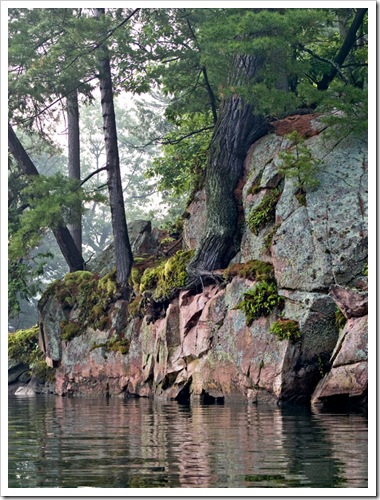 Photograph: Kathy Kempson
On Photography
I have been interesting in photography for quite some time. As a child I played in the darkroom in our basement, mostly developing older negatives that were my grandfather's. If we fast forward from then to today, we would blur right past all my photography experience in a few frames. There was some but nothing serious until about a year ago when I picked up another SLR (digital this time) and fell in love again with the art of making photographs, in an entirely new medium.
On The Islands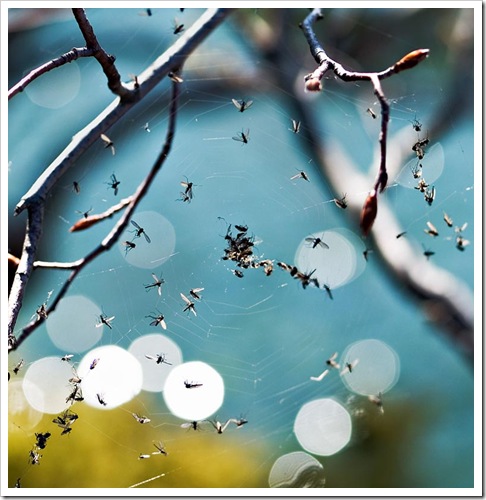 Again I go back to my childhood, some time earlier than my experiences with photography. I belong to the American Canoe Association (ACA), as did my parents and my grandfather. Sugar Island, off the shores of Gananoque is owned by the ACA. This paradise was my introduction to the islands at a very young age. We camped on the island and later built a cabins there. I continue to "camp" there. Combining kayaking and photography makes perfect sense to me. When the waters are still enough I hop into my kayak, strap my camera around my neck, and tuck it partially behind the top closure of my life jacket for instant easy access, and set off for a picture taking adventure. Different lenses/filters etc are strapped to the deck of my kayak in a waterproof case. I paddle across the river surface in awe of her ever-changing beauty. "Cliff Dwellers" and "Ice Birds" were both taken from my kayak. I now spend my time in the islands on both sides of the border, on Sugar Island and also on Smugglers' Island on the north side of Wellesley, and of course, on the water just about anywhere.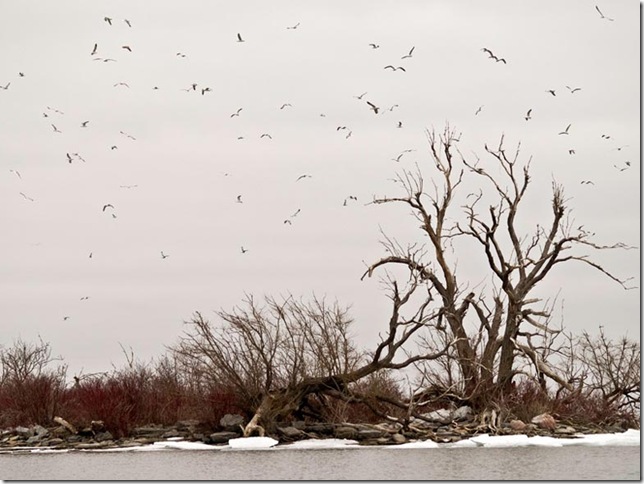 Ice Birds was taken in March up river from Calumet Island. Ice packs still hugged the mainland shoreline and the river was frozen solid between Grindstone and Wolfe Islands. The main channel was fairly open, but large and small sheets of ice were still abundant. The river this time of year belongs to the birds. We were in search of eagles in our kayaks. We did not find them but we did find ducks, geese, these seagulls.
On Me: I live in Cazenovia and work in the Syracuse area, but would much prefer to spend my time in the islands most any time of the year.
Kathy Kempson
Editor's Note: Thousand Islands Life will feature this Photography section every issue. We invite photographers to submit Thousand Islands images.

Kathy Kempson's photographs are not merely technically fine (suggesting no additional enhancement whatsoever by the photo editors) but evidence a pictorial eye that sees more than "pretty pictures." Of the first print, Ian Coristine, our preeminent regional photographer, comments: "Indeed Cliff Dweller is a real winner, Kathy. Keep up the outstanding work." The photo editor independently wrote to Kathy, "I particularly like your Cliff Dweller shot, which conveys our micro-landscape with brilliant clarity. But Ice Birds is the real winner. Not everyone will agree, I'm sure. This is not a 'pretty' picture (beauty being in the eye of the beholder). It's engaging, at least to me, because it has an edge, a sort of surreal, almost sinister quality. This may not be the ideal Thousand Islands for many viewers, but the image is in a different class altogether than the familiar calendar and postcard scenes. This (again, in my view) is really gallery-quality photography."

Paul Malo