Editor's Note:  It was only six months ago that I wrote RiverQuest Discovered in January, 2013.  In March I was asked to attend the first update meeting in Brockville and met almost 100 participants – all representing those organizations – public and private – that make our Thousand Islands such a wonderful place to live or to visit.  I was honored to speak that day and amazed at the enthusiasm in the room.  There is a lot of work to be done, but WOW(!), with so many all pulling in the same direction – this project is going to do amazing things for the region.

______________________________________________________________________________________________
RiverQuest Up Date
It's been a very busy few months here at McLellan Group and it's full steam ahead with RiverQuest.
We've got lots to tell you about, but first we'd like to welcome aboard some of our newest partners:
• Marine Museum of the Great Lakes in Kingston

• Township of Front of Yonge

• RiverBay Boat and Kayaks Rentals

• City of Ogdensburg

• Doran Bay Model Ship Museum

• Corporation of the Town of Gananoque

• Alexandria Bay Chamber of Commerce

• Fulford Place

• 1000 Island Gananoque Chamber of Commerce

• Greater Ogdensburg Chamber of Commerce

• Bytown Brigantine

St. Lawrence County Chamber of Commerce

Island Life Magazine

1000 Islands Skydeck
That brings a total of 68 partners and counting.
For those of you unfamiliar with RiverQuest, let's bring you up to speed. Launched by Brockville's Aquatarium, RiverQuest is an initiative that promises to bring together all the amazing experiences the Thousand Islands region has to offer.
It's all about inspiring curiosity!
So whatever things you are "In Quest of," be it adventure, culture, history or more, RiverQuest offers experiences that can't be found anywhere else.
Below are three videos made by Schools in the Thousand Islands – They certainly capture the spirit of the Islands and what truly represents the RiverQuest spirit.
A RiverQuest Moment - Guardino Elementary School in Clayton, NY
A RiverQuest Moment - Linklater Public School in Gananoque, Ontario
A RiverQuest Moment - Académie catholique Ange-Gabriel in Brockville, Ontario
No one knows the importance of RiverQuest better than Senior Account Director Lyne Roberge, who's affectionately known around here as 'Captain RiverQuest.'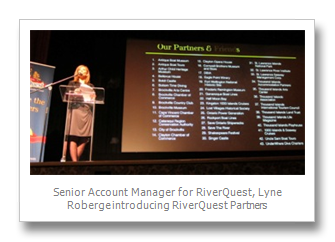 "After our March 22 Update Meeting, there is a lot of positive energy out there! I have visited a lot of our partners and everyone is very excited about what RiverQuest is doing and accomplishing. The kiosks being developed add a lot of value to our partners. Our next step will be to develop our Quests further, working with our partners. This is a very busy and exciting time for RiverQuest. Lots of fun!"
Support for RiverQuest has been overwhelming from across the region.  Here are just a few of the enthusiastic comments:
"The RiverQuest initiative will change the face of the 1000 Islands community, by bringing together partners who will market the region as it deserves to be presented to the world."   - Mary Jean McFall, Aquatarium
"The definition of a teacher is somebody that sees potential in somebody that they don't see in themselves, and they awaken the dream. RiverQuest is awaking the dream of what could be. It's about time." - Frank Kinsella, Mayor, Township of Leeds and the Thousand Islands
"Everything here inspires us. RiverQuest will encourage people to get across the bridge. The region is just way too wonderful. We just need to get the word out." -Norma Zimmer, Mayor of Clayton
"What a story this river could tell us. The 1000 Islands is one of the best places to live. Massena welcomes being a part of this." - Jim Hidy, Mayor of Massena.

"Tourism in this region has been a competition, despite summits and conferences about cooperation. I feel that a corner has been turned" - Dan Ross, Biosphere
In other news, McLellan Group's camera crews has been on the river and in the air for two very unique video shoots. One is a virtual trip back in time on the Magedoma and involves several RiverQuest partners from the Aquatarium, Antique Boat Museum, Singer Castle, and the Thousand Islands Playhouse, the St. Lawrence Shakespeare Festival and the Thousand Islands Arts Center. The other involves all our RiverQuest partners, a Jet Ranger helicopter and state-of-the-art 4k camera with high tech stabilization. Sound interesting?
Don't forget to check out RiverQuest's Facebook, Instagram and Twitter feed for the latest updates on these exciting events!
Also, The RiverQuest flags have been delivered to a majority of the partners, and you'll soon be able to get your hands on a RiverQuest hat.
By Morgan McLellan
Morgan McLellan was born in Toronto and raised on the River at Wood Isle, Lake Fleet, during the summer.   Morgan says he came to the conclusion that winters were too long and attended university in Hawaii. Upon graduating with a degree in International Relations, he joined CTV News Channel. After years of writing and producing, he joined his father's marketing company The McLellan Group in Toronto.  As a real River Rat like Doug McLellan, Morgan's father, we certainly look forward to seeing his name in print often in the coming months.