Written by
Lorraine Payette
posted on June 13, 2013 07:39
A handful of brave souls ventured out in the cold for the grand opening of the newly renamed Thousand Islands National Park in Mallorytown Landing on May 25.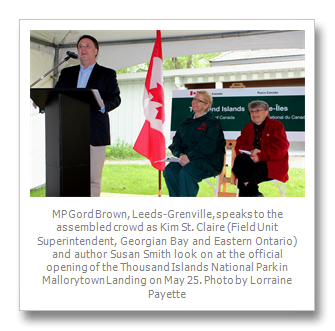 "We've seen the area become just as popular as it was many, many years ago," said Susan Smith, editor of "Thousand Islands Life Magazine" and author of The First Summer People – Thousand Islands 1650-1910. "I have to tell you that the very first man who recorded the Islands on paper didn't like them. His name was Remy, Sieur de Courcelle, he was the French governor and he came up the river in 1650. He said there was 'nothing agreeable about the Islands other than their multitude.' Luckily for us, nobody else has ever written anything bad about the Thousand Islands."
Many people, famous and otherwise, have travelled through the Islands since then and the observations and comments can be amusing as well as informative.
"I found a number of old brochures, and one that I like the best says that there were no mosquitoes and no malaria," said Smith. "I have to agree about the malaria, but I'm not too sure about the mosquitoes."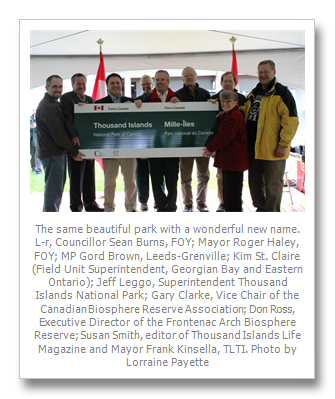 As people grew wealthier, the idea of "vacation time" became more common. Around the 1860s, wealthy industrialists decided they wanted to spend part of their leisure time out hunting and fishing, and where better than in the heart of the Thousand Islands? Island properties became popular, and many islands were sold for the purpose of putting up camps and cottages.
Today, the Islands are a major draw to the area, bringing in large numbers of tourists every year. Fishing tournaments are still popular, as are poker runs and all forms of outdoor activities. Tour boats bring guests through to look at the sights, and restaurants and various accommodations are available for even the most discerning visitors.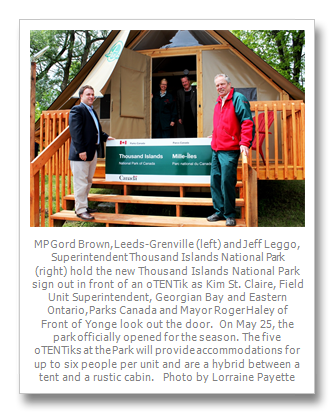 "I was very happy when the opportunity came to push this Bill in Parliament and we had a lot of help from our municipalities, from our economic development folks, and from the Frontenac Arch Biosphere Reserve," said MP Gord Brown, Leeds-Grenville, attending on behalf of the Honourable Peter Kent, Canada's Environment Minister. "Don Ross and Kim (St. Claire) were both with me the day we presented in front of Parliament to get this Bill through.
"The name Thousand Islands National Park resonates in our community and is more closely linked to the park's majestic setting. Furthermore it will help support and promote the dynamic natural and cultural tourism industry of our world-renowned region.
"The recently released Federal Tourism Strategy notes that Canada needs to continue to increase awareness of Canada as a premier tourism destination with natural and historic places to discover," said the Hon. MP Kent. "This is the first year that Parks Canada is able to take advantage of an internationally recognized brand to give Thousand Islands National Park a sense of place that speaks to a specific region of Canada."
"Mallorytown Landing has all the ingredients for family fun," said MP Brown. "These are the ingredients that make visitors want to come back again and stay even longer."
By Lorraine Payette
Lorraine Payette is a freelance writer and photographer living in the rural Gananoque area. She is best known for her publicly appreciated works in the EMC St. Lawrence, and enjoys contributing her written and photographic efforts to groups and organizations she feels are important to the local community. These include but are not limited to the Humane Society, Salvation Army, Royal Canadian Legion, Army Cadets, and schools.
For more information on Thousand Islands National Park and the oTENTiks, see Kim Robinson's June article, Camping in comfort in Thousand Islands  National Park or visit the Thousand Islands National Park website. 
.