Written by
Paul Malo
posted on September 16, 2007 09:56
For several years Rex (Rexford M.) Ennis of Grindstone Island has been compiling research for a biography of Charles Goodwin Emery, builder of Calumet Castle opposite Clayton, NY. Emery was owner of one of five companies that were consolidated into the American Tobacco Corporation, one of the early and controversial "trusts." Because Emery was treasurer of the corporation, he was involved in the government (under "trust-buster," President Theodore Roosevelt) investigations when the federal government took the corporation to court and succeeded in breaking up the trust. A bonanza of cash received when the new trust bought Emery's New York City company enabled ambitious Thousand Islands projects like the stone "castle" that supplanted an earlier frame cottage on Calumet Island. Emery was principle owner of the grand Frontenac Hotel on nearby Round Island as well as many other Thousand Islands properties and businesses.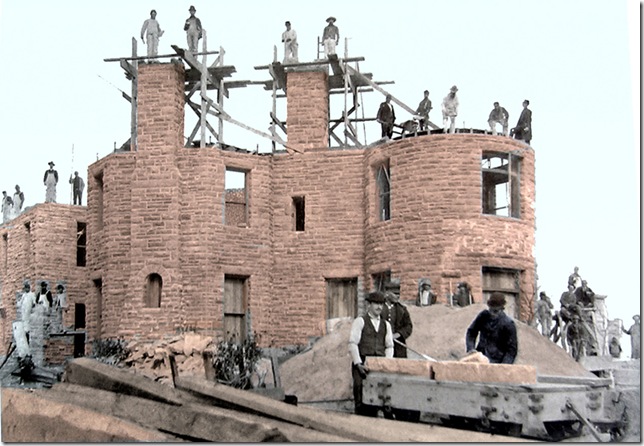 Original photography courtesy of Skip Rawson, Calumet Island, enhanced by Paul Malo,
Thousand Islands Life
Calumet Castle construction, c. 1892
Charles Emery's passion for the river, combined with ample means, made him one of the great developers and boosters of the region, his special place that he promoted with enthusiasm. Paul Malo provides a fuller account in the article about Charles Emery in his book, Fools' Paradise. Rex Ennis will greatly expand the story of the Emery family in New York City and at the Thousand Islands. We eagerly await publication of the biography.
Rex may appreciate reader's contributions of information, anecdotes, and old photographs which may enhance his project.
| | |
| --- | --- |
| Rex may be reached by e-mail at rex@rexnet.us or by regular mail: | Rexford M. Ennis |
|   | Grindstone Island |
|   | Clayton, NY 13624 |