Written by
Robert L. Matthews
posted on December 13, 2013 07:25
These Thousand Island pictures, taken over one hundred twenty five years ago, are a treasure to be shared.
They are scanned from three souvenir booklets dated 1882, 1884 and 1886. Many of the photographs published in these books are the same and my guess is that they can be attributed to  A. C. McIntyre.  However, it is  the individual scenes, not the photographer, that caught my attention.   Each is unique and helps to capture the history of the Thousand Islands.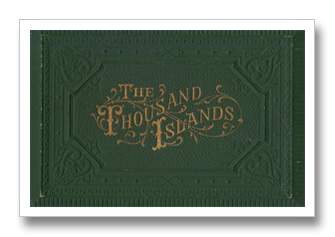 So how did these books get published?  After the photographer took the pictures, they were sent to Leipzig, Germany to Louis Glaser (1881-1915) who  developed a rich monochrome image, known as the Glaser Process, for printing photographs using at least five different litho stones.  This resulted in different tones resembling color.  The end result was a picture that was suppose to have depth [probably to resemble the stereographic photo cards].  The process was then shared with German printers.
Certainly there was a market for souvenir books in North America.  Today they command a high price at book sales and we feel fortunate when we discover a new one.  It's hard to imagine the days, months and maybe years it took from when the pictures were taken to when the booklets were returned to the Thousand Islands and our book shelves.

PICTURES OF THE THOUSAND ISLANDS circa 1886, shared by Robert L. Matthews
Hint:  You may stop the slide show by left clicking, and then click again to restart. 
By Robert L. Matthews, Fishers Landing
Robert L. Matthews is  the author of two popular books:  Glimpses of St. Lawrence Summer Life: Souvenirs from the Thousand Islands: Robert and Prudence Matthews Collection, and A History of the Thousand Islands Yacht Club, published in 2009.   He and his wife Prudence (well known River artist whose work was presented in Hooked on Prudence in 2009) have one of the most extensive collections of  Thousand Islands memorabilia.  When not at their beautiful River cottage at Fisher's Landing, they live in St. Petersburg, Florida.  Click here to see all of Robert's TI Life articles.