Are Carp news? Have the big fish suddenly migrated into our waters, perhaps filling some void left by decline in other species, say sturgeon?  Or are there fashions in fishing? Carp fishing has become popular and profitable around Caiger's, below Rockport--an inn that features special carp-fishing packages.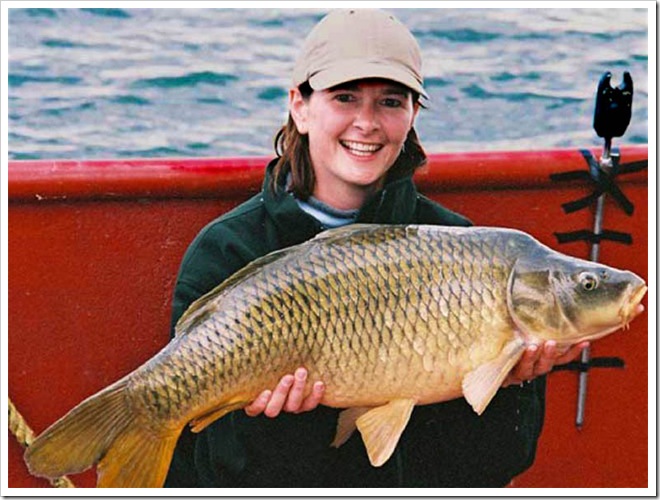 Photograph courtesy Caiger's Inn, Mallorytown
Carp Catch at Caiger's
Guide Doug Amos of Mallorytown says, "In my many years of chasing bass and pike in the shallows of the St. Lawrence River I have  found thousands of huge carp. Until this last year I saw them as a nuisance since they messed up the area for the bass and pike, BUT now, after I caught some of these monsters, I see them as an opportunity to really get my line stretched!!"
From Clayton, however, guide Allen Benas says, "There is no carp fishing in our area. If Caiger's is doing it, it is because of the popularity further down river, around Waddington, which attracted international attention a few years ago when they held an international carp fishing derby that brought many anglers there from Europe. Carp fishing is big over there, but not over here. I suspect that Caigers would just be trying to expand their appeal. Other than the Jewish community, I don't know of anyone who eats carp. I am happy to say that I can't write anything about them based on personal knowledge".
Also from Clayton, John Farrell, Director of the Thousand Islands Biological Field Station, Clayton,  reports, "A few people bowfish for carp in the Clayton area but the fish are not highly regarded as in the Massena area where they have been promoted intensively."
The recent carp interest in the North Country seems to be a promotion. The June, 2005 World Carp Championship tournament, offering a million-dollar first prize, brought more than a hundred two-person teams to a St. Lawrence River course extending forty miles, in the "Middle Corridor" of the St. Lawrence River, between Ogdensburg to Massena.  Contestants came from Britain, Canada, the United States, South Africa, Japan, and numerous European nations, as well as the Akwesasne Mohawk Nation.
According to the American Carp Society,"the St. Lawrence River is a globally acclaimed fishery. And we hope this event is the catalyst that will help the sport gain the respect in the U.S. that it has enjoyed in the rest of the world."
This past summer the fifth annual St. Lawrence International Junior Carp Tournament, promoted by Chris and Tom Felton, convened at Waddington, NY, self-proclaimed "Carp Capital of the World."
Carp are not a native species.  The fish, originating in Asia, were introduced into New York State in 1831 as a source of food. Carp were present in the St. Lawrence River prior to 1900. Many diners, however, have thought of carp as bottom-feeders in warm ponds, hence presumed to be muddy tasting or even reputed to be "polluted fish."  Carp may survive in polluted waters, but prefer clean—from which they are fine eating.  Carp are commercially marketed.  The Japanese, known to be fish connoisseurs, regard carp highly, and Jewish diners, scrupulous about cleanliness of their food, have long savored carp. Carp is enjoyed in China and is traditional for Christmas Eve dining in Slovakia and Poland. Instructions for preparation are available online.  Recipes for preparing carp bait are as elaborate as those for cooking the fish.
Carp are distributed widely.  The New York State Department of Environmental Conservation notes that they are to be found in eastern Lake Ontario and at the Thousand Islands--prominently in Eel Bay, above Wellesley Island (and not far from Clayton--where "there is no carp fishing").
The New York State record size for carp is fifty pounds, four ounces.  More commonly, carp abound in the ten-thirty pound range. Guide Doug Amos recalls, "My longest fight has been forty-five minutes with a twenty-five-pound carp, caught on an ultra-light five-foot crappie rod with six-pound test line. I was in my boat at the time and had to use the electric trolling motor to follow the fish up and down the canal I was fishing in."
Doug describes carp fishing in "untapped baited swims where the native wild carp have never seen a hook! You will never be crowded along the banks; as a matter of fact you may not see another carp fisherman. You will be fishing from national park islands that are only accessible by boat and from the deck boat in areas where the shore is not conducive to bank fishing. We have had great success with boat fishing (yes, we really do catch carp from a boat) since it allows us into virgin swims and we can change location easily depending on wind, current, and fish movements. "It is not unusual to see schools of carp numbering fifty to seventy fish swim past or under the boat. Carp up to forty-five pounds have been taken in this area, with significantly larger ones being seen."
At Caiger's (where Doug Amos is based) the proprietors feed local carp daily, offering early morning, evening and night fishing from the shore, with a daily big-carp contest for the largest carp caught at the inn. Nearby, at Rockport, Tony Hunt last season offered, for the first time, carp-fishing outings. For five years Tony's Rockport Walleye Charters has specialized in guided night fishing for walleye, "the only night-fishing charter on the St. Lawrence River."
Not all are about to be converted, however. Allen Benas of Clayton asserts, "Nobody on the upper river has anything to do with carp, considering them a 'garbage' fish."  A correspondent to the Watertown Daily Times wrote, "I do not condemn any sport or any kind of legal fishing. However, most anglers consider carp to be a trash fish. They are not eaten, just fished for sport. They are like the woodchucks of the hunting world."
But carp is said to be "gaining popularity in parts of the US and is a much-sought-after species in Europe, particularly in the UK where carp fishing is practically a science. Some British anglers even travel to the US in search of 'trophy' carp! They can't understand why we'd prefer catching a two-pound walleye to a twenty-pound carp."
By Paul Malo