If Muskies grow large, the real colossus of our fish is the sturgeon, "the King of Fish." A six-foot long record-breaker here weighed two hundred and thirty-five pounds (105.5kg)—but the largest sturgeon recorded on the Great lakes, seven-and-a-half feet long, weighed about three times that:  three-hundred-and-ten pounds.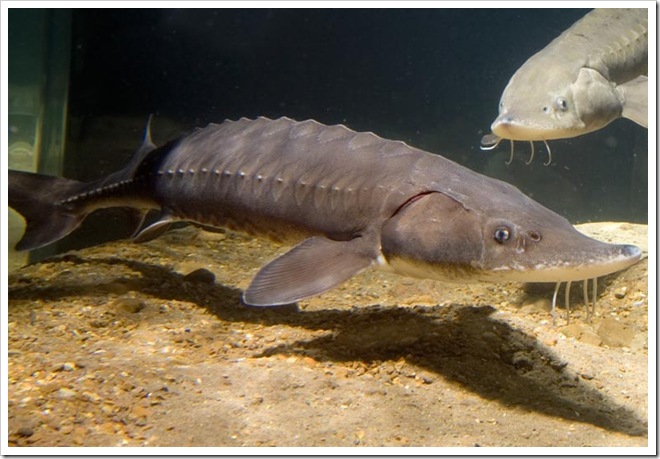 Lake Sturgeon. Photograph by Todd Stailey, courtesy of the Tennessee Aquarium.
An endangered species, sturgeon seem archaic—a rare survival from the Jurassic era of Dinosaurs. The strange creature's long, torpedo-like body has no scales, but is covered with thick plates.  The body terminates with shark-like tail.  The sturgeon has no bones, merely cartilage.  Whisker-like barbells, like those seen on carp and catfish, aid in searching bottom for food. Commonly three to five feet long, weighing ten to eighty pounds, the sturgeon's long, narrow mouth and jagged back contribute to the sturgeon's prehistoric look.  The sturgeon has survived hundreds of millions of years.
We may have supposed that sturgeon had vanished--an ancient fish species doomed to extinction.  But marvelously, in 1994 a small population reappeared at the Thousand Islands.  Fewer of us have even seen a sturgeon than have seen a muskie, so we may be surprised to learn that in recent years a sturgeon industry has developed on the Great Lakes (especially Lakes Erie and Michigan).  The fish flesh is cut into strips and smoked, pickled in brine, and sold.  Caviar, the highly prized roe or fish eggs, is mostly shipped to Europe.  Incredibly, one Great-Lakes firm uses ten to eighteen thousand sturgeons a year, averaging fifty pounds (23 kg) apiece.  So sturgeons have not vanished—yet.  Sturgeons are threatened, however.  The VHS virus that is attacking muskies and other species probably will affect sturgeon population. John Farrell says, "In our region--Eastern Lake Ontario--sturgeon have been dying of botulism--but that doesn't seem to affect the river yet.  The biggest detriment has been the loss of rapids historically used for spawning habitat and associated effects of the dam." Dams cut off spawning and nursery areas for migrating fish. Sturgeon are more prevalent in the St. Lawrence River below the Moses-Saunders power dam than above. Moreover, high demand for caviar and smoked flesh has resulted in overexploitation.  As with other fish, pollution and degradation of habitat have an adverse effect on population.
The New York Power Authority, as required by re licensing of Seaway and power projects, is obliged to complete ten habitat improvement projects by 2010.  By last autumn the power authority had completed several of these projects.  A proposed dam on the Grasse River, feeding into the St. Lawrence, has been delayed this fall due to concerns of the New York State Department of Environmental Conservation. 
Native Americans revered the sturgeon, respecting their size and strength while valuing meat and hides. Permanent settlers however regarded sturgeon, then so plentiful as to obstruct passage on rivers when spawning, as a nuisance, to be discarded if inadvertently caught, or fed to pigs, used for fertilizer, or burned to power early steamboats.  Caviar was less appreciated then than now by most people.
About the middle of the nineteenth century Americans began to value sturgeon, although in the North County "sturgeon steaks are not in high favor with local fish eaters."  (See excellent article, New York Times, June, 1889).  Europeans savored caviar, paying well for the delicacy.  Smoked sturgeon meat likewise came into favor.  Hide was tanned for leather an bladders provided isinglass, used industrially.  There was little concern for water pollution at the time, however, and construction of dams did not provide for sturgeon to reach upstream spawning grounds.  Sturgeon below Niagara Falls were wanderers, able to migrate to the sea and return, whereas those above the falls were confined to the upper Great Lakes.
Since sturgeon are slow growing, sudden exploitation plus adverse impact on habitat quickly decimated population in the nineteenth century.  A female sturgeon may live fifty years, but requires at least twenty years to reach maturity, and then spawns only every four to six years.
In the 1880s sturgeon were still numerous in the river around Cape Vincent.  A one-hundred-twenty-eight-pound fish was taken at Chaumont in 1880.  In 1883 enforcement officers of the new state "Fish Law" arrived, raising five sturgeon nets, without confiscating them, however, although the law allowed any person to destroy nets.  As Paul Malo relates in his book, Fools' Paradise, the law, instigated by the St. Lawrence River Anglers' Association, a Thousand Islands organization, caused intense friction between the "summer people" and commercial fishermen, especially around Cape Vincent. Sturgeon fishing had become big business. A. J. Dewey and Son, Chaumont, in that same year (1883) shipped an average of ten tons of caviar each week to New York City for canning.  The roe was salted and packed in casks.
In 1885 James Delmonico of New York City caught a seventy-eight-pound sturgeon, five-and-a-half feet long, while trolling near St. John's Island above Clayton.  The newspaper account advised, "It must not be inferred that the sturgeon took the hook." Rather, while trolling Delmonico inadvertently hooked in sturgeon's tail.  The report concluded that the angler would serve the fish, presumably at his restaurant, the famous Delmonico's of New York City.
A guest, at the New Frontenac Hotel, Round Island, while fishing for bass in August, 1900 around the nearby "Hogsback," hooked a twenty-five-pound sturgeon behind gill on a small half-inch hook.  The sturgeon pulled boat around for more than an hour, and after two hours, twenty minutes the fish was brought near the boat and gaffed.
A twenty-five-pound sturgeon was not really so large however. In 1887 a seventy-eight-pound sturgeon was landed, as reported in the Watertown Daily Times, June 12, 1887.
Sturgeon catches were rare, not merely because numbers were declining, but because anglers were not seeking them with proper fishing techniques.  Sturgeon are bottom feeders, so don't take baited hooks in the usual manner.  As reports suggest, catches by sportsmen were often inadvertent, the big fish hooked while trolling.  Allen Benas observes that sturgeon are more prevalent around Ogdensburg, down river, where waters were stocked with sturgeon for a few years.  Placing sturgeon on the endangered species list has largely curtailed fishing for them.
We had commercial sturgeon fishing on the river, however, in the early 1900s and until recent times.  Bruce Paul, who resides on the Canadian shore at the mouth of Jones Creek, relates this marvelous recollection of "the last commercial sturgeon fisherman," George Vanston, "a good friend and certainly a part of the history of this area":
"We have been here on this property at the mouth of Jones Creek since 1976. Here we have lived and raised two children who also became close friends with him and truly enjoyed his fishing stories. Many a times I spent talking to George about his unique occupation and his experiences over the years either beside his small boat docked at the southern span of the old bridge barrier or as he was cleaning his catch in a small room adjoining his island boathouse.
"George began fishing when he was very young, then developed it into a full time job in the early 1900s, as he followed his father Clark as a commercial fisherman along with the Mallorys and the Mays who also lived in the area. Here they fished perch, bullhead eels, carp, and of course, the gigantic sturgeon. I was always amazed seeing his small hand-crafted green boat pull in just filled in the middle with his daily catch. George always followed the guidelines for his catch and was always conservation-minded. He was an honest man and one who you could trust with any secret. For example, I remember one summer day just about a week prior to a fishing contest sponsored by the city of Brockville for the million-dollar catch of 'Macks-the-Million Dollar Bass.' I noticed a conservation truck down at George's dock early in the morning. Now seeing a conservation truck there was not unusual but one there before the daily catch did spark my attention.
"Despite my efforts, George would not let on this was anywhere out of the ordinary. After a local fisherman caught that bass near where Ian Coristine has his Island, did he indulge the secret. He netted that bass, tagged and released it. Oh how I think about that day!
"My children loved to see him bring his boat to the dock and marveled at his catch He also on occasion would go out on the ice and watch him in the early spring bring in is nets. We often saw fish we never had seen in the area before such as white perch.
"As I mentioned, George also had a license to fish the mighty sturgeon. Sturgeon became very scarce after the seaway was completed but George persisted and at time the local papers noted the catch he made. I recall seeing the monsters either in his small boat, hoisted to a telephone pole, or still alive tethered and swimming inside his boathouse. This one was to go to the aquarium at the Thousand Islands International Bridge. Unfortunately it later died from a lack on oxygen in the tank.
"George fished the sturgeon on a night line. On a large hook he would place a piece of a sucker fish on hooks all joined to a thousand- to about a fifteen-hundred-foot line. At the end he would attach a Javex bottle and it would rest just below the water level safe from other boats.
"George's health began to fail yet he still persisted to fish as long as he could. One day, Friday, August 24th, 1984, George caught his last sturgeon. It was a ninety-eight-pounder, measuring sixty-seven inches long and it was estimated to be between 125 to 150 years old. Not long after George's fishing days ended and along with it a part of our life here at Jones Creek. His sturgeon licence was retired but his commercial fishing licence was transferred to a gentleman from Picton Ontario.
"We were happy to see the nets go in once again but this did not last long. Bullhead in the area had a grub under their skin which made them unattractive to sell or for that matter eat. I insist that this is due to the Cormorants that have taken over this area. You see, bullhead are a bottom feeder and I feel that they are ingesting the excretions from the thousand of these birds. I know there are others who would challenge this idea but I have lived here and seen the changes in this fishery.
"Well that's some of my reflection from the past. I have noted that Robert Vanston, one of George's son's still lives in the area."
Lake sturgeon population declined rapidly during the 1950s and early 1960s. Eileen C. Stegemann observed, in a 1994 article in the New York State DEC publication, The Conservationist, "It took man only a little over a hundred years to jeopardize the existence of a fish that had been around for hundreds of millions of years."
After 1992 there were few lake sturgeon sightings in Lake Ontario. Although now an endangered species, illegal to possess in Lake Ontario, in and fall of 1996 commercial fishermen on the west side Wolfe Island, southwest of Simcoe, caught fifty to sixty lake sturgeon.  They were young, running sixteen to twenty inches.  Catches also increased in the nearby Bay of Quinte.
What accounts for these encouraging signs? According to a 1999 report of the Ontario Ministry of Environment, Lake Ontario habitat was improved since the 1960s and 1970s, due largely to regulation of pollution.
The three main problems confronting restoration of sturgeon populations are dams that impede migration, development of shores that reduces suitable spawning and nursery areas, and excessive fishing.  In addition, other factors are pollution, parasites, invasion of spawning areas by zebra mussels, and consumption of eggs by gobies.
What's the future for the lake sturgeon?  One observer thinks that the sturgeon is "very much on its way to become one of those 'Conservation Success Stories' like the bald eagle."
Let's hope so.
By Paul Malo