Written by
Paul Malo
posted on February 16, 2008 10:33
Alfred Worsley Holdstock [1820?-1901] moved from England to Montreal about 1850. There he taught drawing at the National School. Holdstock eventually abandoned teaching in order to concentrate on painting. He painted many oil, watercolour, and pastel views of the Ottawa Valley, Laurentians, Thousand Islands, and the Red River.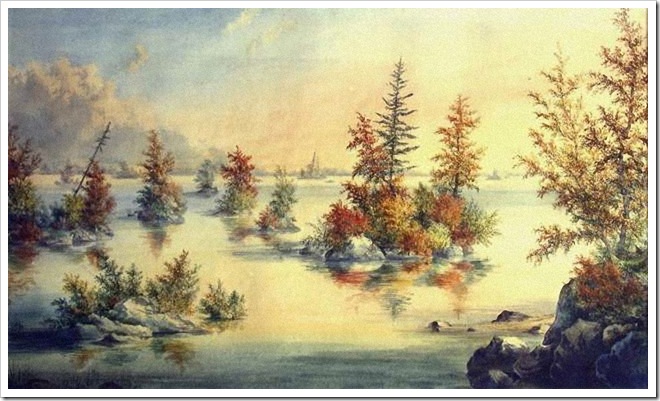 [Thousand Islands]. 12 ½ x 20 ½ inches. watercolour on paper. [c1881].
Reference:
Provenance: Manuge Galleries, Halifax, Nova Scotia.
Bibliography: Ottawa, Catalogue Of The National Gallery Of Canada II pp. 131-132; Harper, Early Painters And Engravers, p. 160; Harper, Painting in Canada, p. 106.
Holdstock's work may strike us as that of a rather naive journeyman painter, but it offers a period charm, and is not without value in the current art market, as evidenced by this exchange with appraiser John Sewell:
Q: This painting was handed down through my wife's great aunt, who acquired it in Montreal some time between 1940 and the 1960s. It's by A. W. Holdstock, of Montreal, and measures 38 by 64 cm (15 by 25 inches). The painting is described as 'Natives canoeing on the river in the Thousand Islands area.' I believe it's done in watercolour or conté crayon.

-- Terry, Guelph

A: This is typical of Alfred Worsley Holdstock's work. He's known for painting First Nations scenes in the Thousand Islands, as well as in Quebec, Manitoba, the Yukon and along the Ottawa River.

He was born in England in 1820 and died in Montreal in 1901, where he had immigrated to in 1850 and took up teaching, showing wealthy people how to draw. Later he put all his time and energy into pursuing his own work. Holdstock was a contemporary of Cornelius Krieghoff and you can see similarities in their work. This painting likely dates to between 1850 and 1870.

It's a nice example and any work depicting First Nations scenes is desirable these days. In the current market I think your painting should be worth about $3,500.
By Paul Malo