Photographs in the Lake Fleet
Written by
Doug McLellan
posted on February 13, 2009 14:46
For the formative years of my career I shot news and documentary programming on 16mm film and later tape. It was the best job I could imagine, traveling the world, seeing places and meeting people I wouldn't have imagined possible.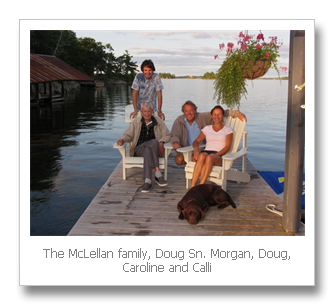 The immediate and "it only happens once" nature of the work taught me to shoot quick and ask questions later.   I had first discovered the 1000 Islands sailing through in the 70's but never thought I'd own one. Actually I never thought someone would sell one if they had one!
In 1987 I gave a wish list to a real estate agent and a few days later she called saying "you better come down". Within an hour of seeing Wood Isle, I was in the real estate agent's office putting in an offer. The sellers, Joe and Mary Vickers, were in the next office putting in an offer on a mainland property.  My offer was accepted but then the troubling news. Joe told me that a year earlier Margaret Trudeau had dropped by with her husband and said "if you ever decide to sell, will you please give me the first chance to buy it?" I had to nervously wait a week while they looked for her!
Today, it is our favourite place in the world and we spend as much time as possible there. Wood Isle is inhabited by Doug, Caroline, my son Morgan (when he's not at school) and Calli the Chocolate Labrador. Caroline and I work together in Toronto at McLellan Group Integrated Communications where Calli is employed as Director of Client Visits.
 
© Doug McLellan. Hot and Hazy, Canon Powershot Pro 1, ISO 100, 1/2000, f 5.6
This is our main dock, where we swim and sit. The mailbox is a remnant of the days Canada Post delivered. Today we keep fins and masks in there.

© Doug McLellan. Breakfast on the Fly, Olympus E500, ISO 100, 1/200, f 6.3
This is an early morning shot with Gordon Island in the background.

© Doug McLellan.Frosty Dock in March, Canon Powershot Pro 1, ISO 100, 1/250, f 8
We try to get out on the river as early as possible. We're very protected here and it's often warm enough to sit out in a T-shirt. That's Bloodletter (right) and Belabourer in the distance.

© Doug McLellan. Grindstone Marsh, Camera specifics: Olympus E500, ISO 100, 100mm, 1/1600, f 5.6
Some mornings I'll wake up early and have no intention of shooting but the light is so good, I'm suddenly in the boat. This is drifting in the fog just off Grindstone Island marsh (I think it's called lower - most easterly)

© Doug McLellan. Liquid Sunshine, Canon Powershot Pro 1, ISO 100, 1/800, f 4
This is the marsh off Hay Island. Early morning, just drifting.

© Doug McLellan. Lake Fleet Morning, Olympus E500, ISO 100, 1/640, f 11
This is shot from the south eastern tip of Wood isle on October 2, 2006 at 6:35 am. The rocks off Dumbfounder Island are on the right and the small island off Sundown Island (and Sundown) are visible in the near distance. Grindstone is the far shore.
© Doug McLellan. Yummy Lunch, Olympus E500, ISO 100, 1/640, f 4.5
Had just stepped off the boat at Wood Isle and saw the Heron. He normally flies quickly but this time he didn't. Then I saw him grab the snake and I knew he'd be busy for a few minutes.
By Doug McLellan
Editor's Note: When Doug McLellan sent his photographs, he also sent a request for island history. Doug lives on Wood Isle, in the Lake Fleet. He would like information about the original islander, Oscar F. Wood, who purchased the island in 1901. In the 1920s, "Pop" Cameron owned the island and "had a parade of vaudeville entertainers partying there". Cameron owned the Clayton Casino, and would bring entertainers back to Wood Isle after an evening's performance. Doug would like to learn more about Oscar Wood, Pop Cameron and the Casino – and so would we. If you have any information- please send it to us! info@thousandislandslife.com
Comments
Comment by: Jo-Anne Freeland ( )
Left at: 9:34 AM Sunday, February 15, 2009
---
these are beaultiful pictures and I will admit I am jealous ! It is my dream to stay on one the the Islands some day. I spent my childhood summers on Pillar Point in Guffins bay and we visited the islands at least once a week. When I return to the North country I feel like I am coming home.
When we go to the cottage we must make our trek to Cape Vincent, Clayton, and the Bay every visit. I can sit on Casino Island and dream the day away.
Thank you for these pictures they bring me close to islands when it is impossible to be there.
Comment by: Ron Richhart ( )
Left at: 5:38 PM Sunday, February 15, 2009
---
Quite the photographer, Mr. McLellan! Havin spent time, with Doug and his family, I am familiar with the majestic beauty, of Wood Isle and the Lake Fleet islands. Great job capturing the moments! We look forward to visiting again, this summer!
Your friends...
Comment by: Sue Duclon ( )
Left at: 7:40 AM Monday, February 16, 2009
---
I tried all this summer to get the Osprey catching is breakfast and dinner and always he'd get it when my camera was in the house. It is a marvelous thing to watch. I've seen the Heron's with fish but never a water snake! Wonderful photo's. Thank uyou for sharing
Comment by: merritt vaughan ( )
Left at: 9:10 PM Monday, February 16, 2009
---
Really liked the photos; I'm on the south side of Princess Charlotte and if you are in the area, please stop by!
Comment by: Mark Bond ( )
Left at: 11:15 AM Thursday, February 19, 2009
---
Graet pictures! What a reminder of a beautiful area! I can hardly wait until April!
Comment by: Raymond Pfeiffer ( )
Left at: 12:17 AM Monday, March 9, 2009
---
On one quiet night late last August, at dusk, off the Forty Acres, we were drifting and absorbing the rich sounds, colors, smells and feeling of being there alone with about a thousand ducks and water birds all around us. It was a rare moment, and some of these photos remind us of the special times one has on the River when one is least expecting them.
Comment by: Beverly Winner Kinkade ( )
Left at: 10:54 PM Wednesday, April 15, 2009
---
not sure you will see this, Doug, but I have spent every summer for 60 years "across the street" at Iona on Wyoming. I have never seen such beautiful photographs of Wood Isle. We knew the Vickers and they would be so happy with what you have done! My husband is an artist and has painted your home.....hope to see you this summer when we are up!
Comment by: Jack (James) Sheldon ( )
Left at: 4:43 PM Thursday, May 21, 2009
---
60 years ago, 9.12.1949, I chiseled our initials above the Steven's swim dock on Wyoming on the third day of our honeymoon. We fished from the boat house (long gone) across the small channel while overlooking Wood Isle. We spent many, many vacations there, and later many more on Belabourer. My wife, Nan, her mother (Helen Stevens), and Nan's grandparents spent many a summer on Wyoming. We met the Vickers many years ago - and we hope you have Met Woodie and Jim Stevens and their familiies - they have rich memories of the Lake Fleet - Gan and more. You have a perfect island - enjoy...
Comment by: Doug McLellan
Left at: 11:13 PM Thursday, May 21, 2009
---
Thanks Jack!
We'll have to look for those initials. The Stevens have become very good friends and we see each other as often as possible ... including last weekend. Please send me your email address and I'll share some picture updates. We agree about the perfect island ... set amongst so many other perfect, special places!
Doug
Comment by: Lini Stevens ( )
Left at: 9:19 AM Saturday, May 23, 2009
---
Doug, Caroline and Morgan,
We love you and can't wait to get up there this summer and spend more time together. Ralphie gives little licks to Callie!
You've made a little schoal into a masterpiece and we love looking at it across the tiny channel between Wyoming and Wood Isle. Now, do you have a recipe for quick growing white pines?
Love, Lini, Woodie, Tim, Woods and Melissa Stevens
Comment by: Keith Braund ( )
Left at: 1:23 PM Saturday, May 23, 2009
---
Wonderful photos Doug. They really give one a sense of feeling for what the islands are all about. It was good seeing you last weekend and meeting Caroline at last. Hope to see you this summer sometime.
Best regards,
Keith Braund and Donna McCormick
Comment by: Rick Webb ( )
Left at: 9:56 AM Sunday, May 24, 2009
---
HI,
Having spent a few days in the summer at Wyoming Island, I can attest to the wonderful scenary and views. Great pictures providing many memories, including construction of the Webb Keg house.
Comment by: Jim Stevens ( )
Left at: 11:01 AM Sunday, May 24, 2009
---
Awesome shots of paradise Doug! It was good to spend time with you and Caroline last weekend. Thank you for helping to remove the refuse from our downed tree root system and for rescuing us on Sunday when our engine wouldn't start. You are wonderful neighbors and we love our view of your beautiful treasure on the St. Lawrence River. We are looking forward to seeing you in July.
Love, Darlene and "Jimmy" Stevens
Comment by: Jack Patterson ( )
Left at: 8:18 PM Wednesday, May 27, 2009
---
As you most surely know , Doug , Nana and Bampy ( with their daughter ' s Peggy , Betty Jane - my mother , and Ann ) rented Wood Isle both the summer of 1925 and 1926 before they purchased Axeman and some of the adjacent small islands - in the fall of 1926 . Nana had , I believe , spent 1924 in France and while she was away with the family Bampy saw the river for the first time in the company of his eventual business partner (and first owner / builder on Jolly ) James A Singmaster , whose only child Jimmy , married our aunt Peggy as above ( I refer to Nana ' s self pubished ' vanity ' autobiography - as they say , " Five Generations , A Memoir " which actually I must add is in part a wonderful Thousand Island read . . . ) Bampy ' s mother even came from Germany to visit at Wood Isle : Sophia Schmidt - not sure of spelling . . . Breyer ( I have a picture of her there . ) I have no recollection of the names sited . I expect , Barb , none of us any longer - with Ann ' s passing , doesn ' t as well . Nana and Bampy alas would have . The , ' girls ' - my mother and our above aunts , used to row from Wood Ilse over to Grindstone where there then was a small store . The only ' power ' boats at the time being inboards ; this was well prior to the development of the outboard motor . They would troll for fish on the return . Then , as never since , the islands ( including all but a few in the Lake Fleet Group ) were empty , save farms on Grindstone , Howe , etc . and here and there make - shift fishing shanties although on some occasions like Wyoming , some folks had been foresighted . Of the seventeen islands listed by Sue Smith as being in the L F Group ( " The First Summer People , The Thousand Islands 1650 - 1910 . " ) only Sugar , Squaw , Wyoming , Axeman , Redtop , one perhaps a second other , then had what one might consider permanent habitation . Thank YOU for sharing !
Comment by: Abby Ellis-Angell ( )
Left at: 8:59 PM Sunday, December 27, 2009
---
I was so glad to come across your photos and stories of the 1000 Islands. And really surprised to see the rocks just off Dumbfounder Island (I think our name for them was/is 'Slumgut Island)!!! My father bought Dumfounder from Sherman Pratt, who owned Niagara Island...just across the channel...about 80??!!years ago, and my family spent MANY summers there. Great to see the notes from Jimmy Stevens and Jack Patterson, etc., who were just a few of the great neighbors who helped create good times and happy memories. My brother, Mark Ellis, and his wife Barbara (nee Ritson)who is Jack Patterson's cousin, now have the island, and every now and then my husband and I go for a visit. Thanks so much for giving everyone involved in the history of this incredible part of the world a chance to reminisce about it! All best, Abby Ellis-Angell