Written by
Ian Coristine
posted on December 13, 2014 12:53
It is such a privilege to see the River through the eyes of others who care deeply about it, but also a challenge to try to select winners among so many entries. I was once asked by Leeds and the 1000 Islands' former mayor, Frank Kinsella, "What are your criteria for judging an image?" My answer to Frank also applies here. "You know it when you see it." But when you see so many this good...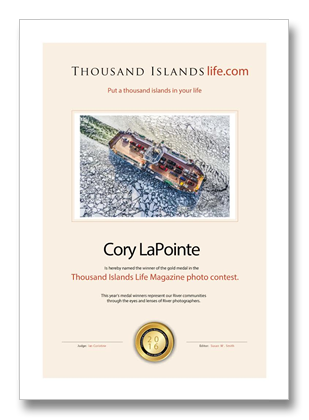 A total of 168 images were submitted, a fabulous effort from the River community, which also means that the medal winners had to beat off a lot of competition. All of them are a treat, in a real sense a love story of the River, "written" by 69 people.
The process is as follows. Susie Smith sends me all the images identified only by a number. Then begins the hard part; I start by taking a quick look at them to get a feel for what we are working with and then repeat the process, taking much more time with each image. This round trimmed the total down to 36 finalists with several difficult calls, but they had to be made.
Following an agonizing next round, I eventually managed to cut the total to 17, though I intended to get it down to 10 or 12. At this point the sieve is very fine indeed, and rejecting images becomes painful. My final goal was to then trim them down to 9 (3 medal winners with 6 honorable mentions), but I simply couldn't do it, so I decided it would be more fun to share all 17 images for you to enjoy. These are all winners, but alas, there still are only three medals, gold, silver and bronze. Here they are:
Bronze
This winter shot of Clayton's Frink Park Gazebo is simple but powerful. HDR techniques have been used to bring out the inside detail, which with the backlighting, would normally be lost in shadow. The perspective, subject and technique really come together. And it works on another level too; I know my old friend Paul Malo (the former dean of architecture at SYU and founder of TI Life) would be thrilled to see this exquisite structure, which has become a focal point of Clayton's waterfront. Kudos to the photographer, but also to the architect and to Clayton's vision for creating such an outstanding addition to the village.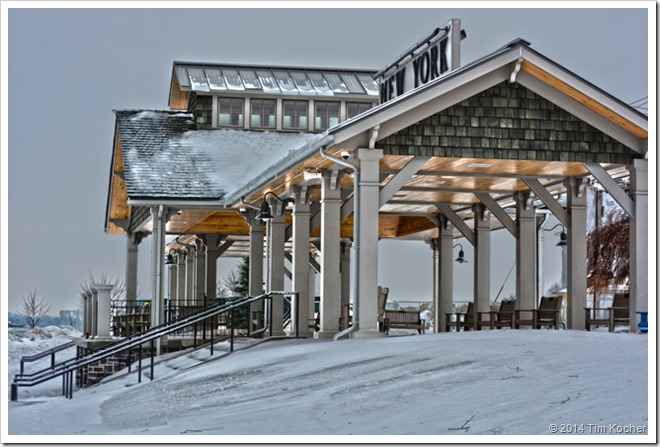 Clayton Pavilion in Winter
Bronze Medal photograph by ©Tim Kocher
_______________________________________________________________________________
Bronze Medal – Tim Kocher

"I took this picture of the Clayton Waterfront at the end of the winter of 2013. This is the site of the old Clayton Railroad Depot built in 1873. The old depot was torn down to make way for Frink Park and this beautiful pavilion"

"I was introduced to the Thousand Islands as a young boy on a weekend camping trip to Keewaydin State Park near Alexandria Bay, New York. I wouldn't return for several years, but I just couldn't get the image of what I saw as a boy, out of my head. As my wife Pam and I started our young family in the 1980s we would return to the Thousand Islands. There is no other place on earth like it. I thank God every time I am here and take none of it for granted. I am truly blessed to experience its beauty that most people couldn't even imagine. What better place on earth is there to be a photographer!

Tim worked in the transportation industry for 32 years. He has also held positions as president and fire chief for his local fire department where he was a member for 20 years. Tim is starting to pursue his real passion, which is photography. Tim produces his work under the name Riverview Photography.
_______________________________________________________________
Silver
This was the most difficult decision of all. I adore both of these final two images. Strange, isn't it that all these winter shots so entrance me, when we all know how beautiful summer is on the River? These last two are both gold medal winners in my eyes, but the tie was broken because while the shot of the cat was taken here, it doesn't definitively say "1000 Islands" as clearly as our winner, plus there is another subtle message mentioned below. I love the textures of the decaying shed, looking cold and forlorn in the gray light, in contrast to a cat which not only looks warm but is appropriately wearing a warm-toned fur coat. Beautiful!
Feral cat in a snow storm
Silver Medal photograph ©2014 Lindy Martin
_______________________________________________________________________________
Silver Medal – Lindy Martin

"This is called a feral (wild) cat in a snow storm.  Wolfe Island has a number of these homeless cats who fend for themselves all year long. This one caught my eye because of the dilapidated home in a snow storm and a cat who obviously wanted some type of shelter, while still hunting.  The 1000 islands is one of the best places to see all types of wildlife - even wild orange tabbies."

Lindy Martin moved to Leeds and the 1000 Islands in 2006, to take advantage of the easy walk to the river with her kayak. She writes, "Most of the time you can catch me walking the dog along the Parkway or behind a camera lens on the River or on one of the Islands."  With a passion for wildlife and pet photography, the Islands provide the ultimate background for both. You can see more of her photography at Martin and Company Photography.
______________________________________________________________
Gold
What's not to love about this image, with the subtle hues of color all perfectly complementing each other? There's just a hint of green in the island's pines brought out by the mist, with a different and equally subtle hue of green in the water. I also like the contrast the warm-toned seed pods add in the foreground, while (with the white shoreline) artfully framing the River. Lastly, this image is particularly appropriate for another reason - because it says precisely what all of us who support Susie Smith's amazing TI Life's efforts would like to say: Merry Christmas!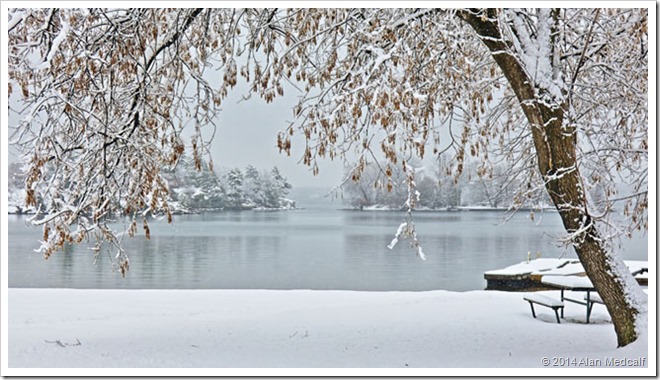 Winter's Blanket
Gold Medal photograph ©2014 Alan Medcalf
____________________________________________________________
Gold Medal – Alan Medcalf

"This was taken at St. Lawrence Park in Brockville, ON, on Nov 17, 2013, after the first significant snowfall of the season, and well before the ice started to form. With the snow still falling heavily, it was dead silent in the park, all sounds of kids playing at the beach just a memory under the snow."

Alan Medcalf is an amateur photographer, whose real passion is cycling as a means to building community. He currently chairs the Brockville Cycling Advisory Committee and sits on the Brock Trail and Tourism Advisory Committees.  Alan's a director of Tour du Canada and the YMCA of Brockville and Area, as well as being a member of the Frontenac Arch Biosphere Trails Council. To support these activities, Alan is a master bike mechanic and owns Brockville Cycles, a boutique service-only shop."

Alan won a Bronze medal in our TI Life's 2013 Contest
_____________________________________________________________________
Honorable mentions
Click all photographs to enlarge.  They are listed in numerical order as they were submitted to me:
Editor's Note:

Thanks to all who submitted their work.  Keep that camera at the ready for our 4th Annual TI Life Photo Contest, December 2015.

Our best wishes for the Holiday Season, and may you have a Happy New Year.
 
By Ian Coristine
Ian Coristine has been active in aerial photography for over 30 years and has written extensively for U.S. and Canadian aviation publications. The demands of air-to-air photography proved ideal training for an unexpected career of delighting residents of the Thousand Islands with five books that showcase the region's beauty.

His Thousand Islands photographs have been featured internationally. DxO Labs of Paris, France, award winning publishers of revolutionary high-end camera and lens correction software, selected Coristine as one of their 12 founding "Image Masters," from professional photographers around the world.

Ian Coristine's sixth book is an interactive eBook for the iPad, titled One in a Thousand, a memoir, and was co-written with Donna Walsh Inglehart.

Since Paul Malo created Thousand Islands Life Magazine, Ian has generously shared his photography in each issue, as well as providing our special "headers."