Nelfred
Written by
Paul Malo
posted on May 15, 2008 13:16
The last large summer home appeared on "millionaire's row" prior 1913 (although by one account that property was not acquired until 1917.)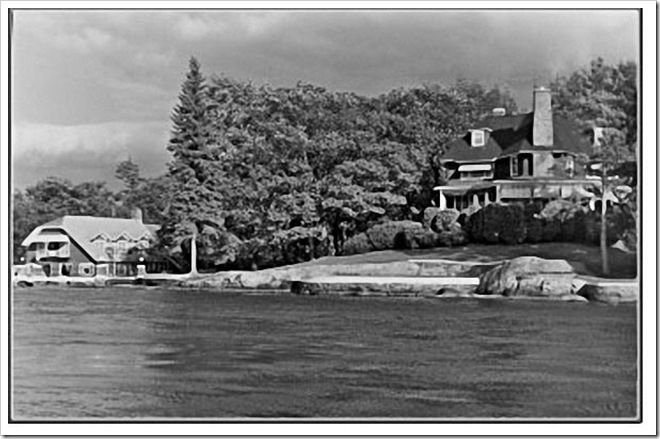 Peripatetic Fred and Nellie Frazer previously had summered at Edgewood and Westminster Parks until finally settling at Frontenac, where they bought property at the foot of the island and built a cottage [1893, lot #304, Coast Ave.]. The Frazers were avid and expert golfers and tennis players, spending much time at the "country club," which incorporated the Boldt links and Hart House--the facility that preceded construction of the Thousand Islands Club in the 1920s.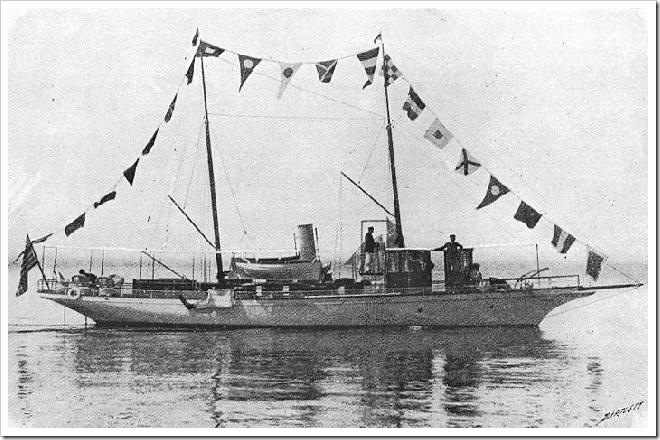 The beautiful Charllietta when new, then owned by designer, B. Higgens, who gave up headroom below decks for the long, low line.
The Frazers moored their "famous steam yacht", the seventy-five foot, schooner-rigged Charllietta, at the Frontenac yacht club. Gilbart Mercier, in his Pleasure Yachts of the Thousand Islands, tell us that W. B. Higgins designed the Charlietta, which was built by Charles L. Seabury & Co.in 1895. In 1923 Perl W. Devendorf, a Watertown automobile dealer, acquired the Charlietta and during the winter of 1923-1924 converted her from steam to gasoline power.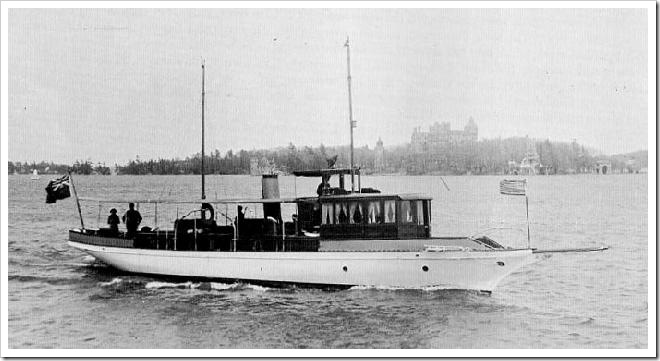 Charlietta after conversion to gasoline.The stack was retained and her appearance was not radically altered. Frazer about 1911 bought Commodore Bourne's 110-foot-long yacht, Artemis, which he improved and renamed Nelfred.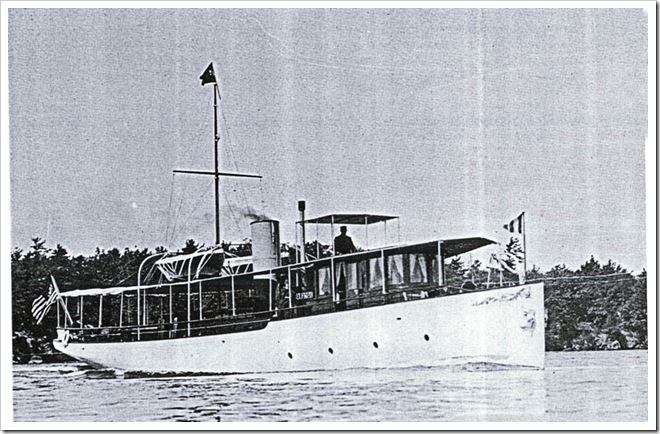 Artemis/Nelfred after adding a foot of freeboard to gain headroom below.
The Frazer's son, Blair, apparently cut a wide swath at the grand Frontenac hotel, where he and older Broadway musical comedy star, Fay Templeton kept up a very public "romance" as a running joke.
Fred Frazer was arraigned in 1924 for violation of anti-trust law. He produced "saddelry hardware" (malleable iron castings) and the indictment involved eighty-seven members of the American Malleable Casting Association charged with fixing prices in restraint of trade,--all of whom pleaded guilty and paid fines of $2500 each.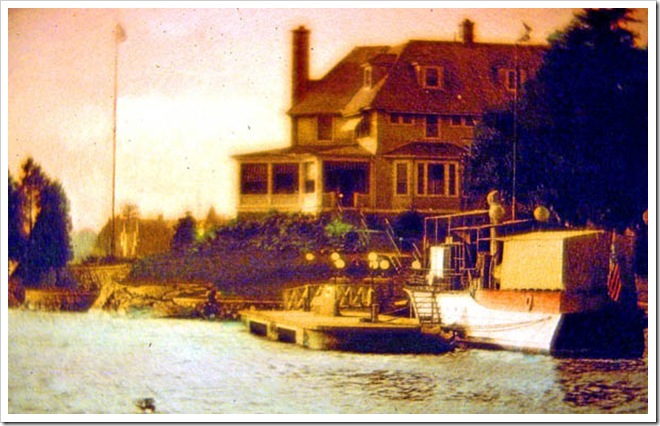 Nelfred, probably shortly after construction, c.1913.
Fred Frazer died in 1938, his second wife, Nellie, in 1927.
When summering at Round Island, keeping their yacht, Charllietta, at the Frontenac yacht club there, Fred and Nellie tired of commuting so far to their golf game at the Country Club, so  acquired the point located just above Devil's Oven, on which Rev. Rockwell had built one of the river's earlier cottages.  We don't know the architect of Nelfred, but probably he was a Syracusan, since Fred Frazer's business was Frazer-Jones, located on Milton Avenue in Solvay, NY., near Syracuse.
If I were to hazard a guess, merely a hunch based on familiarity with some Syracuse architects of the period, my guess would be [Alfred Tucker] Taylor and [Edwin Witthaus] Bonta, with offices in New York City and Syracuse. The firm designed many fine houses for affluent Syracusans of the period. They were also architects of the University Club (extant, Washington Street on Fayette Park) and YWCA building (East Onondaga Street, demolished), and All Saints Episcopal church, all in Syracuse, New York. However Syracuse architects Merrick & Randall designed The Kasson apartments on Syracuse's James Street--a family investment.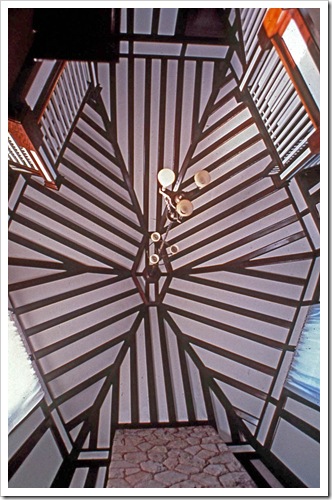 Again, the spectacular hall, reflecting the polygonal geometry of the plan, evidences the hand of an architect.
Nelfred clearly is an architect's design, evident in its individualistic, rather idiosyncratic approach as well as design taste.   The time was the early twentieth century, when what we might have expected would have been a more "correct" historical style, like that of the Thousand Islands Club built in the next decade, rendered in an eclectic period costume—in that case, "Mediterranean," which was the reigning mode in Florida at the time.  The T.I. Club might have been moved here as a wing from the Breakers at Palm Beach.  Improbably, we even we still discover Mediterranean-style villas in the Syracuse snow—although other styles were fashionable options of the 'twenties—the English cottage, for instance.  It would have been less surprising for Nelfred to have been a half-timbered Tudor mansion in 1913, or if more avant garde, a sprawling bungalow in the California manner—like Wawbeek ("Granny Hill") upriver on Wellesley Island at Browns  Bay.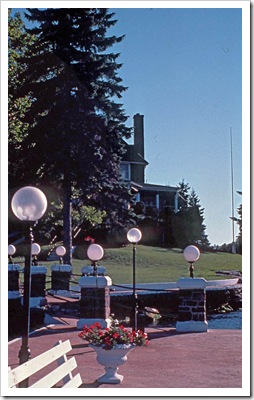 Nelfred has hipped roofs, not unlike Fairview Manor, as we shall see. The fairly steep roof slopes recall the chateauesque style so popular on the river, but Nelfred has no towers or castle-like features. The house is quite "modern" as a fresh approach, somewhat innovative in its polygonal planning and in details such as the dropped "awnings" over the large windows. The choice of wood shingles for the exterior suggests more a"cottage" than a mansion intent.
Nelfred is virtually indefinable by reference to any familiar style.  It is indeed "modern" in this sense, of rejecting historical reference.  Here "form follows function" and is rational.  Nelfred is no model of modernism, like Niagara Island, however. Perhaps to its credit, it did not seek to replicate the European "look" –the white walls and flat roofs of the "International Style."  We may imagine Nelfred's designer intending something fresh and original, but not bizarre, choosing familiar forms and materials, used in inventive ways.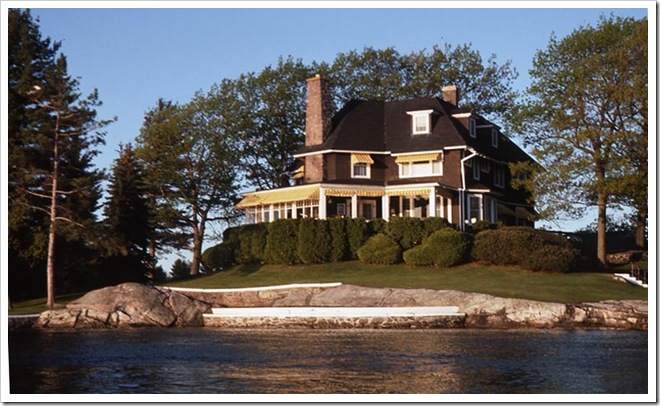 Nelfred in recent times.
Wood shingle siding is a local tradition on the river, and as long as the author can remember Nelfred has been dark brown with contrasting white trim. The color has been an effective foil for lavish displays of annual bloom along the water's edge.
Landscaping at Nelfred has always been notable for banks of floral displays ringing the rocky shore. The original yacht landing was marked by the sort of massive stone piers and steps so familiar at grand island establishments of the turn of the century. The very large boathouse complex ["the Yardarm"] a bit below the yacht landing, has become a fine independent summer residence.
Nelfred represents a school of "free design" that was favored by some architects of the early twentieth century who were not ready to scuttle tradition entirely, embracing a radical avant-garde modernism, but who nevertheless sought to be "creative," while remaining comfortably familiar. Fairview Manor will provide another instance of this approach.
Neighbor Tony Mollca recalls, "Win Gurney purchased Nelfred about forty years ago. Win's wife was Shirley Illingworth, thus Lee in the Winn-Lee name.
"Win Gurney and Bill Rapp Sr. were salesmen at the old Illingworth-Bailey Pontiac Dealership in Syracuse. Win married the owner's daughter but Bill ended up with the franchise. Later Win was able to get his own franchise and opened Win Gurney Pontiac. This was at a time when just having a GM franchise alone was enough to make you wealthy. As I understand it Win spent most of his time on the River while his sales manager, John Decker, operated the business very successfully during Win's frequent absence.
"Donald Hasseltine, of Scottsdale, Arizona (formerly Rochester, NY) purchased Nelfred directly from Win Gurney in 1979 or 1980."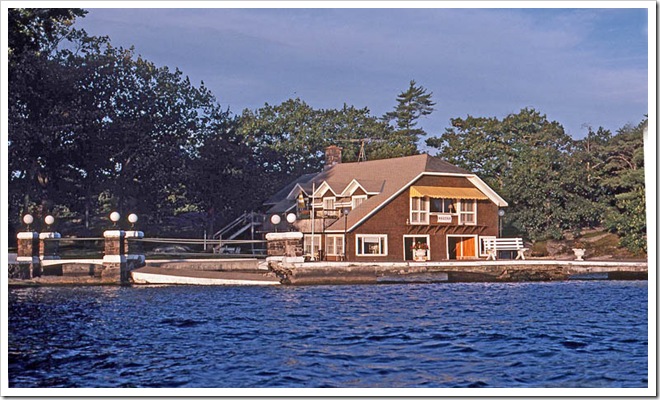 The Yardarm
 When Win Gurney purchased the Nelfred property it included the boathouse/ballroom ("the Yardarm") that is now owned by Jim Cumming. As the old story goes, Win never really wanted the big boathouse/ballroom and shortly after he purchased Nelfred he sold the Yardarm to a automobile dealer from Utica (Weaver) for virtually the same amount of money he paid for the entire property. Thus, he received nearly a full return on his initial investment and kept nearly the entire parcel of land, the large channel side pier and the main residence for himself. Jim Cumming is doing one of his superlative renovations of the Yardarm, which may serve as a guest house for one of his other properties.
Presumablhy "the Yardarm" housed the Fazer yacht, Charlietta. Originally, like other large yacht houses of the time, it would had a tall space inside, to allow the yacht to enter with masts and rigging standing. Probably a second story floor was inserted after the Charlietta was supplanted buy the Artemis/Nelfred.
By Paul Malo
Comments
Comment by: Thomas Sherry ( )
Left at: 7:54 PM Wednesday, June 17, 2009
---
Just looked up that the Nina, a 99 foot steam yacht built for Charles G. Emery by Nat Herreshoff in 1897 was later called the Josephine and then the Laurion. After falling into disrepair, it was purchased for the lowly sum of $3000 and refitted by John Jacob Astor, 3d, son of JJ Astor IV, killed on the Titanic. He renamed in the Placidia. Maritime records indicate it was sold in 1936 and renamed Iris Queen.
If anyone has an original photo of the yacht in any incarnation, please forward it to the editor.
Comment by: Jim ( )
Left at: 2:12 PM Tuesday, November 2, 2010
---
Mr. Sherry, I am working up a data sheet (for a collection of sheets concerning vessels lost or involved in interesting maritime incidents in Rhode Island for the Beavertail Lighthouse Museum Association in Jamestown, R.I.) about an explosion aboard Astor's PLACIDIA in 1935. I have come across your query for a photo of the vessel in a couple of areas and am wondering if you ever located one and if you would be willing to share it for our project. Any assistance would be most appreciated. Thanks.
Jim Jenney, Shipwreck Historian
Beavertail Lighthouse Museum Association
Comment by: stephen bellon ( )
Left at: 8:17 PM Monday, March 26, 2012
---
My great-aunt, Mary Benton Frazer, was Fred Frazer's second wife. I have inherited several pieces of silver, engraved with NELFRED. Aunty Mary often told me of stories about him, (he died 2 years before I was born) and the yacht, which spent most of its time, during her marriage, at berth in New York City. He was much beloved by my mother and my grandmother, Hazel Benton, Aunt Mary's sister-in-law. Aunt Mary was born in 1880 and died in 1970. There is a family story that Fred Frazer at one time was enamored of Mary's mother, Arlone Alzoa Babcock Benton.
Comment by: Brando
Left at: 9:42 PM Thursday, January 29, 2015
---
I did landscaping there for some years. Beautiful home inside and out. It's for sale
Comment by: Ashley
Left at: 11:19 PM Wednesday, September 30, 2015
---
I take of Win Gurney, this house was his pride and joy and he has a beautiful painting of it in his home.