About a month ago we started noticing some "unusual" things on our island in the Lake Fleet Group. We have a large Serviceberry tree outside the kitchen window that, for at least 30 years, has provided a fly-in-feast for Waxwings, Warblers, Wrens and Finch.
If you are not familiar with the Serviceberry tree, it has a crop of berries that look much like blueberries. Pioneers used them for baking and they were a staple (when available), mixed in with meat, fat and nuts to create Pemmican, the early day version of a power bar snack that fueled fur traders and explorers.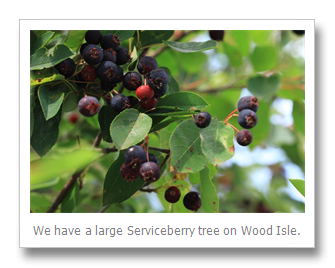 It's now mid-Summer and the tree is still loaded down with delicious berries, which we have been picking and eating by the handful. I can't remember a time when we've been able to do this. The songbirds haven't been eating the berries, for the first time ever. They also haven't been singing much. Their songs have been replaced by an almost non-stop screech coming from high in our trees.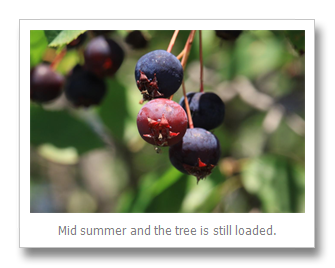 We were standing on our dock watching what we first thought were twirly-wirly maple seeds, floating down from above. It seemed a little early for these (and we don't have a maple tree there), then a couple landed by my foot and I realized these weren't tree seeds, these were feathers … by the dozens. Out came the binoculars.
Sitting in our old and slowly dying Elm tree, were 3 falcons, 2 of them clearly juveniles.
Out next ... our aerial camera system.
We use a powerful 4k camera on an Inspire drone, with 2 controllers, one allowing the pilot to focus on flying to, and staying in a safe place, and the other to let the cameraman adjust settings and pan and tilt the camera.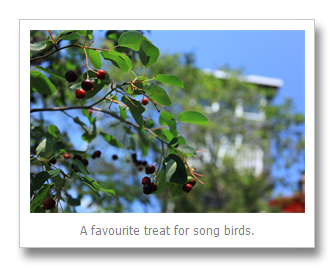 It took about a minute to get to altitude and gently walk the drone down between the dead elm branches, where we could see the birds clearly, but not bother them. We were within 8 feet of them, as the wind pushed the branches closer to the drone. The birds would look up at the whirring beast, but couldn't have cared less that it was so close. If anything they seemed to be saying "I wonder what you taste like … maybe you're next". They were enjoying their latest songbird and tossing the feathers to the wind.
This is the first year we've had a family of falcons, visit more or less permanently. We haven't spotted the nest but we hear them constantly. It seems they like our island as a place to practice flying … and have lunch … and dinner.
We shared the visuals with a number of people on the River and while there was some thought they might be young Peregrines, thanks to ornithologists, Gerry Smith and Greg Stroud, they have been identified as Merlins.
The Cornel Lab of Ornithology has this to say about them:
"Merlins are small, fierce falcons that use surprise attacks to bring down small songbirds and shorebirds. They are powerful fliers, but you can tell them from larger falcons by their rapid wingbeats and overall dark tones. Medieval falconers called them "Lady Hawks," and noblewomen used them to hunt Sky Larks. Merlin populations have largely recovered from twentieth-century declines, thanks to a ban on the pesticide DDT and their ability to adapt to life around towns and cities."
This year's falcon visit is just another example of the swings and changes that make-up life on the River. A decade ago, we had lots of voles. Then the Northern water snake population boomed, as the voles became dinner. Now there are mink everywhere and far fewer water snakes. We've always had lots of herons on the island, but fewer this year, with less snakes to eat due to the mink. (I photographed a heron swallowing a 2 foot water snake whole last year … yum).
Now for the first time we have large black crows hopping about the grass and cleaning up after the falcons. It makes you think about the balance of nature and how everything is integrated and connected. Initially our Serviceberry tree attracted songbirds which then attracted falcons. Now we hear few songs, hear lots of shrieking but have a tree full of berries! The falcons have started to move on, as they do, and a few songbirds have started dropping-in again. They best be careful though, our Merlins are still about and they've had lots of practice at what they do best.
| | |
| --- | --- |
| | See the falcon aerial video here …. by scrolling down on the page to the video (best in full screen mode) |

By Doug McLellan, Wood Isle, The Lake Fleet Group
Doug McLellan is a "thoroughly drenched" River Rat. He first came to the River by sailboat in the 1970s and has been passionate about it ever since. He and his wife Caroline spend their winters in Gananoque and as much time as the climate allows, on their Lake Fleet island property. Doug is the CEO of McLellan Group, a strategic storytelling company based in Toronto and Gananoque. They produce websites, videos and interactive exhibits and their work is featured locally with Aquatarium, RiverQuest and Ian Coristine's "One in a Thousand" ebook memoir.