We received an invitation to join Joan and Skip Tolette, at their home on Grindstone Island, for wine and cheese, and a poetry reading by Deming Holleran.  I recognized Deming, as "TI Life" published a story about her Canadian home, on Niagara Island, known as "The House that Jack Built." in April 2011.  I knew she was a poet, but I never imagined how much we would all enjoy the evening and her inspiring works.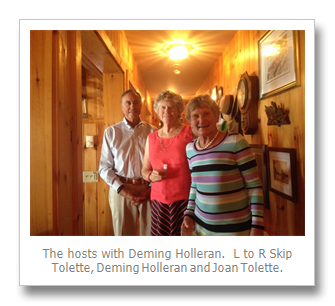 Skip asked the audience, 50+ strong, to be seated in chairs, borrowed from Dodge Hall and set-up in theatre style. He then introduced the guest of honour.  "Deming met her husband, Romer, while the two of them were attending Harvard/Radcliffe – they raised four daughters and have eight grandchildren…"  He went on to relate that Deming's oldest daughter, Demer, is in the Hall of Fame, for the game of Squash, and her daughter Alexa, has recently built a house on Grindstone.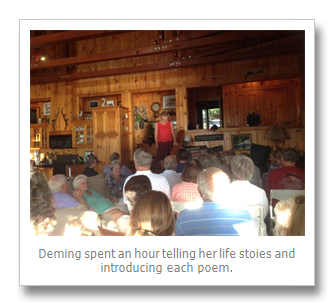 For the next hour we listened to Deming tell her life stories, by introducing each poem, and then beautifully reading them slowly. I, along with the audience, were touched immediately by her both her passion and compassion.
Deming has been writing poetry for over 20 years. She began after enrolling in a poetry class at Dartmouth, in Hanover, where they now live in the "off season." She explained that she was completing a Master's degree and, at the same time, was coping with the realization that her mother was suffering from Alzheimer's' Disease. Poetry became the outlet to allow her to deal with her emotions.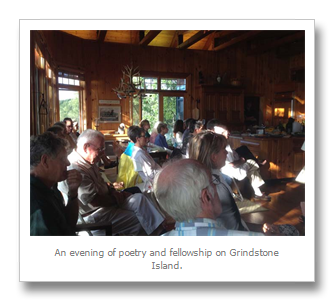 From there Deming not only wrote poetry, but has dedicated her time to fostering the art in many ways. She founded a workshop, "The Still Puddle Poets", which to this day, promotes poets and their works.
Early in her career, Deming went to The Frost Place, in Franconia, New Hampshire to attend a week's conference. The place had been the home of the poet, from 1915 to 1920 and where he wrote many of his best-loved poems.  In 1976 the town of Franconia purchased the property, as a bicentennial gift to the town.  Today it is a hub of activity, including conducting several writing conferences each summer for poets of all levels. In July and August, there is a poet in residence – someone who is roughly at the same point in her or her career as Frost was when he lived in the house.*   Deming is the Chairman of the Board and Treasurer.
Skip told the attentive audience that Deming writes about the River, and life's complications, and then Deming took over, reading "Elder Game"  and "Into the Mist".  These poems set the tone for the evening, with the realization that her mother's loss of comprehension, resonated with many in the room.  Each poem was introduced with delightful stories of her life on the River, her children and more – all were presented with wit and grace.
Yes, "Gypsy Song" is book to have on your island bookshelf.
Gypsy Song, Poems by Deming Holleran, is published by Antrim House, Simsbury, Connecticut.

Click here to read samples from the book from the Antrim House website

 

INTO THE MIST

Fog shawls the islands' shoulders
and the silent river, where a loon call
lingers in the early morning light.
My mother lies in the cool bedroom
of her house of fifty summers.
She is nearly eighty-eight, and weary,
opening her clouded eyes on one more day.
I see her head propped on pillows,
folds of skin thinner than the faded
collar of her nightgown. We are alone
and she asks, "Where am I?"
I cannot answer. I do not really know.
Her voice, my mother's voice, is high,
as hollow as the loon's. She leans
toward me, stretching hands like
sparrow talons searching for a perch.
My hands meet hers, and I am pulled down,
down into the mist, into the pillowed
cloudbank and the withered scent of her,
and I answer from the only place
that matters now, "You are with me."

 

Copyright © 2014 by Deming Holleran
By Susan W. Smith, Editor, Thousand Islands Life Magazine
susansmith@thosandislandslife.com
*Note:  I apologize to Deming Holleran and The Frost Place, Franconia, NH – as I inadvertently found a different Frost home when writing this article… and gave credit to the wrong one!  Deming graciously pointed out that there are several Frost homes in New England – all with a mission to share the love of poetry.  This article was corrected on August 20, 2015!  (The beauty of the internet!))