Editor's note: Do you tackle a Sudoku on your cottage veranda, sailboat cockpit, or at a campsite? TI Life is taking full advantage of Dan LeKander, from Wellesley Island, who is a Sudoku expert and author of "3 Advanced Sudoku Techniques – That Will Change Your Game Forever!"

Last month, January 2016, we published a final article in his series – but many of us are enjoying using "Dan's Steps" and when he asked if we would like a puzzle to solve every month … this editor said an enthusiastic… Yes, please!

I suggest you try this relatively easy puzzle and that you also purchase Dan's book "3 Advanced Sudoku Techniques, That Will Change Your Game Forever!"

Most importantly, I ask that you leave comments on any part of his series and throughout the coming year. Remember when your teacher said – no such thing as a silly question – as we can all learn together.
SUDOKU PUZZLE CHALLENGE … FEBRUARY 2016
If you are in a Sudoku mood this month and would like to solve a couple of Sudoku puzzles, this article features a relatively easy puzzle, and a more difficult puzzle, which require Steps 1-8.
First, we will revisit the approach as discussed in Dan's previous six TI LIFE articles …
This eight step approach will solve virtually all published Sudoku puzzles. In my experience, in solving over 1500 puzzles, this approach has yet to fail.
A SUDOKU PUZZLE THAT CAN BE SOLVED WITH STEPS 1-5 …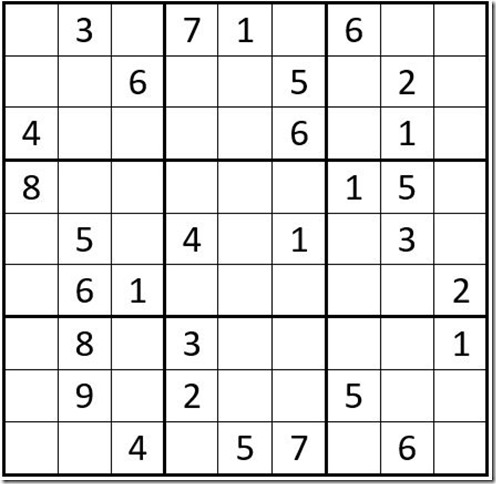 Puzzle 1
You may want to print this entire article. You will then have in hand the two puzzles and the techniques used to solve them (if you need assistance).
Suggestion: when you do the "Puzzle Preparation", be sure to check each Row, Column, and Box for obvious pairs. They are so easy to detect; by dealing with them in the Puzzle Prep stage, you can save yourself a good deal of effort.
Please note, there are numerous ways to solve a Sudoku Puzzle. If you achieve the correct answer, your way is perfectly fine. If you want to see how I solved the puzzle, please continue.
So, as you can see, the Puzzle Prep reduces the number of unsolved cells to "bare bones". From this point, if you examine techniques 1-5, you may or may not find a technique to employ. Can you find a Step 1 – 5 that works? Think XY-Wings; one XY-Wing breaks the puzzle! If you did not find it, look at Cell C6R1 (column 6, row 1). Also look at C6R4 and C9R1. These three cells form an XY-Wing. Reviewing the theory, you start with the "Driver Cell" which is C6R1. If C6R1 is a 2, then C6R4 = 9 and C9R4 cannot be a 9. If C6R1 = 4, then C9R1 = 9 and C9R4 cannot be a 9. So regardless if C6R1 is a 2 or 4, C9R4 cannot be a 9 and therefore is a 7. From here the puzzle easily is solved.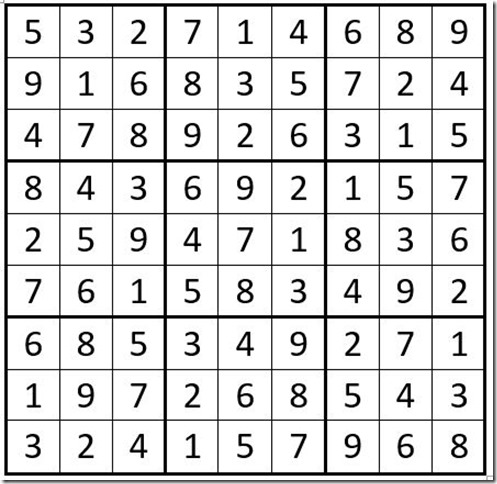 Puzzle 1 Completed
A SUDOKU PUZZLE THAT CAN BE SOLVED WITH STEPS 1-8 …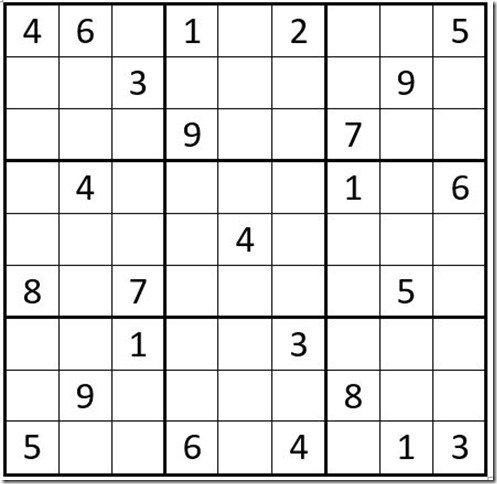 Puzzle 2
This puzzle requires you to utilize Steps 1-5 and then move on to Steps 6-8. The Puzzle Prep will solve a number of cells. Once you have completed the Puzzle Prep, your puzzle should look like this: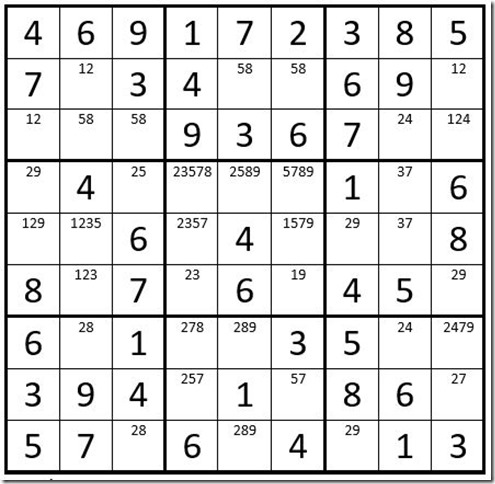 Puzzle 2 Through Puzzle Prep
TECHNIQUES:
C6R4 and C6R5 create an interaction with 9's, such that you can eliminate the 9 from C5R4.
Next, look at the unsolved cells in column 8. Two cells contain a 2, as an option, being C8R3 and C8R7. One of those two cells must be a 2. We will perform a Step 6, Dan's Yes/No Challenge. It works like this; I will name a cell and say "yes", which means we will assume it is a 2. Then, when I name another cell, and say "no", it means that cell cannot be a 2). First we will assume C8R3 = yes. Then C1R3 = no. Then C2R2 = yes. Then C2R7 = no. Next, we will assume C8R7 = yes. Then C2R7 = no. So what does this tell us? It says that regardless of whether C8R3 or C8R7 is a 2, C2R7 is not a 2. We eliminate the 2 from cell C2R7, which leaves an 8 as the only choice for that cell. C2R7 = 8. From this point the puzzle is unlocked and can be simply solved, resulting in: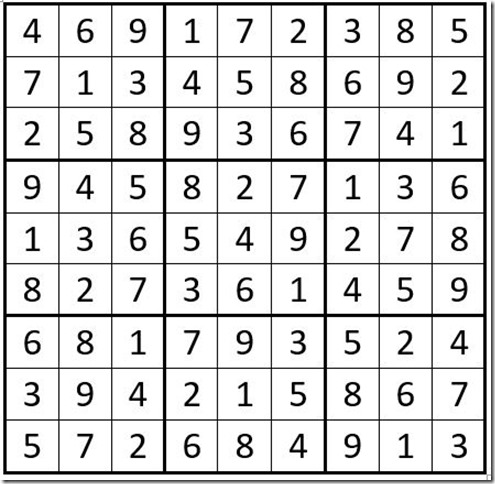 Puzzle 2 Completed
In my book "3 ADVANCED SUDOKU TECHNIQUES … THAT WILL CHANGE YOUR GAME FOREVER" step 6 is explained in detail in 16 pages. It explains exactly how to find the situations where this step will work, and it gives you numerous examples. Step 6 is a very powerful technique and often can either solve a puzzle or reduce the options in the unsolved cells.
In the March 2016 issue of TI LIFE, as well as over the course of 2016, the puzzles will become increasingly more difficult.
For those readers who wish to purchase Dan's book, it is available at three locations online, (djlsuniverse.com, amazon.com
and
ebay.com
)
Purchase of a book includes a 50 page blank grid pad, 33 black and two green tokens, to assist with Step 6.…
By Dan LeKander, Wellesley Island, NY
Dan LeKander and his wife, Peggy, have been seasonal residents of Fineview, on Wellesley Island, NY, since 1983. In addition to being a Sudoku addict, Dan explores the 1000 Islands to enjoy the wildlife, beauty, and of course, Catch-and Release bass fishing.
[See Jessy Kahn's Book Review, "3 Advanced Sudoku Techniques…" by Dan LeKander, June issue of TI Life.]