Faith is believing in something you can't see, hear, smell, taste, or feel and yet you know it is real. The "Spirit" of the St. Lawrence is dependent upon pure faith.
It is as real as you or me, maybe even more so. The mystique of the River bores into, then, with little effort becomes a fabric of your very being. You may come, you may depart, but, sure as the Sun will rise, you will return. It is a true cycle of love unbroken. It is Karma never to be denied.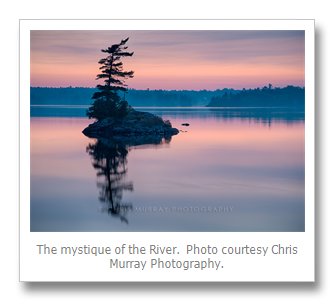 The River has no gender. One never refers to it as "he" or "she". Yet it becomes as a wanton woman who yearns for love, searching endlessly. It also shuns as a faithless suitor, once satisfied, who turns away in silence.
It's temper flares with caps, as white as a virgin bride's veil, then in an instance, when the surface is calm, it is as smooth as a path of water that Jesus might walk upon.
Evermore! Evermore! Dreams are to be realized, lost and rediscovered, as Lovers who speak loudly, then in an instant disappear. So it is as the tidewater churns restlessly, caresses the shore, then moves on.
Those who reside, visit, or travel alongside The St. Lawrence, all claim to have heard the same voice. They have "faith," the voice speaks to them, a reality unseen, but still real to them.
"You've come, you've seen, and now my friend, I have conquered your very essence!"
Naught will satisfy nor suffice until your return.
The River indeed sings, hums and shouts the old songs of yesteryear, all the while supporting the sounds and noises of boaters, fishermen and women, jet skis, and orange vested children.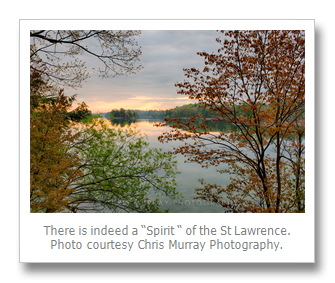 Sailing vessels of long ago sleep silently beneath the water, deep, ever so deep, while balladeers recite the age-old eulogy to The Edmund Fitzgerald. Unlike the Phoenix, the ship will never again rise from the sleep, fate has assigned her.
When I leave the St. Lawrence, I have only to close my eyes and it once again appears, glistening blue green, a strange surreal color, never quite duplicated by any artists pallet.
When I leave the St Lawrence, I am pulled back, much as a magnet to a metal.
When I leave the St Lawrence, I carry within my heart memories of my youth. Someday, the culmination of my years will be carried upon and float on it's waters.
Faith is the belief something exists though you can't see, hear, smell, or touch it.
So it is with our River. There is indeed a "spirit " of the St Lawrence. It is more real than anything one might encounter in this lifetime. Like a muse, it calls you endlessly to its shores,
Villages and farmlands.
It is there; it beckons; calling you with a faith that is ever present.