Written by
Susan W. Smith
posted on January 13, 2017 21:40
Yes, a whole new year… and I am still at it! If you had asked me a week ago, I would have told you all was well and I had not a care in the world. But this week my computer crashed! Seems everyone has gone through this and the first question is always… "Did you back it up?" Thankfully I had, and to the cloud which meant once the new disk was installed, we were back in business.
Retrieving almost 10 years of photographs and over 300 authors' material was one thing, but getting all the programs installed to complete the January '17 issue was another. Thankfully, as always, our computer magician, Mike Cox, (Creative Information Solutions) spent two hours on the phone walking me through the program installations linked to TI Life. We are almost complete with only one missing, a plugin for "polaroid photographs". So this article is published using an old format. All that being said, I hope you enjoy January and of course, we wish you all a very Happy New Year!
This Issue:
New Contributors
Audrey Lashomb - The Cheese Factory, a Chapter from "Going Home

Audrey Turcotte Lashomb, 86, was born and raised on Grindstone Island, the 4th largest island in the 1000 island. Audrey authored the book, "Going Home: Grindstone Island." She and her husband Bob, also from Grindstone, were educated in the one-room school house on the island. They later owned and operated Remar Rentals and Remar Shipyard in Clayton while still commuting from their island home. Audrey continues to document Island history and remains true to her Island roots.

Gerry Smith - River Birds; 40 Years of Change, Part 1: Good News.

Gerald A. "Gerry" Smith, is an ornithologist who can often be found leading fellow bird enthusiasts on guided Thousand Island Trust (TILT) tours, throughout the year. He is a graduate of the biology program at SUNY Oswego, is one of the founding members of Derby Hill Bird Observatory, along Lake Ontario. He was the first staff ornithologist at Derby Hill, for the Onondaga Audubon Society. Gerry was President of the Onondaga Audubon Society and in 2010 he published the popular guide book, "Birding the Great Lakes Seaway Trail."
Shout Out to Doug Tulloch and his Elves
For the second year in a row, Doug Tulloch decided to do more than worry that many children in the North Country may not have a merry Christmas. He created a GoFundMe account and put together a team of volunteers to make Sunday, December 17th, 2016 a day to remember. In the midst of the planning, Doug had some serious health issues, but not much stops Mr. Tulloch in his tracks, resulting in a day for Alexandria Bay to remember. Here is Doug's update published on December 29th. 2016 on his 1000 Islands River Santa Festival.
Well, we made it through the event and now it's time for a final update. We were able to purchase 1500 presents between the corporate sponsors and your donations. Of course the day of the event had to be the worst morning for driving all year and the numbers of attendees were. For that reason a lot of the children that were there left with more than one present but the smiles were bigger.

Then the real action started. Presents were delivered to Samaritan Hospital in Watertown. Lots of presents. Then we joined up with Rotary and added gifts to all the food baskets that they were distributing Two gifts per child for however many children were in the family. We were able to actually match the gender and the age to the gift.

Thank you to Rotary for allowing us to join in on your effort and to everybody who worked hard to make that 180 gift sorting work. Then the phone calls and the text started because of the news story stating we had some gifts left over. We were able to meet all those needs as well.

We then contacted the backpack clubs from each school and they came and picked up gifts again age and gender appropriate for their Backpack students. Final trip was made with gifts to the Children's Hospital in Syracuse. There were no leftover gifts when we were finished. But, the fundraising was intended to help students beyond just shiny presents with colorful wrapping; yesterday we made a donation to five River area school districts for their backpack programs.

This one event in the heart of the Thousand Islands helped students out over a 50-mile stretch of the St. Lawrence River and however many miles in-land the school districts reach. None of this would've been possible without the donations that you made. Please go to our Facebook site and take a look at all the wonderful pictures from the event. On behalf of the 1000 Islands River Santa Festival, we want to extend a heartfelt thank you. You made a difference in many, many young lives this Christmas and beyond. Merry Christmas and a happy New Year.
Prime Minister visits the Aquatarium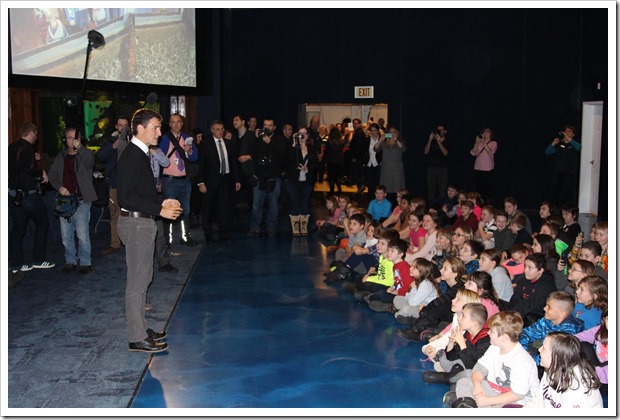 Photo courtesy Aquatarium, Brockville, ON
All news outlets were excited to cover the January 12th, 2017 visit of Canada's Prime Minister Justin Trudeau to the Aquatarium. He toured the facility and visited with local school children. Andrew Kizell, videographer, covered the event for Eastern Ontario Network (ENO). By all accounts, the Prime Minister was impressed as were the children and their teachers.
"Hi Astro Fans"
[We received the following from a reader who did not want any recognition, but this is information to add to your calendar.]
Just a couple of notes of upcoming astronomical events; starting this year.
On the 10 February 2017 at 19:44 there will be a Penumbral lunar eclipse
On 21 August 2017 at 15:24 there will be a partial Solar eclipse
On 31 January 2018 at 08:30 there will be a total Lunar eclipse
On 19 November 2021 at 04:03 there will be a partial Lunar eclipse
On 8 April 2024 at 15:24 there will be a total Solar eclipse
On 23 July 2093 at 06:55 there will be an annular Solar eclipse
Ok, the last one is a little farfetched so I will probably have to watch it from my wheelchair. All in all, there will be a few that will interest most of you and I know I will be watching the most important ones.
For the total eclipse of the sun in 2024, I have included a map. Those of you living in the outer regions, of the path, may like to gather at my place for a longer viewing. Not sure how long it will last around here but we do have a little time to find out. The Solar eclipse of 2017, that is next year should be fun to watch but will be dangerous to the unaided eyes.
He concluded offering to answer questions and hopes you will leave comments.
| | |
| --- | --- |
| Penumbral lunar Eclipse: An eclipse of the moon caused when the moon passes through the penumbra of the earth's shadow but not into the umbra as indicated. | |
| Here is the Path in our area. As you can see, it's quite close so we should get a nice view in the Thousand Islands. | |
Please Don't Forget

Remember our Facebook page throughout the month, as we post information and photographs & follow us on
We also appreciate having you hit our button at the top of each article and Support TI Life – We have started to work on our new format. Stay tuned…
If you are driving by the River, or out ice fishing, once the safe ice has formed – take photographs, please. Send them to info@thousandislandslife.com.
And, this Editor is looking forward to receiving new submissions throughout the winter months. I bet our readers are too!
Special thanks to Jane Taylor, Tremont Island, Admiralty Islands, who generously gave us hours of time as a proof reader for the past eight years – could not have done it without you, Jane. We continue to thank Rick Taylor and Georgia Barker for carrying on and to Bill Stallan, who is my co-editor. I also thank Mike Cox who is the magician behind the website. What a team…[


TI Life Team Member, Capt. Brian Johnson is guest speaker this month in Mallorytown. ]Click to Enlarge[
By Susan W. Smith, Editor, info@thousandislandslife.com
]