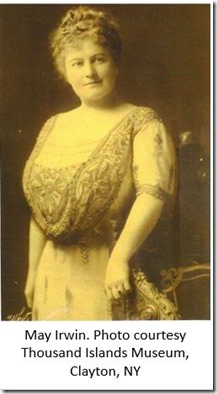 May was born Ada (some sources say Georgina) May Campbell, in Whitby, Ontario, Canada on June 27, 1862. Her father died when she was 13 years old and her mother, in need of money, encouraged May and her younger sister Flora, who were both wonderful singers, to perform in order to help support the family.
They debuted in Buffalo, NY in December 1874 as the Irwin Sisters and within three years they were performing at New York's Metropolitan Theater. When May reached the age of 21, she started performing alone. She made her first appearance on the theatrical stage with Augustin Daly's stock company. Becoming an immediate success, she went on to make her London stage debut at Toole's Theatre in August 1884.
May Irwin was one of the biggest names on the vaudeville stage from the 1880's until the early 1900's. In 1896, she made movie history with the first on screen kiss. At the time she was starring in a play called "The Widow Jones" with her co-star John Rice. The New York World newspaper convinced the two stars to repeat their lingering kiss for Thomas Edison's camera and history was made.
1891 marked Mays first visit to the Thousands Islands. She was advised by the artist Frederick Remington to set up a residence here for her ailing sister. May and her sister Flora arrived in Clayton in October 1891. Stopping at the Eggleston Hotel, May asked where she could buy provisions and was directed to Mr. Ellis's store. Securing supplies and a rented boat, she told her sister to lie down in the bottom of the boat and she rowed over to Monatauk Point. They spent the night there in an abandoned boathouse. The next morning May decided to row to the island directly across from the point, where they pitched a tent. They found a farmhouse when they explored the island and learned the family was willing to sell the whole island. May gave them $200 down and agreed to pay four more installments of $1,000 each. The island, off the head of Grindstone was promptly named Irwin Isle.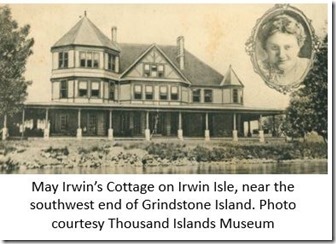 In 1900 she began construction of a large three story red granite mansion which was her summer home for many years. The home was not completed until 1908, but in May of 1907 she married Kurt Eisfeldt, her manager, at the home in a private ceremony with piles of building materials all around them. Her first husband Frederick Keller, father of her son Harry Irwin had died in 1886.
Miss Irwin performed on Broadway and throughout Europe. She made appearances at the White House, being invited by both Presidents William McKinley and Woodrow Wilson. By 1916 she owned her own theater company and opened her tour that year in Clayton, taking the production of "No. 33 Washington Square" on to Carthage, Plattsburgh, Watertown and eventually New York City.
During World War I, she worked for the Allied cause, gaining recognition for her lectures on food conservation and for giving benefit performances for the Red Cross. After the war her family spent more time in Clayton. In June 1917 they purchased the Hall-Spalsbury farm on the mainland, two miles from Clayton. She named the farm "Rainbows End". The Eisfeldts stocked the farm with prize Jersey cattle and trotting horses. May entertained many famous people at her farm. For many years, she would hold a barn dance on the farm to benefit the Clayton Golf Club. This was a costume affair with a fiddler's contest and was attended by several hundred people every year. May was an avid supporter of the club and was the first person to play golf there.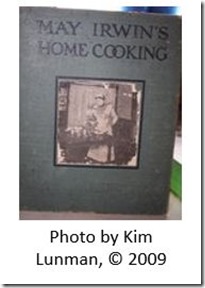 When not busy with her other ventures, May found time to write. In October 1904, to the delight of her many fans, she published a cookbook "May Irwin's Home Cooking". May was an excellent cook and entertained often. She had a fabulous sense of humor, dedicating her book "to those who have laughed at her serious efforts to be graceful and sylph-like for their benefit; to those who failed to laugh, and to those who said "go ahead and eat it" when she should have been adhering to her saccharin tablets and dry toast, with the hope that they may be tempted into eating "not wisely but too well".
May's cookbook was unique in that it had recipes on the right-hand page and jokes or humorous quotes on the left side page. She mentions in the front of the book that it includes "Dainty Dishes for Delicate Digestion – Being a collection of recipes, some of which were pried away from reticent chefs and head waiters and others that the author's friends have generously contributed, with several of her own. Looking over the cookbook, the things that amused people in 1904 are so different from today's world.
When an argument began between theater people and a union movement called Actors' Equity, Miss Irwin and George M. Cohan, who protested the logic of trying to unionize actors, announced their refusal to return to the stage, while the controversy raged. For that reason and the fact that she had enlarged her farm and was spending more time there, she eventually retired from stage. After 1922, she occasionally appeared in special performances, but essentially her career was at an end. She felt that vaudeville and the stage was going to take a back seat to the new medium, motion pictures.
In retirement, May did not just sit around her farm or her New York City apartment, but made frequent appearances at political gatherings, visited Europe often and entered her horses in county fairs. She wrote newspaper articles and hosted many parties for needy groups. She was very much a part of life in Clayton, friend to rich and poor, greeting all she came in contact with on her daily shopping trips to town. As a friend of many rich and famous people, she was influential in interesting them in the Thousand Islands, by entertaining them at her home, taking them fishing and encouraging them to purchase summer homes here.
May suffered a stroke on April 18, 1937, while spending time at Rainbows End. Her health suffered after that time and on October 22, 1938 May died at her apartment in New York City from bronchial pneumonia. She was 76 years old. Rev. Henry Bell, rector of Christ Episcopal Church in Clayton officiated at her funeral in New York City. She was buried in a bright red dress as she had always liked bright colors and had asked to be buried in red.
If you would like to learn more about May Irwin, see her cookbook or a piece of furniture from her cottage, visit the Thousand Islands Museum, 312 James Street in Clayton's Historic District. Winter hours are Tuesday & Wednesday from 10-4. We will be starting our popular winter program, "Hashing Over History" on Wednesday, February 8th, starting at 10 a.m., with Doreen Meeks entertaining us with stories from Grindstone Island.
YouTube publication of the Library of Congress. 

SUMMARY

From Maguire & Baucus catalogue: An osculatory performance by May Irwin and John Rice. The most popular subject ever shown.
From Edison films catalog: By May Irwin and John Rice. They get ready to kiss, begin to kiss, and kiss and kiss and kiss in a way that brings down the house every time. 50 feet. $7.50.
By Sharon Bourquin, Executive Director, Thousand Islands Museum, Clayton, NY
Sharon Bourquin was born and raised in Clayton, graduating from Clayton Central School in 1964.  She started volunteering at the Thousand Islands Museum after she retired as Secretary/Treasurer of Wingerath Bros., Inc. a local contracting and building supply business. For several years now, you can find Sharon at the Thousand Islands Museum, as Volunteer Executive Director. When not at the Museum she says, "I can usually be found with a book in my hand, as I am an avid reader."