Editor's Note:  This month we received two short stories written by friends who paddle together in the summer. Both agreed that day, to write about a day they spent together paddling around Grindstone Island. Rather than take only one, we combined them! Therefore this is a joint effort. Reminder: Click photographs to enlarge.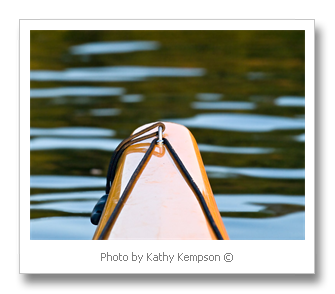 Peggy: Kathy Kempson and I conferred by phone, from Hay Island to Sugar Island, early in the morning of July 31.  The weather forecast said it would be cloudy with periods of sun and very hot. We decided it was a "go" and met at eight o'clock at the Punts, which is a small archipelago of islands in the Lake Fleet on the Canadian side, with a lighthouse that makes it a convenient rendezvous spot. It is also the hypotenuse of the triangle between Sugar and Hay.  It was already very warm and I had to jump off the dock to get wet before I headed out to the meeting spot.
Kathy: Grindstone Island is either the third or fourth largest island in the Thousand Islands, I can't exactly recall, and I don't think it is that important which one it is, rather that you get the idea that it is one of the larger islands. There is no ferry to the island, but there are year-round residents. Many islanders get around by mountain bike or four- wheelers. It is about a 15 mile paddle around it. It is a lovely paddle.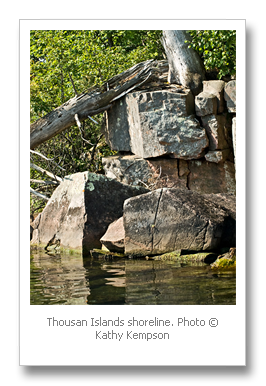 The shorelines vary as you cruise by. In a paddle craft one can get close enough to see the differing geological formations and other shoreline features that may be missed from a distance. There are undercut cliffs, sand stone that has washed away from underneath granite boulders. There are miles and miles of cattail marshes with insect and bird life a-plenty. There are sheer, steep cliffs that are home to vegetation that makes you wonder how it survives. There are bays that scream "put a dock here, your boat will be sheltered from the storm." There are majestic homes with breathtaking views and smaller ones with similar views. State parks and wooded shoreline also treat the eyes as you coast by. The clear waters offer beautiful views of the shoals and the sandy bottom on the head of Grindstone Island. 
Kathy had made the strategic decision to paddle it counterclockwise, to take advantage of going downwind on the American side, which is the bigger water. We paddled along the Grindstone shore, past Potter's Beach ( empty at 8 a.m.) and past old summer houses set on long beaches. With a view of Hickory to the right, we elected to paddle under a footbridge between Watch island and Grindstone. We continued around the far western end and stopped to stretch our backs near a collection of docks, a sprawling house, and friendly family. Assorted kayaks, motorboats, sailboats and small children littered the shore.
Kathy: We made our way around the head of Grindstone with conversation and sight-seeing and the next thing we knew, we were on the south side of the island, going down river with the wind. With Clayton on our right, we coasted past Calumet Island.
Peggy: Now we could see the mainland (America, America!) and we started to surf a bit on the waves from the prevailing wind. Kathy pointed out the tower on Calumet Island, from which we receive updated weather bulletins of information gleaned from a camera there.
Kathy: A big barge came out from Clayton to make some lumber and other supply deliveries to a couple of homes on Grindstone. I am sure the captain saw us, but when you are in a small boat, you still want to make sure. Our paths crossed several times as we both followed our courses. The barge looked like a piece of military surplus. From our perspective, it was HUGE.
Paddling down wind takes more concentration than up wind. My kayak likes to surf and controlling the surf while maintaining speed and course takes effort. The effect is a quick ride, as I am paying so much attention to getting to my destination that I don't notice the time that passes.
Peggy: We continued along the shore with the wind abating as we went. Our goal was lunch at Picnic Point. Soon we were in the channel between Picton Island and Grindstone. The flavor of cottages changed with the topography: they were smaller and were perched high on the steep slopes. There was one with an elaborate stair and a rail system for bringing up supplies.
We reached Picnic Point, a lovely vantage point looking east to Big Gull and Little Gull islands, close to noon. Picnic Point was a historic destination for fishing parties and other century old expeditions.
Kathy: We paddled on to Picnic Point in time for lunch and a have short dip in the river. The river felt wonderful.  A fishing charter was just pulling into the docks near where boats are beached. The charter captain was getting ready to serve an old fashioned shore dinner to his patrons. We passed them by and it was smooth sailing until we rounded the north east point of Grindstone, which is known as Canoe Point. Our course had us headed pretty much into the wind. Drop the paddle blade, pull, drop the other blade, pull. Get into the rhythm to keep a forward momentum.
Peggy: From Sugar we paddled up through the Lake Fleet islands to complete the tour. It was about 18 miles, we guessed and we slept well that night but rose again to paddle the next day!
by Kathy Kempson and Peggy Hart
Editor's note:  Kathy Kempson can be found during the summer on her kayak on or near Sugar Island in the Lake Fleet.  Sugar Island welcomes all members of the American Canoe Association. It is the perfect base camp for canoe / kayak paddlers and sailors to explore and enjoy the 1000 islands. (Yes! The ACA does have a Canadian Division too) Kathy combines kayaking and photography which as she says, "makes perfect sense".  [See January 2008, "Recent Photography by Kathy Kempson"  written by Paul Malo].  Peggy Hart spends summer in the Admiralty Islands.  Peggy is a well known weaver in Shelburne Falls, Massachusettes. Her company Bedfellows Blankets demonstrates her artistic abilities. Special thanks to Jessy Kahn who helped bring these two stories together.