That's the size of the monitor on my camera. When I shoot, my entire world is reduced to just three inches. If you use a DSLR camera, or smartphone, you probably have about the same 'world view'.
So, what you capture at the outset in those precious three inches is key to evoking the memories and emotions that make photography worthwhile. The excellent photo processing software out there can only work so many wonders. Ultimately, it's up to you to create the basic images.
Here are some thoughts on ways to help achieve that. Disclaimer: I'm an amateur, and what follows is only my personal approach to photography. I respectfully defer to others with more experience and knowledge when it comes to the more technical/sophisticated elements of digital photography.
Buy the Best
A better camera may not make you a better photographer. But it can offer you more opportunities to become better. So while smartphones are marvelous inventions, with ever-improving cameras, if you truly want to step up your chances of snagging that "oooh!" shot, I strongly recommend treating yourself to a decent DSLR. Add a zoom lens to your inventory too. You'll spend some money, but your reward can be pictures that really satisfy.
Nature as Architecture
An artist relative taught me always to look up. When you do, it's amazing what you can find. Architectural details abound in cityscapes, though often at heights that escape us as we trudge along. The same is true in nature.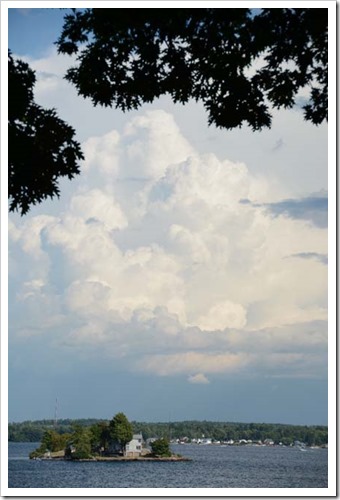 "Cloud Tower"

Photo by Tom Robbins ©2017
In neuroscience, there's a phenomenon called "the cathedral effect". It means that our brains respond powerfully to settings that draw our gaze upward. It's why cathedrals are designed the way they are. Enter one and your eyes inevitably rise.
This shot reflects that. There is a natural 'architecture' in the cloud formation, and it attracts the eye to follow as the shape builds upward.
Note too that the formation is framed by dark leaves in the foreground. This helps give the impression of scale and distance—added perspective, in other words.
Try a Little Texture
The St. Lawrence in summer has many moods. I love all of them. I bet you do too.
So, shoot sometimes even when color has been largely bled from the scene, as in this stormy shot: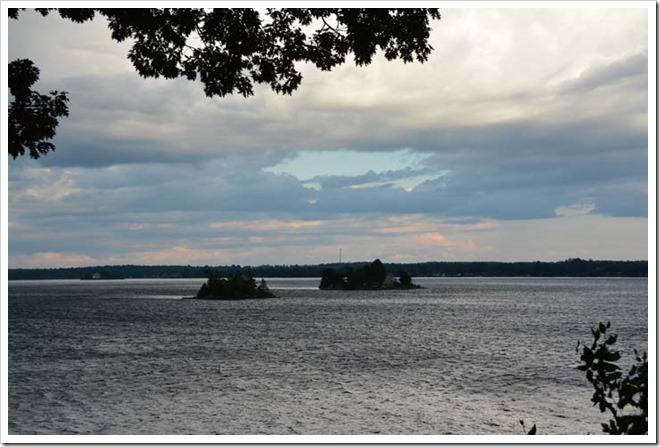 "Wind on the Water"
Photo by Tom Robbins ©2017
My favorite aspect of this image is the sense of texture that the choppy water has. It's different than most days, when the waves roll by in smoothly-undulating rhythm. That texture adds extra visual interest, and evokes the gathering storm. Look for texture—it's everywhere, from the grain of a fallen tree trunk to water droplets on a window.
Here's another example of texture: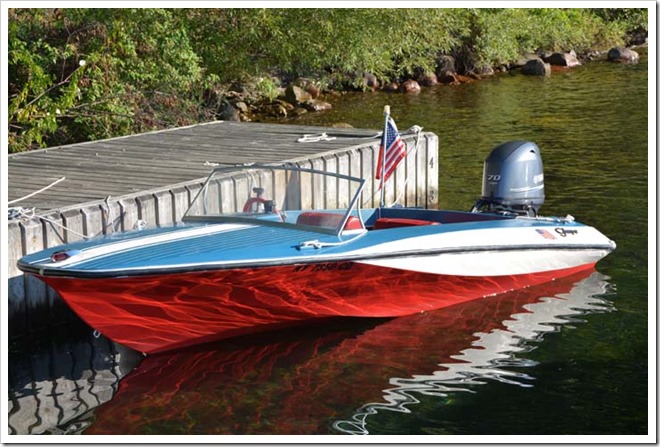 "Glasspar"
Photo by Tom Robbins ©2017
Let nature paint for you. The light was at just the right angle, the breeze was just enough to ripple the water and cast reflections on both the boat hull and the surrounding water. This shot was grabbed with only a few moments to spare before those elements were gone for good. I waited awhile for that moment—so patience is your friend when it comes to 'painting' in-camera with light and color!
Slide Sometimes
It's natural to compose shots where the main feature is dead center. But occasionally try offsetting that main feature. Slide it to the left or right, and you might surprise yourself with the outcome.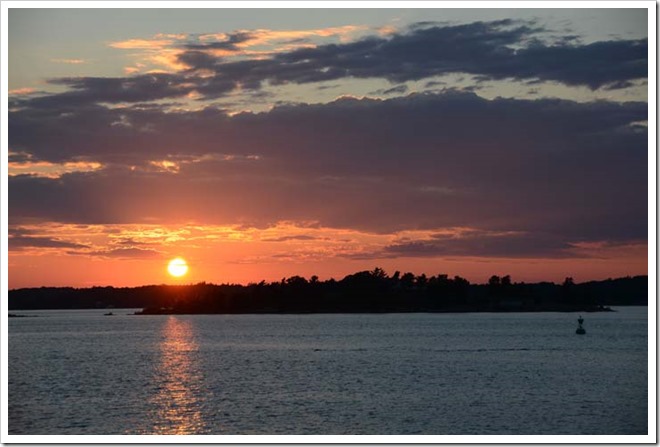 "River Sunset"
Photo by Tom Robbins ©2017
My goal in this shot was to capture Pine Island, silhouetted against the sunset. The result was that the sun was 'forced' to the left. But when I examined the image in more detail, I discovered a pleasing benefit.
Look closely, just below the setting sun, and you'll see how the light illuminated a single treetop. That small but important feature 'makes' the shot for me. As sensuous as the rich colors and dark contrasts are, it is that tiny detail that draws my eye and makes me linger there.
Close Up and Personal
Gorgeous sunsets, dazzling fireworks displays, and majestic castles are always gratifying subjects. But shooting in tight close-up can deliver satisfying results too.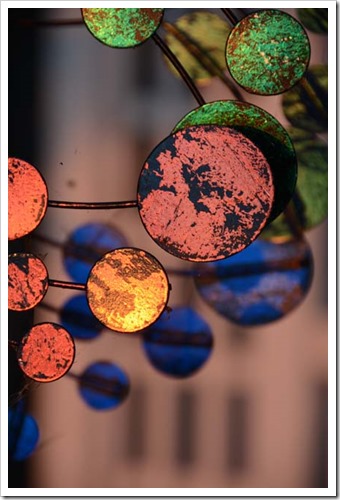 "Wind Mobile"
Photo by Tom Robbins ©2017
This shot incorporates the textural element I mentioned earlier, and a couple of other features.
Note how the color circles in the background are out of sharp focus. And how there is a black-and-white 'grid' even farther back, behind them. These elements add a sense of depth and dimension to the image. The technical term for this is "depth of field". In layman's terms, it lends a certain slight '3D' effect for the mind's eye.
With today's automated technology, your camera can deliver this effect without too much effort on your part. But how you compose the shot—your choices of angle, of background, of light, of central focus and framing are still critical.
One other point I'd make here: embrace imperfection. I couldn't capture the close-up I wanted and still include all of every circle. So, some necessarily had to be cut off. And if you look closely, there's a tiny bit of cobweb in the scene as well.
That's OK though—I wanted enough different colors, and enough full round shapes, to convey the feel of the subject (an old wind mobile). Some of these elements can be altered with software, but honestly—I like it just the way it is.

"Cobalt"

Photo by Tom Robbins ©2017
Close-up shots compel you and other viewers to see things in more detail than normal, and that can lead to pleasing results.
I wanted a tight image of our boat's logo, but it would be boring without some additional detail. When it rained on the newly-waxed hull and water droplets formed, I had that detail. Note also that the rope line adds a curving 'relief' to the horizontals in the picture, and that while everything else is in black-and-white (the boat's colors), there is an accent touch of red reflected along the bottom edge.
Now go shoot something special yourself!
By Tom Robbins
A third-generation summer resident of the Thousand Islands, Tom's career has taken him from the White House to Madison Avenue, Hollywood, and now Silicon Valley. His lifelong love of the St. Lawrence parallels his personal and professional interests in film production, photography, and writing.