Memories
I grew up on the St. Lawrence, in Clayton, New York, and have been visiting for more than half a century; leaving in 1960 to get a degree at Syracuse University. I've written many times about my experiences, and I make more, every time we visit.
I spent my "growing up" years fishing with my dad, from the Canadian shore of Wolfe Island, down River through the islands. We fished around the back side of Grindstone and Wellesley Islands, in Eel bay and into the Lake of the Isles, and on occasion, down past Dark Island to Chippewa Bay. In 2011, it was fifty years since I had been in a small boat, out in the channel that far down River. In those days with my dad, we were often the only boat, to be seen as we made our way to the fishing spots he most enjoyed. It was a long trip from Clayton to Chippewa Bay in a small boat, so we did not undertake it often, and only in excellent weather. When the River was surly and the skies stormy, we stayed closer to home. Although gas prices in the 1950's were lower than they are now, my father was a frugal man, so we did not often venture that far down River.
I remember one beautiful bright blue sky day, on such a trip, just down from Kring Point, we saw an eagle perched in its nest, high in a dead tree near the water. It was the first one I had ever seen, and from that time until my wife, Carol and I lived in Arizona, I never saw another in the wild. It is my understanding that they are coming back to the St. Lawrence River. I have often seen Osprey, but no eagles on our current New York visits.
Dark Island
Each time we passed Dark Island in those days, we were on our way to fish, or on our way back home. Dad occasionally let me drive while he trolled the deep water for part of the trip. He once caught a large pike that way, but never a Muskie, and never a Pike as big as the one he caught, right off the coal dock in Clayton. (My brother, Jim, and I have written stories about that fish, for the "Thousand Islands Sun." That location is now Frink Park, and people still fish there, probably dreaming of the big pike that they just know they will catch.)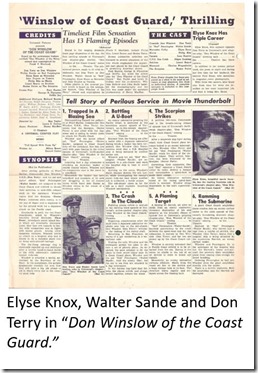 In those days, the island was still occupied by the owners, so we did not stop at the long dock, at the end of the boathouse, with the red-orange roof. My father would never have stopped at a dock, where we had not been invited, and no matter how much I begged to go closer for a better look, we never did. Dark Island always remained a mystery to me.
In the 40s and 50s, The Bertrand Theater, (now the Lyric Coffee Shop and Deckhand Cafe) ran "shorts", or serials, before the feature film. These usually ran between the previews (which were far shorter in those days!) and the Movietone News. My favorite was "Don Winslow of the Coast Guard." Of course, I was just a little kid, and knew nothing of what a well-made movie, serial or not, ought to be. I have since found that it wasn't really much of a series, 13 episodes in all, but I loved the action. It was also a comic strip in the newspaper. At the time it was made, World War II was in full swing, and the Japanese were our mortal enemy. [1]
Of course "Don Winslow of the Coast Guard" was probably never filmed at Dark Island; but I always wondered if one of the exteriors of a "secret" water base in the film was a B roll[2] shot, of the secretive island in the St. Lawrence that, in my mind, had a castle very much like the one in the movie. The long, dark and intriguing boathouse, with the dark stone castle in the background, played a part in many of the imaginings of a young boy; and later, the memories of an old man. I felt that I needed to go back "one day." It turned out that over the many years we did visit Clayton, we had never been back to see Dark Island.
A Visit
It was in 2011 that Carol and I bought tickets, sandwiches and drinks at the store at Schermerhorn Landing, and sat at a picnic table by the docks. In years past, we had rented boats in Clayton and Alexandria Bay, for trips to various favorite places, but always up River. Often, such trips included a ride through Lake of the Isles and the International Rift, around Wellesley Island, through The Gut and by Thousand Island Park and Rock Island and through the Narrows. We sometimes detoured, to circle Heart Island and look at the castle. But never had we ventured out into the broad channel, down River, between Alexandria Bay and Dark Island.
There are days when the River resembles a millpond, quiet and mirror like. This was not one of them. It was a breezy day, and the River was, though not rough, quite disturbed, with the occasional row of whitecaps. It was, as it often is on such windy days, a clear blue sky day, cool, with high white clouds. I should add that my bride, though not afraid of water, is not that fond of being in small boats. Over the years, she has put up with my desire to get out on the River, but since I am now far less capable of handling a small craft and don't rent them anymore, she doesn't have to grit her teeth and look like she is enjoying the ride. That is because when it's rough, calm, or in between, we will be on a larger boat, operated by someone who is physically fit, and knows how.
On this day, it had been several years since we had gone out in anything smaller than an Uncle Sam Tours boat. She was a little apprehensive, as we dined by the water, but as it turned out, the ferry boat to Dark Island was big enough to comfortably pass through the unevenness of the intervening waters. Breezy may be an understatement, because once past the head of Oak Island we were thankful of the protection of the high glass sides of the mostly open boat. Once out in the wide-open channel, running for Dark Island, we stopped noticing it, as there was too much else to see. I had not seen it for fifty years.
Of course memory never serves accurately. While the approach to the castle was from the landward side, where my dad and I had always passed, it looked much different to me. It is not as dark a stone as I remember. Quite light, as a matter of fact. Still, it is a formidable looking keep, and mysterious from the water. We docked and disembarked, and walked a curving path, uphill to the entrance.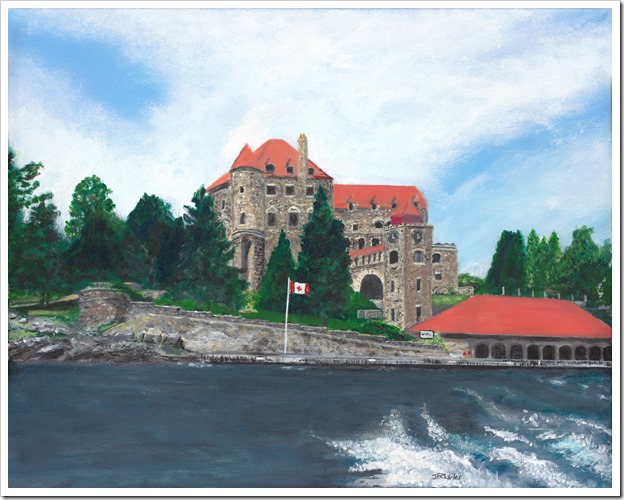 "Leaving Dark Island" painted by Joel Charles
This painting was completed after a trip down memory lane, on a wonderful afternoon with my wife Carol, visiting one of the great castles on the St. Lawrence River.
Once inside we were greeted in a vaulted, red floored room, constructed with light stone pillars and arches lighted by high wall sconces, with a large fireplace and hearth, and complete with bright metal suits of armor hanging on the wall and standing on the stair landing. A stone stair led up to the next level, past the armor, and a passage to the right of the stair led to what, if memory serves, was a wine cellar. In its heyday, the castle hosted many guests, and the owner prided himself in the stock of fine wines and whiskey available which, if the stories are to be believed, were brought across the channel from Canada, in violation of the Volstead act and US customs law. Probably none of it found its way farther into US territory.
The residence is full of antique and period piece furnishings, but among my favorites were the carved chess sets placed about in comfortable surroundings. It made me want to stay awhile and challenge someone to a chess duel. Not that I am good at chess, but I do love the game, and it just seemed like a fun thing to do on a visit to the castle!
We were also informed that the stories I had heard over the years were quite true, there really were secret rooms and passages in the walls! Entry to one such room is between a good sized fireplace and a book shelf. It is glass doored now, but the open-door panel and hinges can be seen in, as well as the piping and wiring exposed by the open door.
My brothers used to try to frighten me with stories of ghosts in the castle, and haunted rooms, etc., but they were quite unaware that I was actually enchanted by the idea of secret passageways. Whenever I see a particular old Abbott and Costello movie, or a Charlie Chan episode, I recall my fascination. I understand it is possible to get a partial tour of Dark Island passageways, I must go back sometime and take the tour!
We went all the way to the top of the castle, to the area where there was a group of rooms, which were probably servants quarters in the old days, but now are fitted out to look like dormitories. I was reminded of a friend's place on the lake, where rooms were equipped with games and multiple beds for the children to sleep and play. I'm sure not much playing was done in these rooms, when there were servant's living there. We also saw one of the bedrooms, done in white, and a large fireplace, with window frames the same depth as the thickness of the castle walls, on each side, looking out on the island's greenery.
Down the dark wood back stair and on the first level we went through the dining hall and great room, with large paned windows giving them a warm and airy look, for a gloomy old castle. And what a view you would have with your breakfast! Through the trees the beautiful St. Laurence can be seen. Off the room to one side is a large outdoor roof patio, where one could dine in good weather, or simply sit outside and enjoy the view.
In the dining room is found the usual large table, but probably not the original, as this one only seats eight. Around the outside of the room, by the windows where the view is best, are richly upholstered booths, with room for a table in each. The room is wainscoted up above head height in beautiful dark wood panels.
The guides, all bright and attractive young people, gave us extensive descriptions of each room and feature we passed, but since I was not filming it, and did not take notes, again, memory does not serve as well as I would like. I can only provide the details I do remember, from my photographs.
Outside in the garden and walking through the pergola, I took some shots to remind myself and viewers that, yes, this is a castle built as a home, but which is intended to look like a somewhat forbidding keep, just like my early boyhood memories. The stonework is superb, and looks as though it will withstand centuries of weather and wear. There are still mysterious areas which we most certainly did not see, like the room at the top of the square tower, in the corner of the garden side. In my photo of the exterior of the great room, the tower has a small turret in the corner with a conical roof. I leave it to my (and your) imagination, as to what is in there. And if you actually know, please don't tell me; it would spoil the illusion.
I have so enjoyed my trip down memory lane, while going through my photos, and the memory of a wonderful afternoon with my wife, visiting one of the great castles on the St. Lawrence. If you're in the area, don't miss visiting Dark Island. The boat trip alone is worth it. One day I would love to go back and stay the night, but I'm not sure about the wife's reaction to that!
Castles in Paintings
There are a number of Thousand Islands castles. They are the remains of the Golden Age, when people bought cheap land (who'd want to build on an island?) and made large dreams a reality. We have toured real castles in England, Wales and France, and none were any finer than the two below.  Some were larger or different, but none of those had the St. Lawrence River outside their doors.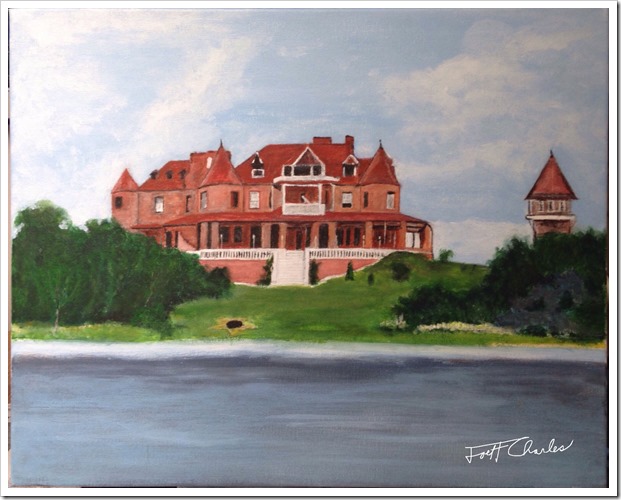 "Calumet Castle" Painting by Joel Charles
I did the first painting I ever sold of Boldt Castle, commissioned by a friend. Since then I painted Calumet and Dark Island, and quite a few other Thousand Islands scenes. Two of the three castle paintings were completed over a two-year period from reference photographs, I have taken over the years. The exception is the painting of Calumet, which I did from an old post card from the late 1800s, which a friend had made into a large print.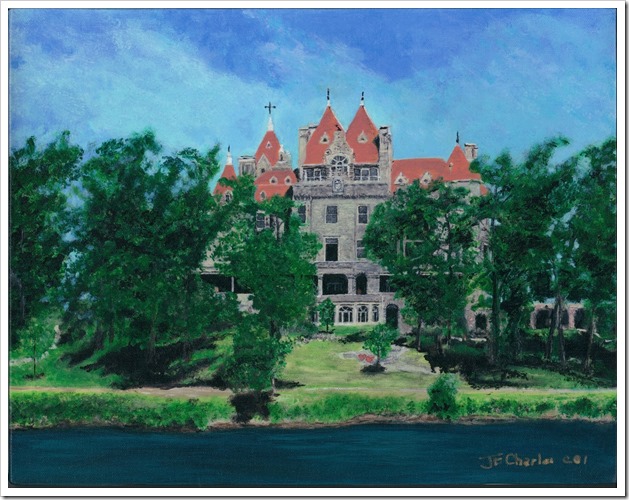 "Boldt Castle" Painting by Joel Charles
This painting was completed from a photograph I took from a boat I rented at O'Brien's, in Alexandria Bay, back in the early 1980s.

---
[1] http://www.imdb.com/title/tt0035819/mediaviewer/rm3020429312
[2] In film and television production, B-roll (B roll, or Broll) is supplemental or alternative footage intercut with the main shot. In fiction film, it is a technique used to indicate simultaneous action or flashbacks. See also Wikipedia.
By Joel F. Charles
Joel Charles graduated from Clayton Central School where his father was Principal for 17 years.  He graduated from Syracuse University.  His career spanned teaching and working in the insurance industry.  He was active with the Boy Scouts for 25 years and Rotary for 20 years. Joel holds the BSA Silver Beaver Award and the Rotary Paul Harris Fellow Award.  When he retired to Tucson, AZ,  he took up acting, directing, painting and building sets for several Tucson theater companies. He has continued his painting and writing with articles appearing in the "Thousands Island Sun." He has been a photographer since high school with his favorite subject being the St. Lawrence River and the Thousand Islands.