Articles by 'Joel F. Charles'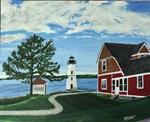 In 1957, I started a new phase in life. I became a ninth grader. I entered the high school experience at Clayton Central...
by: Joel F. Charles
Memories I grew up on the St. Lawrence, in Clayton, New York, and have been visiting for more than half a century; leavi...
by: Joel F. Charles