"In case I meet someone who wants me to write for them," I said out loud, to no one in the room.
My neighbors were at the dock waiting for me. I'd run back to the cottage to grab a couple of business cards. A group of Grenell islanders were attending the Thousand Islands Art Center's Art and Architecture tour. I ran back to the boat.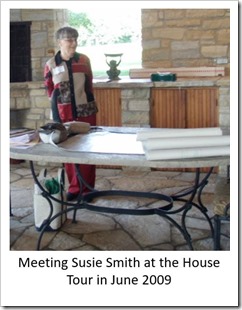 I'd never had that urge to bring business cards with me before, but good thing I did. At the Rosen House, the presenter was Susan Weston Smith. We have a copy of her book The Summer People in our cottage. Susan mentioned her book, told us about an online magazine called Thousand Islands Life and mentioned that she was looking for writers.
Because of that urge, I had a card to give to her.
That was June 2009. I submitted my first article a month later for the August 2009 issue. This month's article is #100!
There are a thousand reasons why I love writing for Thousand Islands Life. Here are the top 3.
Reason #3:  Thousand Islands Life gives me impetus to spend hours researching Thousand Island's History
I wrote my first history article in 2012. It was titled, Who Was Sam Grenell? The first comment on the piece was short. All it said was, "More like this."
Believe me! I want to write more like this, but the history articles are the ones that require the most work. I spend weeks, months, sometimes years researching historical pieces. A history article is like assembling a jigsaw puzzle, when I don't know the puzzle's shape, or what it will look like when it's finished. It starts with an idea or question that is only fleshed-out after hours of scouring historic newspaper archives and other sources. In the process, I often uncover ideas for future articles and they go on my list.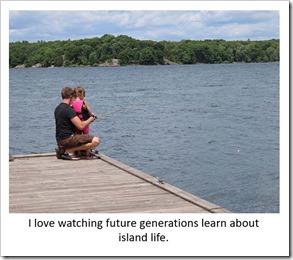 Sometimes, I serendipitously bump into someone who just happens to have a key piece of information. That happened when I was trying to find the history of our 1922 Lindsey launch. How odd that I would bump into the man who had restored her while doing research in the Antique Boat Museum library. He told me he had a letter and pictures from the original owner and asked if I would like to see them. Yes!
Sometimes, I don't have the luxury of time. I was in Alaska when the Guzzle burned down. When I returned to Grenell, I asked Susie if anyone was planning on writing about the fire and she said no. I went into a frenzy of non-stop research, in order to have the article,"TI Park Then and Now "about the history of fires at TI Park, completed for the September 2014 issue.
I've always wondered about the history of the islands, but having a monthly deadline for Thousand Islands Life drives me to do the hours of research needed to write about it.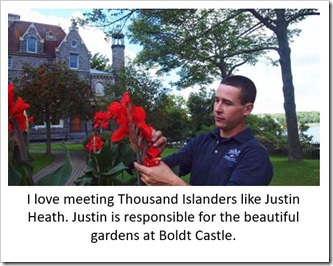 Reason #2:  Writing for Thousand Islands Life means that I meet awesome people
Writing for Thousand Islands Life has brought me in contact with wonderful people, first and foremost, Susie. What a bundle of energy! I only write one or sometimes two articles a month. I have no idea what all Susie has to do to get Thousand Islands Life ready to post. She does it all with such panache. I'm so lucky to have met her back in 2009. But besides Susie, I've met writers, artists and even a boat full of Russian environmental scientists—all because of Thousands Islands Life. I haven't stayed in contact with the Russians due to the language barrier, but I have stayed in contact with many of the writers and artists. Meeting them has enriched my life.
Besides the subjects of my articles, I've also met wonderful readers. Sometimes people write to me to ask about a long lost relative, who worked on Grenell, or owned a cottage there. I've even connected with distant relatives who realized we must be related when pictures I posted of our place in the 1890s matched pictures that were in their family photo album. Foremost in the reader category are the Grenells. They contacted me after I wrote the 2012 article "Who Was Sam Grenell?" They were direct descendants of Sam and Lucy Grenell. I invited them to the island in 2013, so they could visit their great-grandparents' home and store. We've been in contact ever since. I hope they return this summer.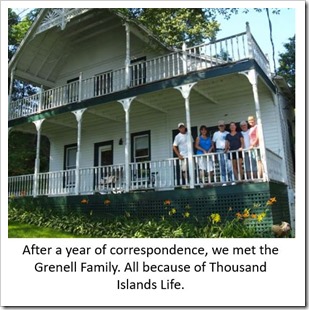 Reason #1: Writing for Thousand Islands Life gives me  a forum to share my love for the Thousand Islands
But mostly, I love writing for Thousand Islands Life as it gives me a forum to share my love for the Thousand Islands. My husband and I have been to many amazing places all around the world, but there is something mystical, almost magical, that draws us back to Grenell every summer.
The fact that someone from my husband's family has been on Grenell Island every summer, without fail, since 1875 is remarkable. While I've written about the rocks, the trees, the buildings, it's this sense of history—not just the history of the Gilded Age—but the sense of family history that permeates everything. It's as if I can feel the love of this place from the three generations that came before us. Even better, I get to watch this love of island life bud in the generations that are following us. But my love for Grenell goes beyond the sense of family.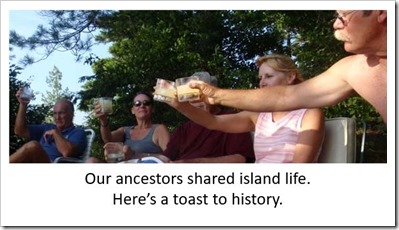 It is on the island that I feel a certain transcendence. Life here seems almost sacred. But as soon as I have that thought, the island, as if to slap me out of my ga-ga stupor, will soon remind me that—as I wrote in June 2010—cottage life isn't for sissies. Anything and everything that can go wrong will go wrong: the water pump will burn out, a tree will fall on the power lines, plunging us back into the age of kerosene lanterns, a squirrel will chew through the kitchen screen or a bridal party's boat will sink at the dock. Island life isn't always easy, but even when it's hard—it's wonderful. When I arrive on the island each spring, I often say, it won't take us long to get things whipped into shape, but I'm not so sure if it's not the other way around. Perhaps, it's the island that whips us into shape.
What's Next?
At the end of the 2012 season, one of my neighbors said, "I guess you're about finished writing for Thousand Islands Life."
"Why would you say that?" I asked him.
"You've written everything about the island. There's nothing else to write about."
I laughed and told him I had a list of 80 possible article ideas. It's been five years and dozens of articles later and I still have a list of 80+ ideas. Many are my own, but islanders are very generous about passing on their ideas for articles. So it seems, as long as Susie continues to create her magic, I'll be writing for Thousand Islands Life.
I continue to carry business cards, but for a different reason. In addition to my contact information, my business cards today have the web address for Thousand Islands Life. Now, when people ask me about what life is like living on an island in the middle of the St. Lawrence, I can hand them a business card, spreading the wonders of life in the Thousand Islands, one article at a time.
By Lynn McElfresh
Lynn McElfresh has just told you she is a regular contributor to "TI Life" – imagine taking the time to not only find an interesting subject, but to research and write the article, supply the photographs - and they are always relevant - and then supply the captions… not a few times over the years ,but every month, without fail, since 2009.  You can see all of Lynn's articles here. (We celebrated her #80 in July, 2015!
Back in 2009, Lynn asked me what the deadline was for articles.  I said, "the first of the month would be great." So ladies and gentlemen, you can imagine how I felt, when I opened my email this month on April 1.  This was not an April Fools prank, it was real and I wish I could find a way to thank this author. On behalf of all our readers, we say, bring on the other 80 Lynn…  We love them.  Susan (Susie) W. Smith, Editor, TI Life.