Thank goodness we bought our boots in Florida and brought them north with us. From what we've heard it's hard to find boots here in the North Country.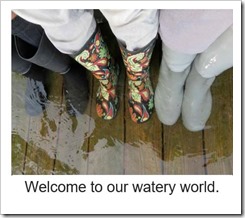 Around May 7th, the emails and texts started to pour in: High Water in the Thousand Islands, Immediate Action Necessary. I've heard stories of high water and I've seen pictures, but I've never experienced high water myself. We were in the Baltic Sea at the time and due to being unreachable on a cruise ship, we deferred all decision making to our daughter, Michelle, in Columbus, OH.
Thank goodness for our local River Rats and the kindness of neighbors! Steve Taylor's crew put our keg-o-rator, washer, dryer and other would-have-been-ruined-if-they-hadn't-been-blocked pieces of equipment up on blocks. His drum crew placed blue, water-filled plastic drums on the docks to keep them from floating off the cribs in a high wind.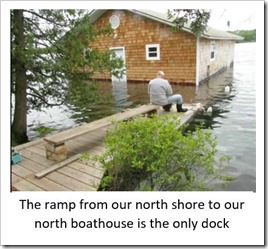 Seems hard to imagine that docks—even entire boathouses—might be ripped from their cribbing in high water, but I've heard stories about that, too. One islander told me that in the 1940s, his family arrived at the River during a high water season to find their boathouse gone. It had been ripped from its cribbing during high winds, floated down river and was sitting in the middle of South Bay.
Fellow islanders also came to our rescue. When Gary built the kayak ramp, he'd weighed the end of it with rocks to keep it from floating, but apparently, it wasn't weighted down enough. If a neighbor hadn't tied it to a tree, it might be in Montreal by now.
Our bridge sits atop a rock-lined channel. Once the water came up, our neighbor weighed down the bridge with paving stones and tied it to a tree so it wouldn't float away. Pictures showed the surface of the bridge was underwater and it connected two lakes too deep to wade across in boots. If we docked at our neighbor's floating dock, we'd need hip-waders to access our property.
Meanwhile, at Chalks Marina, the dock where we load our boat was under water as was the access road. Crews built catwalks to the floating docks so we could access our boat without wading through icy water.
We arrived on Saturday of Memorial Day weekend. We loaded up the boat, put on our boots and headed to Grenell. We were pleased that it was a calm, flat day. We were on the look out for debris floating in the water. We'd heard stories of islanders dodging boards, logs, Adirondack chairs and even entire docks en route to their islands. It seems the Free Outdoor Marine Store was having a liquidation sale. [See "The Free Outdoor Marine Store," September 2016] This watery world was a little disorienting. Some uninhabited islands were totally underwater with only a tree sticking out. Boathouses looked totally detached from the islands and ready to float away.
To us, our place looked oddest of all. Our front dock was gone. It wasn't really; it had just disappeared under the surface of the water. Big blue barrels with large red x's stood in a line marking where the dock stood under a foot of water. Both our boathouses and related docks were underwater. We had noticed in the pictures neighbors had sent, that the ramp from our north shore to our north boathouse was out of the water and dry. It was our only hope to land at our property. Our neighbor, Wayne, was on hand in hip-waders, to help us land, get tied up and unloaded.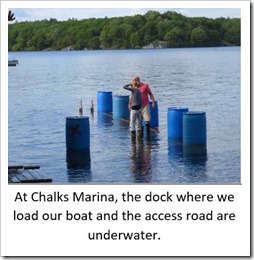 Our daughter, Michelle, had decided last season to learn how to open the cottages this season. What an interesting year for her first opening. Setting up the water system was a little different this year, but she was here to learn and Gary was glad to have an extra pair of hands.
All in all, we have four flooded buildings: two boathouses, a skiff house and a workshop/laundry room. At this point, it's still hard to say how much has been damaged. There would have been more if not for Steve Taylor's staff moving things. I especially liked the Jenga-like pile of wrought iron furniture with a vacuum cleaner perched atop. Not pretty, but effective. I've been saying for three or four years now that I need to clean and reorganize the boathouses. When the water recedes, we'll have a lot of clean up. Mother Nature has forced my hand.
The day after we arrived, we ran into a long-time resident of Fishers Landing, Duane Chalk, who looked out at the river totally flabbergasted. In all his 80+ years, he had never seen the islands in front of Foxy's Restaurant underwater. Of the three, only one is still above water.
"See that log," he said pointing. "It washed up during high water back in 1973 and has been there ever since."
"Was that the last time the water was high?" I asked.
"No, it was high again in 1993," he said. "Seems to happen once every 20 years."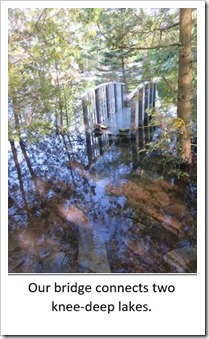 Gary has been opening our island property since 1995 and he's never experienced anything like this before either.  From the stories and pictures I've seen, the islands experienced extremely high water in 1952, 1968, 1973 and 1993. So perhaps we were due for a high water year.
Non-islanders who saw my posts on Facebook asked if we planned to stay. Of course! Our cottages, like most the cottages on Grenell are high and dry. Our water system is up and running and we have power. Several cottages remain unopened as of this writing because of access issues. Their docks are underwater. Others remained closed because of water system issues. Either the intake pump is under water or the pump has been moved so it isn't underwater.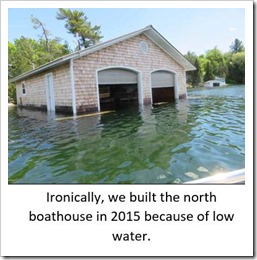 Remarkably, other cottages are almost unaffected by the high water. We have neighbors on either side who have floating docks with no boathouses. Luckily for us and other neighbors, they are willing to let those of us with submerged docks and boathouses dock at their floating docks until ours are useable again.
I'm amazed at the ingenuity of islanders who have adapted their submerged docks into usable docking space. One islander used lounge chairs topped with planks of wood to make a catwalk. Another used pallets stacked up on their dock to make a walkway above the water.  A third islander constructed wooden stanchions, which he nailed into the dock so he would have something to tie the boat to and keep it from washing up on the dock. Islanders have decades of experience learning to make the best of the hand Mother Nature deals to them. [See "Play the Ball where the Monkey Drops It," September 2010 and "What to Do? Low Water" November 2012]
We put the whaler in the water and she is moored in the boathouse, floating above the dock, between the cables of the boatlift and tied to the walls of the boathouse. Such a weird feeling to step out of a dry boat down into a foot of ice cold water on the dock below. We need the whaler to ferry us to our neighbor's floating dock where our Starcraft is docked.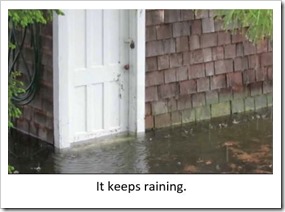 The high water caused some comic relief. While trying to get out of our Starcraft in my not-so-dainty, size 12 boots, I sat on the gunnel and started to lower myself slowly to the dock far below. Somehow the pocket to my jeans got caught on a boat cleat and I was dangling, afraid I would either rip my jeans, fall between the boat and the dock or both. I called for help. Luckily, Michelle was in the boathouse and came sloshing to my rescue, but not before she stopped and laughed at my predicament.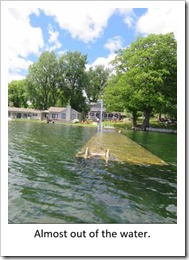 So welcome to the 2017 Season, the Year of the Boots, a new season and new memories. So happy that our daughter was here. Now Michelle has her own pictures to share, though she wished she had her phone with her when I was dangling off the edge of the boat. That would have been a great picture. But she has the memories and the story to tell.
I told Michelle I could imagine her telling her grandchildren someday saying, "Back in seventeen I helped your great-grandparents open for the first time. The river was at a 100 year high and all our docks and boathouses were underwater. We called it the year of the boots. "
She smiled at my feigned old lady voice. These river memories will be savored and passed down to the next generations like the story of how the water was so low in the 1920s that you could walk from the Hub to the foot of Grenell and how Gramps built a new bridge in 1972 only to have it wash away in high water in 1973, and how someone from our family has spent the season on Grenell from 1875 to the present without exception….come low or high water.
By Lynn McElfresh
Lynn McElfresh is a regular contributor to "TI Life" – imagine taking the time to not only find an interesting subject, but to research and write the article, supply the photographs - and they are always relevant - and then supply the captions… not a few times over the years, but every month, without fail, since 2009 – yes 102 articles! This month Lynn had a different article ready to submit, when she arrived and to find this is the year of the boots!  Trust Lynn to find a wonderful way to make us smile anyway!

You can see all of Lynn's articles here. (We celebrated her #80 in July, 2015!)
Show details