When I titled my June TIL article, "The Year of the Boots," I didn't imagine then that I would need to wear boots for the entire 2017 season. But by July 4th, I was starting to wonder if that would be the case.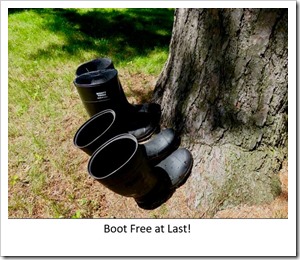 Every 4th of July weekend, our neighbors, Roger and Lisa Richards, have a family 4th of July picnic and we are lucky enough to be included. Usually, the picnic is held on the lawn surrounding their 1895 cottage. This year their lawn was a lake. I called it Lake Roger. The picnic was held on the deck of Wayne and Charlene Richards (Roger's cousins), who live on the other side of Lake Roger.
We couldn't walk to the picnic even though it was only two cottages away; we had to kayak because Lake Roger was still too deep—over the top of our boots. Luckily, Wayne and Charlene have a floating dock; our docks were all still underwater.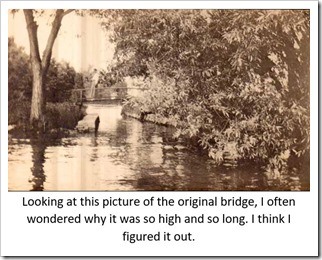 "Look!" Roger's cousin Carol said, pointing to our bridge. "The top of your bridge is out of the water."
I gave Carol a dubious look. This was not the first time I've seen the deck of our bridge out of the water. The first time was on June 15th. I was so excited. I took pictures. I sent texts. I was sure that in a few days I would be able to walk to the Community House to get my mail. That night it rained buckets and continued to rain the next day. Our rain gauge said 3 inches. We didn't see the deck of the bridge for another week. For the next few weeks, we played peek-a-boo with the deck of the bridge. It would be above water in the morning, but covered again by the afternoon.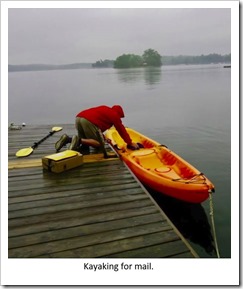 Whether the bridge deck was above or below water wasn't the problem. I could walk to the bridge in my boots. The problem was Lake Roger. If anyone had told me in May that I would still need hip-waders to cross Lake Roger in July, I would've begged, borrowed or bought a pair.
We still needed the boots to access our four outbuildings. I kept the boots by the back door, fireman fashion, so I could jump into them and dash off to one of the boathouses or the laundry room still underwater. Around July 11th, I texted the kids that we had cleats out of the water. Of course, they were back underwater by the end of the day. I know the water level fluctuates an inch or two daily even if it isn't windy. If the wind is blowing hard, the water can come up seven or eight inches or go down that many, depending on which way the wind is blowing.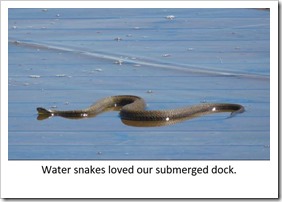 On June 25, the bridge was floating again and we were happy it was still tied to a tree. A SW wind came up late in the afternoon, and the water came up eight inches in about an hour. We put on our boots, and ran to the laundry room to put a few more planks under our new replacement washing machine, which we'd only used once. It was on 6-inch blocks, but the sudden rise in the water level sent it 3 inches underwater. Almost the instant we were able to raise it up out of the water, the wind died and the water dropped 3 inches in a matter of 10 minutes.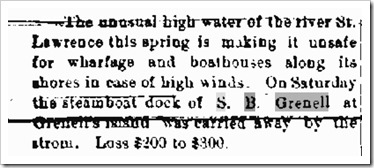 Finally, by July 31, I was able to cross Lake Roger, but not without my boots and I had to take a zig-zag route to avoid pockets of water that were still higher than the top of my boots. It was difficult to walk through the boot-sucking mud…but I could do it. We were finally re-connected to the rest of Grenell. It was a very exciting day.
Days later, the water subsided enough that Roger decided he didn't need the catwalk on his dock anymore and put his catwalks over his mud and water. Now I could walk to the post office to get my mail and our neighbors could walk over to see us, boot free! The water came up a few days later due to a high wind. Luckily Roger had weighted his catwalks down with rocks or they would have floated away. By now our side of the channel was dry. I could walk from our cottage to the Community House or to anyone else's cottage boot-free!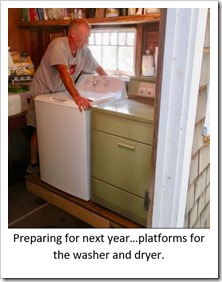 Our official 2017 Season Boot-Free date was on August 10, when our east boathouse was finally above water for the first time this season. Let the cleanup begin!
We are in countdown mode now, closing at the end of the month. Everyone wonders what next season will bring. There are the Chicken Littles, who are certain that water levels will remain high through December, the ice will come and we will loose docks, boathouses, etc. Others say this is the start of a three-year-cycle of high water. Older River Rats talk about the seven-year-cycle, between high and low water.
I found ample newspaper clippings from the 1880s and 1890s concerning high water, low water and the seven-year-cycle. One article from 1896 claimed that because the government had cleared obstructions from shipping channels in the St. Lawrence, Lake Ontario was now draining faster than it could be replenished and would soon disappear. Luckily, that prediction didn't come true.
Because we don't know, we are preparing for high water again. Gary built platforms to go under the washer, dryer and boathouse refrigerator. He built shelves so nothing will be left on the boathouse floor. The barrels, which we drained and rolled away in August, are stacked and poised for deployment next spring if necessary. We'll store our boots on the boat, which is stored at Chalks Marina, just in case we need them when we return next May.
There was a time about three weeks into the season when I was a little glum. The novelty of the high-water opening had worn off and I was a little annoyed with the inconvenience. But overall, I'm pretty much a Look-for-the-Silver-Lining type person. So looking back at our Year of the Boot, I would like to add that it was also a Year of Writing. I love to write when it rains, so I was able to start a major writing project. It was also a Year of Spectral Storm Clouds, A Year of Rainbows and a Year of Mushrooms. My goodness! So many mushrooms and in such interesting shapes, sizes and colors.
Every day at the river seems to have magic and beauty which I can savor and appreciate whether I have to wear boots or not.
By Lynn E. McElfresh
What will September bring from Grenell Island? A good question and certainly one that Lynn answered beautifully. Of course with the floods with Harvey in Houston TX and Irma in Florida we realize difference between our inconvenience verses real tragedies. So we appreciate Lynn's taking us from needing boots to putting them away! This marks Lynn's 105th.article. Yes, you read that correctly - 105! You can see all of Lynn's articles here. (We celebrated her #80 in July, 2015!)