"We would not have those magnificent wooden boats, without having those unique architectural heritage island homes," says Trude Fitelson as to why she was pleased that the Antique Boat Museum received a $9000 grant from Preserve New York. "Also, we don't know how many homes are still standing or how many have disappeared."
In the 1970s, the late Paul Malo, founder of TI Life, and his former student and confrere Robert Charron, began photographing historic properties, relating to the Gilded Age: the 1870s to 1910. In fact, Paul used many of Robert's photographs in his trilogy of books on the Thousand Islands.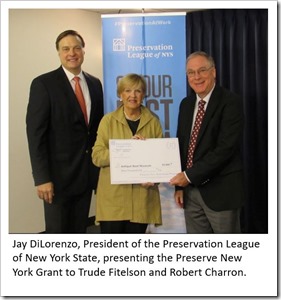 After Paul died in August 2008, his wife, Judith Wellman, turned over his archives of written Thousand Islands research notes and material to the Antique Boat Museum. Trude, Ian Coristine and I joined the group which sorted the materials and placed them in acid-free boxes. I took home the catalog cards and made an index.
Now Robert is donating their archive of over 10,000 photographs of the Thousand Islands, to the ABM as well. Yes, the whole story of the Gilded Age will be sitting in those boxes, and all agree that it is time to do an inventory and match photographs to properties – a historical survey.
So, when they learned that the New York State Council on the Arts (NYSCA) and the Preservation League of New York State, created the Preserve New York Grant Program, Trude and Robert joined forces. Robert, of Westminster Park, is an architect and professor at Onondaga Community College in Syracuse. He is well-known for his lectures on the importance of preserving historical architecture, with a focus on Northern New York and South Eastern Ontario. For many years he served as the architect advisor to the Thousand Island Park Preservation & Architectural Review Board.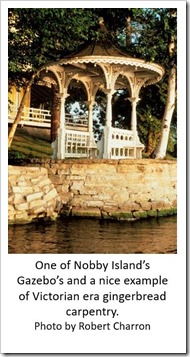 Trude Fitelson, is a Preservationist, was the recipient of the Preservation League of New York's Excellence in Historic Preservation Award, in 2008. The award recognized Trude's role in community education and her contribution to the restoration of public and private buildings in TI Park, as well as a design review of new construction and alterations of historic buildings. Trude was a founder of the Thousand Island Park Landmark Society, which conducted a survey of more than three hundred buildings, leading to the 1982 designation of the entire community being placed on the National Register of Historic Places. Trude also spearheaded a long-range land-use plan that conserves several hundred acres as "forever green."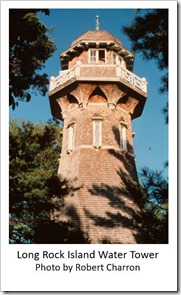 Their partnership now, to go beyond TI Park, is a big-time commitment. First, they found a willing non-profit, the Antique Boat Museum in Clayton, to manage the grant and recruited Cortney Doyle, of Potsdam, NY, to join the team as Historic Preservation Specialist. Courtney spent several years as the TI Park Intern, before completing her master's degree in historic preservation at the University of Vermont.
Emilie Gould, of the New York State Historic Preservation Office in Albany, will provide additional guidance and, over the coming months, they will recruit a number of volunteer researchers.
The team is excited to be working with the Antique Boat Museum on this important survey and Trude Fitelson is grateful for the help of the Museum's director, Rebecca Hopfinger. Cortney Doyle adds, "Far too often the history of the North County gets overlooked. Being able to partner with an organization that is seeking to preserve our local history, like the Antique Boat Museum, is wonderful. This support gives us an opportunity to not only research a significant historical period of the Thousand Islands but also helps set the stage for preserving that history for future generations and creating interest in the history of the North County."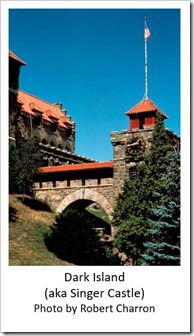 The first question island residents will have is what does the historical survey do for me and/or to me? Robert is quick to explain that the big myth of listing a building on the National Register of Historic Places, means the government can then dictate what you can, and cannot do with your property. The truth is the government has absolutely no control over listed properties and their owners. Zero! A review of the official web site, one quickly realizes that there are no restrictions on private property. Furthermore, there are a number of NY State and Federal tax credits available for those who do complete the registration.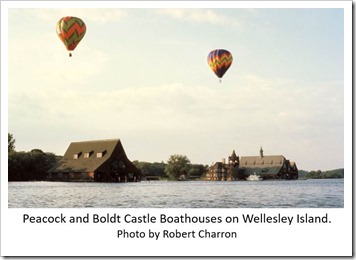 Surveys in other parts of NY State have proven to have a great economic factor in building tourism. It is easy proof, in the Thousand Islands if you take a commercial boat tour. Not only do the large Gilded Age cottages attract awe, but so do the gingerbread cottages, wooden boathouses and gazebos, in view on the main channel or off on the back side of an island.
Participation in the survey is voluntary, but those property owners who do choose to have their properties included, and with the project personnel's assistance, may apply for National Register designation. As part of this designation, property owners may be eligible for tax credits.
The Grant Program begins by reviving of some of the 10,000 slides in order to help identify potential sites to be surveyed. (American Sector)
I smiled as I hung up the phone after my interview with Trude Fitelson and Robert Charron - for it is the Trudes, Roberts, and Cortney's in this region that never stop thinking about the past and helping to preserve it for the future. I sincerely thank them.
By Susan W. Smith, Editor, susansmith@thousandislandslife.com