As this issue of Thousand Islands Life appears, the Preservation League of New York State honors Trude Brown Fitelson at a ceremony in New York City. The League is presenting Trude with an award for:
Individual Excellence in Historic Preservation
The citation honors her work of several decades at Thousand Island Park, where Trude has long been a driving force in protecting historic buildings from demolition or inappropriate alteration, and has been active in enhancing the appearance of the community.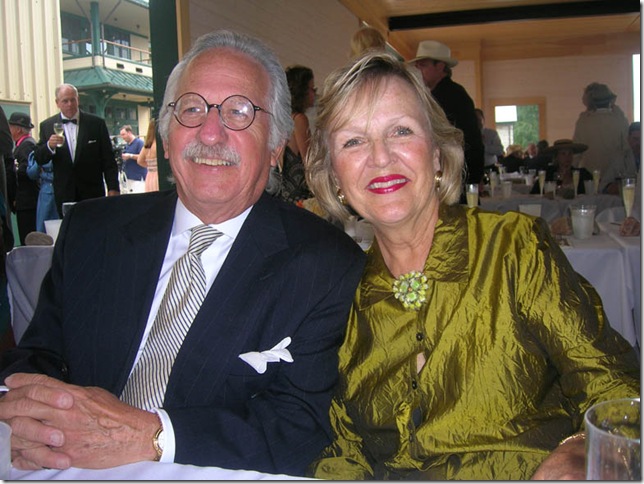 Arthur and Trude Brown Fitelson, 2007
The award recognizes Trude's role in community education and mobilization, her contribution to restoration of public and private buildings there, as well as design review of new construction and alterations of historic buildings. Trude Fitelson was a founder of a community organization, the Thousand Island Park Landmark Society, which conducted a survey of more than three hundred buildings, leading to the 1982 designation of the entire community on the National Register of Historic Places. Trude also spearheaded a long-range land-use plan that conserves several hundred acres as "forever green."
She has been active as well in design and landscaping of outdoor public spaces. With help of other residents, she initiated a master zoning map, and drafted the Preservation Code. At the present time, she serves as senior advisor to Preservation and Design Review Board and is working on a "primer," a booklet to inform residents about the heritage of Thousand Island Park and the ongoing need for vigilance in steering development in an appropriate course. The remarkable renaissance of Thousand Island Park over the past thirty years is due in large part to the unflagging work of Trude Brown Fitelson.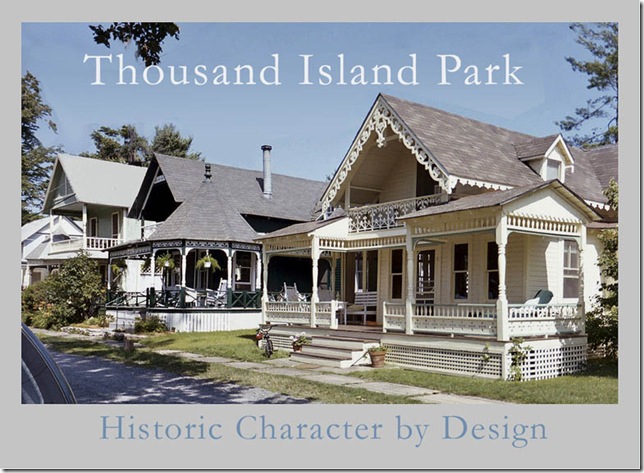 Thousand Island Park. Paul Malo photograph
Thousand Island Park, situated on Wellesley Island in the St. Lawrence River, survives as a period cottage colony, virtually intact, truly a national treasure. Remarkable "gingerbread" buildings reflect the late nineteenth century in the larger sector of the Park, while cottages in bungalow style characterize a portion of the community, rebuilt after a fire in the early twentieth century.
The entire community of Thousand Island Park, New York has been listed on the National Register of Historic Places. The Thousand Island Park Historic District (82001177) includes 330 cottages and eleven public buildings, with merely eleven structures that are "non-contributing."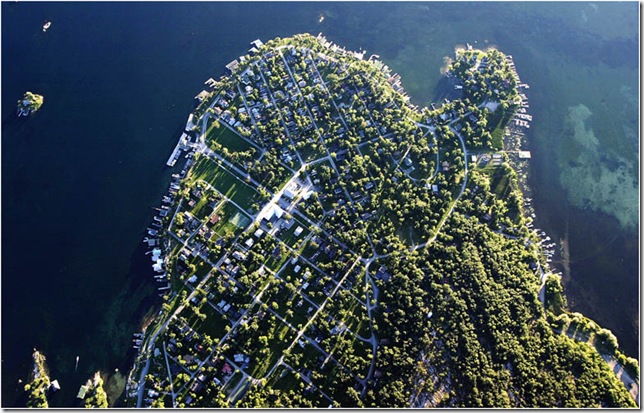 Thousand Island Park may demonstrate the familiar history of "preservation though poverty," at least until more recent times. The Thousand Islands began to decline as a fashionable resort prior to World War I. During the Depression years of the 1930s together with the ensuing interval of World War II, many families could hardly afford to maintain summer cottages adequately, let alone alter or "improve" them. Changes that did occur largely often were motivated by the housing shortage of the war years, when some cottages were winterized, porches enclosed in windows, and composition siding applied in the interest of reducing maintenance cost. For some residents, Thousand Island Park had become an inexpensive place to live, even year-round.
Trude Brown Fitelson has summered at Thousand Island Park all her life, like many whose families have cherished summer homes here for generations. Her grandfather, who established the famly at the Park, was Wallace Elias Brown, Methodist Bishop of the Northwest US. Trude became aware of the unique historical character of the place, then concerned that not all residents shared her appreciation for what they had.
Trude contacted Professor Paul Malo at Syracuse University, seeking assistance in educating the community and in establishing preservation guidelines. She undertook extensive research in architectural history of the late nineteenth century, reviewing precedents of other community preservation efforts. Trude was an avid proponent of creating a review board to consider all work on historic buildings, requiring approval of alterations or additions, as well as new construction. This function has become central to the preservation mission as pressures have increased to improve properties.
The renaissance has involved restoration of public buildings owned by the Thousand Island Park Corporation, such as the landmark pavilion at the main steamer dock, the large Wellesley Hotel, and the public library building. The Landmark Society mobilized the community to support major landscape projects, such as a current "Four Corners" improvement that will replace much asphalt paving with more appropriate materials, adding benches and landscaping.
None of this has been easy. Individuals tend to bristle when told what they can and cannot do with their own homes. Trude has encountered hostility and has endured personal insults. Classic issues of gentrification continue to be a difficult question. Property values have escalated greatly with influx of new residents, attracted to the increasingly inviting summer community. With increased assessment have come increased taxes, burdensome to many, especially some residents whose families have been here for generations. Thousand Island Park throughout its history has been notorious for factionalism and contentious disagreements. Much energy has been expended on political negotiations and pacification.
Trude has exhibited remarkable patience, stamina and perseverance over many decades, as well as historical sensitivity and design taste. Thousand Island Park is what it is today largely because of her determination to make it so.
The Preservation League of New York State each year honors notable achievements in retaining, promoting and reusing New York's historic resources. The award to Trude Brown Fitelson is being presented at the Preservation League's Annual Meeting and Awards Ceremony in New York City on Thursday, May 15th from 6 to 8 p.m. This year's event will take place at the historic Park Avenue Armory, 643 Park Avenue. The ceremony will be followed by a cocktail reception.
This article was written by Paul Malo, April 2008.