Written by
Rod Anstee
posted on November 13, 2017 12:36
Editor's Note:
Can you identify the Who and Where; We have the When. Circa 1909.
Here is the background: In late March of 2014 I received an email from Rod Anstee. He collects photograph albums and he had found a couple of battered old examples that seemed to contain images of the Thousand Islands.
"Would you like to see them?" He asked.
He had an Ottawa address, and so I immediately wrote back my answer; "Yes, and I see you live in Ottawa. I do too. I live next to the Children's Hospital."
He wrote back a few seconds later, saying "I LIVE NEXT to the Children's Hospital." Within fifteen minutes he was at my door and I realized I have been watching him walk his dogs (two cute dachshunds) each day for the past seven years.
Rod has been collecting photographs and photograph albums, for a couple of decades. There are many individuals who collect photographs and albums, but few who have spent as many hours researching them in detail, in an effort to identify the anonymous people and places that they contain. It is a hobby that has often led to interesting adventures.
Rod has since given us a couple of interesting challenges – none as difficult at this one/
Can you help identify where these photographs may have been taken? And better still, who are the people pictured?
Although both the front and rear covers of this pre-WWI album are missing, it still has a surprisingly nice set of images. For the most part, the album seems to document a group of young men – possibly college friends/fraternity brothers? – enjoying various vacation outings together. There are a fair number of group shots, especially at the beginning of the album, from which it may be possible to discern individual members of the group.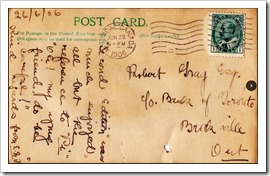 The group consists of at least 15 young men, as well as a half dozen of their female companions -- girlfriends, sisters and (at least) one wife. There are two young children (brothers) who are present in a couple of the photos. In almost all of the shots it is clear that the group has gathered -- in the summer, near water -- and are enjoying all the cottage pleasures that their relative wealth & leisure time has made possible.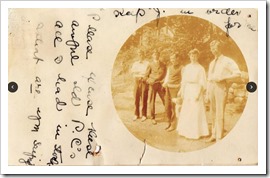 In total, the album contains 65 photos, plus, on the final page, a single real photographic post card, (known as a RPPC), so popular in this era. The photos are affixed to the obverse side of all, but the last of the album's 14 leaves – usually 5 per page, occasionally 4 or 6 on a page. The reverse side of each page is empty.
There is almost no writing anywhere in the album except for the RPPC. It has writing on both sides – it was written out, addressed, mailed & received in June 1906 in Brockville, ON. The only other writing in the album is the date "1909", written in pencil beneath one of the sailboat photos, on page 6.
It appears that all of the pictures from the first 5 pages of the album were shot, using a camera that used a roll film and that facilitated some sort of "autograph" function, whereby the photos have been assigned a negative number.
The selected group of scanned photos presented below has been enhanced to some degree, through the use of Adobe.
Finally, for the purposes of this album summary, the photos presented here have been selected for their potential usefulness, in identifying either the people or the locations pictured.
[Click to enlarge photo and then use your arrow key to return]
Ivy Lea Cliffs east of the Thousand Islands Bridge?

Can you identify these views?

Do you think they are from the Thousand Islands?

Are any of the buildings still standing?

What about the sailboat: do you recognize it?

Thanks so much for taking up this challenge.
If you have the answers, please leave a comment and also email, info@thousandislandslife.com and we will send them to the author.
By Rod Anstee
Rod Anstee resides in Ottawa and is well known as a book and photography collector. In 2013, Nigel Beale, from the Biblio File website, interviewed Rod in Anatomy of a Kerouac Collector: Interview with Rod Anstee", which gives a sense of the importance this man places on the thorough researching and preservation of the past, and the pleasure he finds in this work. See Hunting for Fisherman in the 1000 Islands, his June 2014 article for TI Life.