My favorite historic picture of our island was taken in the early 1890s in a cluster of rocks outside the backdoor of our cottage, before the cottage was built. It features Great-Great Aunt Alice, her two daughters (Olivia and Edith), Great-grandmother Roberts, holding Grandmother Ogden (the baby) and a family friend nestled amongst the rocks. The baby in the picture is husband Gary's Grandmother Ogden.
It was my eldest granddaughter who suggested that we replicate the picture. I love the fact that in the 2014 version, the baby in the picture is Gary's granddaughter, while his grandmother is the baby in the 1890s version. Comparing the two pictures, the rocks for the most part are the same, the trees are noticeably bigger in 2014, but the biggest difference is fashion.
Fashion has changed dramatically between 1890s and the 2010s, and while I've been around long enough to witness some of the changes, the rest show up in the photographic record.
| | |
| --- | --- |
| Taken around 1893, pictured left to right: Edith Pratt, Grandmother Ogden (the baby), Great-Grandmother Roberts, family friend, Olivia Pratt and Alice Pratt | Taken 2014, pictured left to right: Granddaughter Natalie, Granddaughter Brooklyn (baby), me, Granddaughter Alison, Daughter Michelle, Daughter-in-law Allison |
Late 19th-Century to Early 20th Century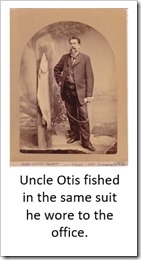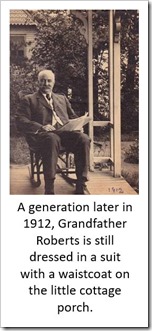 There were no casual clothes in the 1890s. Uncle Otis fished in the same suit that he wore to the office. Most of the early pictures of the women in our family showed them wearing long walking skirts and shirtwaists, the popular term for women's blouses at the time. I've noted that the Pratt women always wore high collars and long sleeves. I can tell this picture was taken about 1893, not only because of the age of Gary's grandmother, the baby in the picture, but also because of the puffy sleeves, known as leg-of-mutton style, which were very popular starting in 1893.
Most women had long hair, which they always wore up. Edith is the only one wearing her hair down in the picture and that's because at age 14, she's still considered a girl.
What you can't see is the layer after layer of undergarments: stockings, chemise, drawers, corset and petticoats. How long it must have taken them to get dressed every morning. And think of the laundry! Back in the early years that was accomplished with washtubs and a washboard. Gary remembers his grandmother's wringer washer from the 1950s. We still have a half dozen cast iron clothes irons, which we use as door stops.
As the years ticked by, fashions and undergarments changed. Eventually, bras replaced corsets. I'm certain that Aunt Alice or her daughters, Olivia and Edith, never wore anything but skirts or dresses, at least I haven't found any photographic evidence that they ever wore pants. I don't think they ever swam, so no bulky wool bathing costumes for them.
| | | |
| --- | --- | --- |
| Sailing early 1900s. Kerr Family Collection | Young men with boaters, early 1900s. Kerr Family Collection | Sailor dresses, early 1900s. Kerr Family Collection |
| | | |
| --- | --- | --- |
| Ladies' golf attire, early 1900s. Kerr Family Collection | Our front porch, mid-1890s. | Edith in a hammock 1910ish. |
Early 20th Century
I have one picture of Gary's grandmother in peddle-pushers, as we used to call them in the 1950s, but generally referred to today as capris. I did find a picture of Gary's grandmother in a swimsuit and saddle shoes. The image was so disturbing to me, I decided not to share. Most of the time Gary's Grandmother Mabelle, always wore a dress and pearls.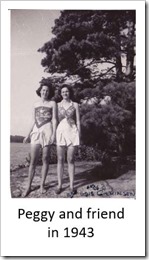 Meanwhile, the gentlemen of Rum Rock were usually clad in suits, complete with waistcoat. Gary's father never wore a waistcoat (vest) but he almost always arrived and left the island with a suit jacket. According to Gary's father, traveling even by car meant that you wore a suit jacket. "That's what one does," he would explain. He kept up that tradition of dressing for travel until his last year on the island in 2009.
For the most part, the Ladies of Rum Rock, did not appear to be hat-oriented. I've only found one picture of a woman on the dock with a hat on, I think it was Alice, but I'm not sure. Perhaps it was a guest. In later years, headscarves were often utilized to keep well-styled hair from being too windblown. Gary's mother always had several rain caps stashed around the island so she would never be caught without protection. Swim caps were mandatory headgear for some reason until the 1980s.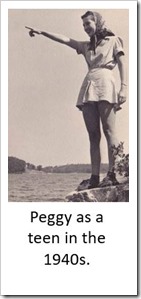 Gary's mother, Peggy, was the first to wear shorts, dungarees (which she always referred to as blue jeans) and swimsuits, two-piece swim-suits at that. I have occasionally seen pictures of Peggy in a one-piece swimsuit, but from the time I arrived on the island until her last summer, my mother-in-law swam every day and always wore a two-piece swimsuit.
Despite being thoroughly modern in her fashion, Peggy was also very traditional. When I first visited Grenell in 1975, Gary told me to pack several dresses, as his parents dressed for dinner every evening. Now it wasn't like Downton Abbey with gowns, but the Bob and Peg McElfresh were pretty serious about proper attire for dinner at the island. Work and play stopped at 4 p.m. when everyone, including the kids, would then clean up and dress for dinner. Cocktails were served on the little cottage porch at 5 p.m. and dinner was served sometime between 6 and 7.
For men and boys, dressing for dinner meant a nice pair of trousers and a button-down shirt. As the years marched on, polo shirts were an acceptable replacement for the button-down shirt. No shorts! No t-shirts! No exceptions. For women and girls, initially dressing for dinner meant wearing a dress or a skirt. Eventually, a nice pair of pants and a top would do. But again, no shorts! Wearing shorts to dinner was totally unacceptable.
That custom of dressing for dinner remained intact through the 1990s and only ended when Peggy was placed in an Alzheimer's facility and didn't come to the island anymore. I think we dressed for dinner the first year, but gradually, the practice just faded away. But the custom of cocktails at five remains to this day, though these days if the weather is nice we often have cocktails on the front dock.
| | | |
| --- | --- | --- |
| Departure Day 1953, dressed for travel. Note the shoes and headscarf. | Departure Day 1956, dressed for travel. Note Bob's hat and the pearls the ladies are wearing. | Departure Day 1959, dressed for travel. Only the kids seem to be dressed casually. |
| | | |
| --- | --- | --- |
| Peggy at work, 1959 | Dressing for dinner in the early 1960s, just the guys. | Dressing for dinner in the early 1960s, just the gals. |
21st Century
I'm sure our ancestors would be horrified to see how I dress today. Early in the season, I live in sweatpants and sweatshirts. If we have a particularly warm season, it's not unheard of for me to get up, put on a swimsuit and cover-up and wear it for the rest of the day. Yup! Including cocktails and dinner. I rarely wear shoes, even at dinner. There are no heels, no pearls, no headscarves. Writing this, I'm a bit horrified myself! I feel like I've really hillbillied-up the place.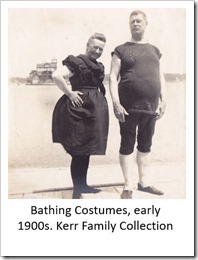 Last summer, I talked to an islander neighbor about the fashions of days of old. She recalled when she visited the island as a child in the early 1960s. Her mother dressed her in a dress, with white lace-trimmed anklets and patent leather shoes. She was told to sit still and not get dirty. Her cousins wore shorts, t-shirts and sneakers. They were allowed to run, play and get dirty. She was very jealous of her cousins.
So perhaps I'm wrong. Perhaps our ancestors might marvel at what we wear today: less laundry, no ironing, more freedom of movement and much, much cooler. But I wonder what innovations are in the future and if my great-grandchildren will look back on our photographic fashion record and wonder how we wore what we wore.
Author's note: While collecting photographs for the Party of the Century in 2012, the Kerr family donated some wonderful photographs, taken in the early 1900s. The Kerr Family was more well-to-do and far more active than our ancestors on Rum Rock. Their pictures give an interesting peek at what islanders were wearing during the Gilded Age.
By Lynn McElfresh
Our team member, Lynn McElfresh never ceases to amaze us and this is a subject I have often wondered about. What a nice review she has given us. Just this week there were articles in major press stating that the office suit has passed its prime!
This marks Lynn's 107th article. Yes, you read that correctly - 107! What subject could she possible find to interest our readers… Well she found one! We have old photographs of summers in the Islands – and I am sure you do too. If so, share them with is. Send them to info@thousandislandslife.com and we will add them to the article.
Thanks again Lynn… You can see all of Lynn's articles here. (We celebrated her #80 in July, 2015!)