Written by
John Kunz
posted on October 13, 2018 12:52
The Thousand Islands Cup was established once again this summer to celebrate the rich racing heritage of the Chippewa Yacht Club and the Thousand Islands Region. The first race was held in 1904, and Willis Kilmer won the Chippewa Yacht Club, its first Gold Cup on the Hudson River. In 1905 through 1907 Jonathan Wainwright successfully defended the Cup for the CYC on their home course. The Thousand Islands Yacht Club defeated the CYC in 1908, with E.J. Schroeder's Dixie, now at the Antique Boat Museum.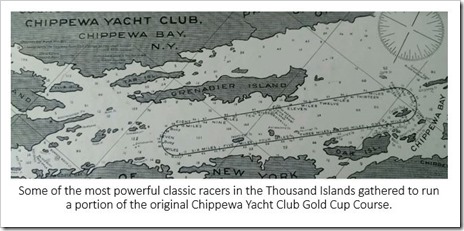 On August 19th 2018, a group of some of the most powerful classic racers in the Thousand Islands gathered to run a portion of the original Chippewa Yacht Club Gold Cup Course. The weather was beyond perfect as the sleek mahogany speedsters glided their way to Oak Island. The Captains had a meeting around a chart table to review the course and the starting procedure. The first edition of the Thousand Islands Cup was a ceremonial event aimed at getting folks talking about racing again. A gentleman's rolling start was agreed to.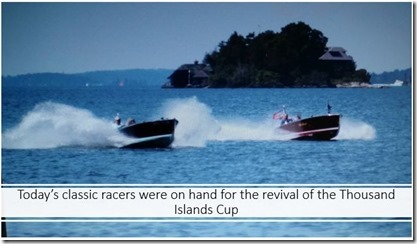 Chippewa Bay has a reputation in the Thousand Islands. It is one of those shoal infested spots that only the most knowledgeable pilots venture without a chart.
The CYC's Gold Cup course passes by quite a number of areas that are capable of removing the bottom of one's boat. The up-river competitors all elected to have a "rock guy" from the CYC race with them.
As the racers made their way to their boats, a flotilla of spectator boats had collected off the down-river end of Oak Island. One of the organizers had to take to a boat and request the spectators move farther into the River, to open the starting line. The racers rumbled to the starting line and were sent off with a cannon blast.
The mahogany monsters roared off toward the end of Cedar Island where they had a hard port turn around some nasty shoals. They sped up-river from there to Scow Island where they had to avoid another shoal at the head of Scow. From Scow, the fleet headed back toward Oak and ran along inside the infamous Triangle shoal that covers several hundred yards off the channel-side of Oak Island.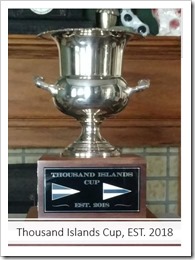 After the race, several of the speedsters delighted the spectators with bat turns and high-speed passes. Eventually, they made their way back to the Oak Island docks for refreshments and the delivery of the Thousand Islands Cup to Jim Hendler. His Baby Gar "La Te Da" proved to be the fastest boat on the course.
By John Kunz
John Kunz and his wife Kelly are summer residents of Chippewa Bay. They winter in Watertown, NY. Along with their three sons, they enjoy the River on a four-season basis - Sailing, Rock Climbing and Skijoring. In February 2016, John took us Skijoring in the Thousand Islands. Read that article again, so you are ready for Winter 2018!