Written by
Robert W. Daly
posted on November 13, 2018 11:15
Editor's note:
Ever wonder if you are losing it? In October I received Robert Daly's poetry submissions. "Thanks so much" was my response, and I did publish his "Acorns Falling" in our October article: Closing-Up Is Hard To Do…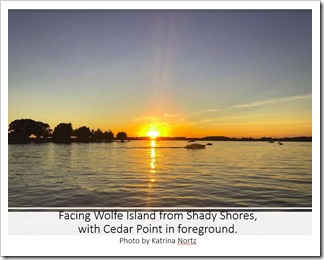 This month. when I started to compile this issue, I wrote to Robert asking several questions and suggesting I do a profile on him for the next issue. Soon after, we exchanged phone numbers and Robert said he would call at 5:00 one night. Just before he called, I googled his name and there he was… having written poetry published in a little online magazine… May, 2015… the magazine was our Thousand Islands Life with the article: "The Drive North" and other poems by Robert W. Daly.
Not only had I forgotten I already knew him, but I asked the very same questions and would have received the same answers! We enjoyed our conversation that evening, and I am honored to published these new pieces of poetry. Each one will bring back your memories of growing up, the River or life in general. Enjoy.
________________________________
Poetry by Robert W. Daly, Shady Shores
Ladders
A warm day at The Park Pool.
Instructors had
told us of the deep end, and
the place in between - where we could drown.
"Later,
when you are acquainted with the water,
and able to swim where it's shallow,
you will be in the deep end
where you can't touch the bottom."
*
"Later" is now.
I am terrified of the deep end.
There is no place to stand.
I won't know with my feet
there is a world beneath the pale-green water.
Some kid who doesn't like me,
or trying to save himself,
will push me under.
There are lots of kids to watch.
Instructors won't notice
I'm drowning –
till it's too late.