Written by
Kim Lunman
posted on September 12, 2009 22:26
When Ian Coristine, who joined Paul Malo and Michael Franklin in creating Thousand Islands Life in 2006, identifies someone as "getting it", you can be sure that they are being paid a true compliment.  Ian, who is one of the most creative photographers on the River, feels strongly that recognizing the Thousand Islands for its beauty – in pictures, art and music - should be celebrated.  We welcome Great Lakes Swimmers back to the region and look forward to a wonderful relationship with them into the future.
DARK ISLAND N.Y.
Dawn breaks over Dark Island. The sails from the tall ship snap in the morning breeze as the crew responds to the captain's commands. A castle is on the horizon.
A scene from a new Hollywood pirate movie? Not quite. This spectacular setting on the St. Lawrence River is the backdrop for Toronto folk band Great Lake Swimmers newest music video.

Bytown Brigantine's Fair Jeanne, a tall ship that offers adventure voyages for adults and youth was the stage for the music video. Shooting began before the sun rose and continued for two days in several different areas within the Thousand Islands.
The group has returned to the Thousand Islands for the third time in a year – this time to film a video for the song Palmistry. The band is promoting its critically acclaimed album Lost Channels, which has been nominated for Canada's prestigious Polaris Prize to be announced in Toronto later this month.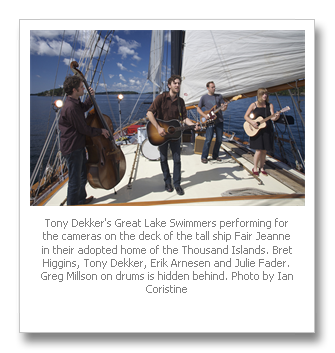 Lead singer Tony Dekker is waking up to familiar waters after returning from a tour ending with a concert in Ann Arbor Michigan to board the Fair Jeanne in Brockville Ontario. The Bytown Brigantine tall ship – owned by Ottawa developer Simon Fuller – set sail in the middle of the night with the band and a film crew aboard for the filming.
The soft-spoken 33-year-old native of Wainfleet Ontario seems oddly at home here, relaxing in the tall ship's "man catcher," a safety net below the bowsprit and studying islands on a nautical chart on deck between takes.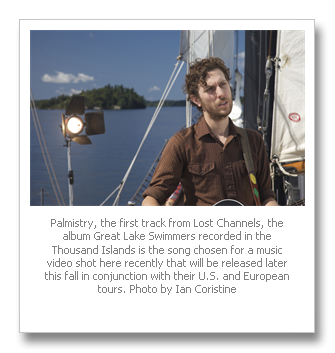 But his introspective lyrics underscored in songs such as Your Rocky Spine and Pulling on a Line make this musician more poet than pirate. His voice invites comparisons from music critics to that of another Canadian folkie: Neil Young.
Lost Channels has set Great Lake Swimmers sailing up music charts this year. Their music caught the ear of NBC news anchor Brian Williams who interviewed Dekker in New York City this summer and listed the band on his top five play list, BriTunes. And the album is among 10 Canadian albums short-listed for the Polaris Prize to be announced Sept. 21 at a gala awards show will air on Much Music on Sept. 26 at 9 p.m. EST.
The Polaris Prize recognizes excellence in the Canadian recording industry by singling out one album based on artistic integrity rather than sales, affiliations or genre.
        
"It's nice to be recognized and honoured, of course," says Dekker of the nomination in an interview aboard the Fair Jeanne during a break in filming the band's newest video.
        
He wrote the track River's Edge on Lost Channels when he was recording tracks on the album here last year.
   
"I'm constantly writing," he says. "When you write a song, you're never sure where it's going to go or how it's going to affect someone."
        
Dekker counts Hank Williams, Joni Mitchell and Leonard Cohen as some of his biggest musical influences. Dekker attended two of Cohen's concerts in the past year.

"He's a great guiding light in music as a Canadian and a songwriter," he said.        
Great Lake Swimmers recorded tracks from Lost Channels in the Thousand Islands last fall, including Dark Island's Singer Castle, St. Brendan's Catholic Church in Rockport and the Brockville Arts Centre.        

The band named its fourth album after the Lost Channel in the Thousand Islands and returned from a European tour to stage a free concert in Brockville – the City of the 1,000 Islands – in June. The Lost Channel is an area of the river under the Canadian span of the Thousand Islands Bridge where a naval boat with 14 men vanished in 1760.        

Great Lake Swimmers connected to the area through Thousand Islands photographer Ian Coristine, who suggested their ambient folk music might find a natural backdrop in the region known for its fabled castles, cottages and more than 1,800 islands dotting the St. Lawrence River.       

It's not a tough sell. "Having a day's journey on a tall ship just seemed like a natural thing to do," said the band's general manager Phil Klygo of the shoot that involved a sail from Brockville to Dark Island and Rockport and back.
"It makes perfect sense. This story still seems as if it's still being written. That's part of the fun of it all and the adventure."        

"It was awesome," said drummer Greg Millson. "It was one of the coolest days I've had in a long time. Absolutely beautiful."        

"I didn't even know the Thousand Islands were where they are," said the Winnipeg native. "I had no idea there were castles here."        
   
Industrialists used to be considered the region's rock stars. The area was a playground for wealthy business barons who built castles and elaborate summer retreats in the late 1800s and early 1900s during the area's Golden Age.        
   
Frederick Bourne president of the Singer Sewing Machine Company, built Singer Castle on Dark Island in 1904. Now owned by Vladi Private Islands and operated by Dark Island Tours, it is open to the public for tours and weddings between May and October.         
   
George C. Boldt, proprietor of New York's Waldorf-Astoria, built Boldt Castle for his wife Louise but halted construction in 1904 when she suddenly passed away. The never-lived-in castle on Heart Island – now being refurbished – is a major tourist destination.        
   
The Great Lake Swimmers' music video will put a spotlight on the Thousand Islands. As the Fair Jeanne sails past the Brock Isles back towards Brockville, the band prepares for their next journey: a U.S. tour including concerts in New York City and Los Angeles in an ongoing musical voyage that will bring it back to the St. Lawrence River.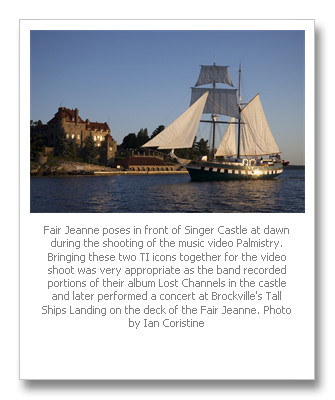 By Kim Lunman, kimlunman@thousandislandslife.com
Kim Lunman is a member of our TI Life team.  An award-winning Canadian journalist who lives in her hometown of Brockville,  Kim has written a number of articles for our online magazine and several have covered visits by the Great Lakes Swimmer.  The first was in October 2008, and that was followed by Navigating Lost Channels in June 2009 .  These articles were followed by Ian Coristine's tribute to the band written in May, 2009 with Masts Motors and Music.  
Kim spent many hours this summer on the River meeting islanders, river captains and even Admirals.  Over the winter we will meet many of them.