Photographs by Andy King
Written by
Andrew B. King
posted on December 12, 2009 22:21
Last year we discovered the photography of Andrew B King, (January 2009) who lives on Black Duck Island (Admiralty Islands) in the summer and Ann Arbor Michigan in the winter. We asked Andy for some new photographs for our December issue. Enjoy.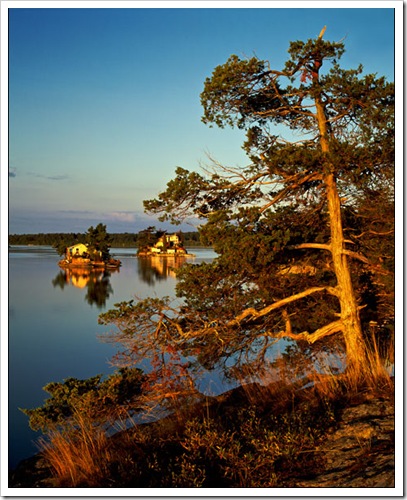 Beaurivage Sunrise
Pentax 67II 75mm 2.8 lens at F22. Velvia 50.
Copyright (c) 2006 Andrew B. King. All rights reserved.
http://landscapephotography.com/
There is this old tree on Beaurivage Island that lights up just after sunrise. The islands to the east of it form a
rounded "V" so at a certain time of the year the sunrise breaks through earlier in the morning to hit this weathered
sentinel. I've been going back to this spot for the past few years, taking this shot at different times and seasons.
This shot captures what I had in mind. I finally found a calm day with the right light. Taken in May of 2006 at dawn.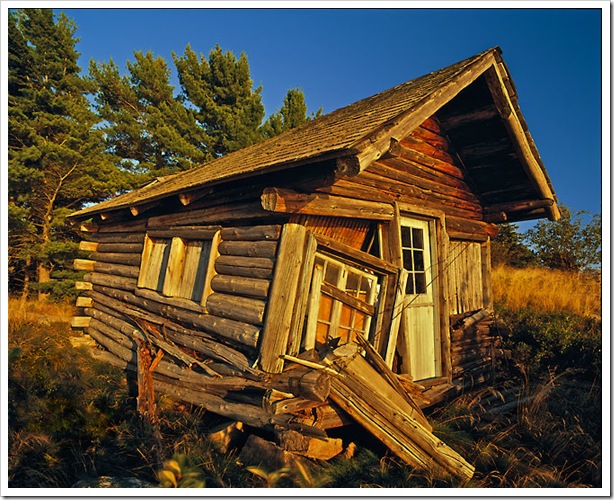 Island Cabin
Pentax 67II, 45mm lens, F22, polarizer, Velvia 50. Near sunset.
Copyright (c) 2009 Andrew B. King. All rights reserved.
http://landscapephotography.com/
Just before sunset the light hits this old cabin on an island near Gananoque Ontario. The island has some great subjects for photography. One of my favorites is this ancient broken down cabin. It has been there ever since I remember, so must be at least 50-60 years old, and it looks 100. The owners have tried to fight entropy by fixing a cable diagonally, but the cabin is slowly falling apart. The wood has taken on a wonderful golden patina, and the late afternoon sun makes the wood glow even more. Taken in September of 2009.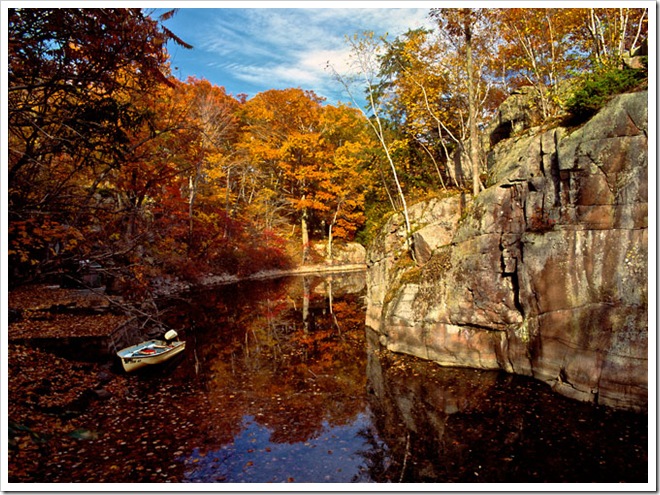 Half Moon Bay Fall
Pentax 67II 45mm/4 @F16. Velvia 50, polarizer. October 1992.
Copyright (c) 1992 Andrew B. King. All rights reserved.
http://landscapephotography.com/
One of my favorite subjects is Half Moon Bay on Bostwick Island. A short distance from Black Duck Island, Half Moon Bay still has vesper services on summer weekends, and is a popular place for island weddings. We sometimes row our old skiff over for services, and it always causes a stir. In the fall, the trees turn and reflect in this sheltered spot. You can tie your boat up (after putting the engine up, it gets shallow in the Fall!) and walk around to a cliff overlooking the bay. Taken halfway up the cliff overlooking Half Moon Bay on Bostwick Island near Gananoque, Ontario.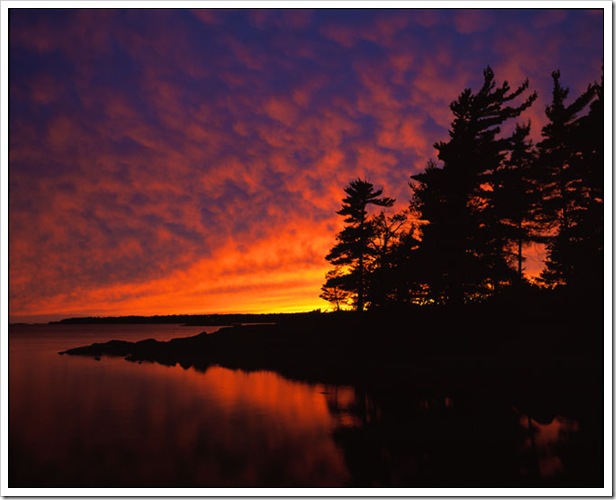 Black Duck Sunset
Pentax 67II 55mm/4 lens at F16. Velvia 50. September 15, 2001.
Copyright (c) 2001 Andrew B. King. All rights reserved.
http://landscapephotography.com/
Sunset over Blueberry Point taken from Pumphouse Point on Black Duck Island near Gananoque, Ontario.
One of my favorite spots for sunsets is just a short walk from the front porch of our cottage. Whenever the light
seems right I grab my tripod and head out to capture the fading light. I like to silhouette the wind blown trees. Over the years I've found that the best sunsets seem to come in September, when the air is clear and the sun sets
farther south in the sky.
Fall Aerial near 1000 Islands Bridge
Copyright (c) 2000 Andrew B. King. All rights reserved. October 2000.
http://landscapephotography.com/
On clear calm days in mid-October, I like to take aerial photographs of the islands. The Kingston Flying Club provides the platform, and a Kenyon Gyro Stabilizer provides the stability. This shot of the Thousand Islands bridge was taken in the afternoon to side-light the islands. You can also get some nice shots without renting a plane, by going up the 1000 Islands SkyDeck on Hill Island.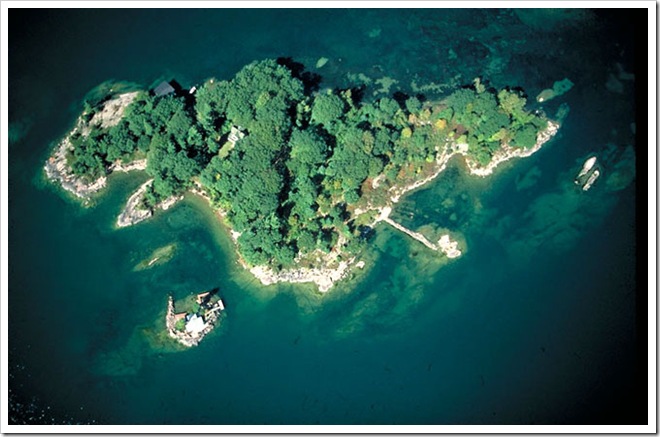 Black Duck Island, Admiralty Islands
Copyright (c) 2000 Andrew B. King. All rights reserved. August 2000.
http://landscapephotography.com/
This is shot from directly above our island, Black Duck, from a Cessna 172. In addition to the boathouse and the old cottage, you can see pumphouse point where I took the sunset shot above. Pumphouse point is directly in front of the cottage. What I like about this shot is that you can see the rocks and shoals below the water and the cribs from the old boathouse on the right (east) side.
Andrew B. King inherited the photography bug from his father, John C. King. Like his father, Andy enjoys taking landscapes and aerial photographs hanging out of small aircraft.

His first SLR was a Nikon FE2 with an assortment of lenses (35mm). His favorite lens for the Nikon was a 55mm macro lens, to take close up shots. During college he traded in his Nikon and upgraded to a Pentax 6x7 medium format camera (6x7cm). The Pentax 67 is a great tool for landscape photography and aerials, as it keeps the film plane flat, and handles like a big 35mm camera. He has been shooting medium format ever since (nearly 30 years).

Andy visits national parks in the US and Canada every year, hiking with his photo equipment to take landscapes. His favorite park is Yosemite, which he has been to a number of times in different seasons. He uses slow slide film (Velvia 50 and 100) and gives slide shows with old 6x9 slide projectors. He has been scanning his transparencies for printing, and has no immediate plans to go digital. He has sold some of his photographs, and is starting a photography business with his partner.

Andy resides in Ann Arbor, Michigan and is President of Websiteoptimization.com a web site optimization firm. He is the author of two books, including Website Optimization: Speed, Search Engine & Conversion Rate Secrets from O'Reilly. His photographic website: http://landscapephotography.com.
Comments
Comment by: Kathy Kempson ( )
Left at: 10:31 AM Wednesday, December 16, 2009
---
Wonderful photographs! I especially love the cabin. It has so much character. I always feel a sense of loss when a tried and true landmark "disappears" from the landscape. Old docks, shelters and boathouses dot the islands. For me, they offer hints of history, time and hardiness of the islands and it's people. Thanks for sharing these. They are all terrific and a joy to look at.
Comment by: Bob Peyser ( )
Left at: 3:10 PM Wednesday, December 16, 2009
---
I've had the pleasure of seeing a large print of that cabin photograph in person and it is splendid! Andy sure has an eye for the beauty of our world. Keep up the good work.
Comment by: Andy King ( )
Left at: 3:40 PM Wednesday, December 16, 2009
---
Kathy and Bob,
Thanks for your kind comments. The cabin is my favorite as well, I love the way it lights up in the afternoon. The thing keeps hanging in there, and refuses to die, it has such character in the wood. BTW, the first shot of the sunrise on Beaurivage I mentioned in the comments of the previous article that Susan published. I keep going back to that spot and have seen it in all kinds of weather. Fog, fall, spring, sunset/sunrise. I think it would be interesting to do a time study and show the same spot in different seasons. Getting there in winter would be a challenge though :)
Comment by: Patty Mondore ( )
Left at: 3:51 PM Thursday, December 17, 2009
---
Oooow!! Ahhhhh!!! GREAT pictures!! I especially loved seeing Half Moon Bay in the fall. Breathtaking!! Not to mention (actually, I AM mentioning it), all the wonderful memories it brought back. We spent several summers on Binacle Island right across from Beaurivage, and our Sunday evenings in the Bay. Thanks for the treat!
Patty
Comment by: Marnie Wright ( )
Left at: 4:48 PM Friday, August 20, 2010
---
My mother was born in Gananoque in 1906. She spoke often of camping on an island, Black Duck I believe. She spoke of some Indian artifacts, perhaps grinding wheels, that they would play on. Or perhaps they were earthen formations. I cannot remember clearly any more. Also she spoke of wild ducks. Her mother would create temporary pens so that they could eat the duck eggs. Do you know of any earthen formations or would they have been destroyed by know. She would have camped there 100 years ago. Your pictures were a joy! This is what my mother and her siblings and my grandparents would have seen. The Sunset is AWESOME! Thank you.
Comment by: Andy King ( )
Left at: 8:32 AM Saturday, August 21, 2010
---
Marnie,
So great to hear from you and the story about your mother camping out on our island. There are artifacts that I've run across, and my parents have, I recall some melted dishes from the old house that burned down, and a cannon ball. I haven't heard about the grinding wheels, will ask the parents (we are at the island now).
BTW, based on the pictures that Susie and Ian have published for me on this site, I've been invited to show some of these pictures as prints at the Firehall Theatre in Gananoque, Ontario. The show, "Up the River" features local artists and a play. It is open to the public from August 25 - September 4, 2010 from 10am to 4pm. So if you'd like to see some of these shots as larger prints, this is your opportunity. Hope to see you there.
- Andy
Comment by: Shawn Spencer ( )
Left at: 6:08 PM Monday, July 9, 2012
---
These are some really amazing photos. I'm looking for inspiration because I'm thinking about starting a photography business. If I could get this good, I think I could really do something with it.
http://blog.pamelarobertsphotography.com
Comment by: Marnie Wright
Left at: 9:50 PM Tuesday, May 19, 2015
---
Did you ever speak to your parents regarding the grinding wheels or depressions? I don't know that they were Indian grinding wheels but the way Mom described them that is what it sounded like. Is Black Duck close to Gananoque? Rowing distance?
Comment by: Andy King
Left at: 9:45 AM Wednesday, May 20, 2015
---
Marnie,
Hi, my mother doesn't remember anything about the grinding wheels or depressions. Black Duck island is close to Gananoque, about a 10 minute boat ride from the dock. Yes, you can row it, it would take a while. I wouldn't do it in a strong wind though.
Comment by: Robyn Ableson
Left at: 8:47 AM Saturday, September 24, 2016
---
Andy,
I'm on the board for Half Moon Bay and was wondering if we might have permission to use your fall photo of Half Moon Bay on our Face Book Page?
Thanks,
Robyn
Comment by: Harry Contois
Left at: 12:04 PM Saturday, June 24, 2017
---
Daughter resides in Brockville Was on an island Bkfst tour of island where hope to build Pavillion. Encountered a "duck" defending a nest. It was possibly slate grey with white underwings and shoulders, also with "rose or pinkish orange head" Wants to know what species. When it flew about displayed spiked crest and quacked though oddly, longish flat bill like a duck