Note:  See the complementary Article about Frank H. Taylor in this issue: Nancy L. Gustke's "The Special Artist"
Frank H. Taylor first came to the Thousand Islands in the summer of 1881 at the age of thirty five. He was born in Rochester, N. Y. but, early on, moved to Philadelphia where he spent the rest of his life until he passed away in 1927.
Almost all written material on Frank H. Taylor has to do with his life and accomplishments while living in Philadelphia. This article will not repeat that information but deal with his time at the Thousand Islands.
He was a man of many talents, nationally recognized as an author, illustrator, artist [watercolors], a photographer and designer with a keen interest in architecture. His works appear in many museums and libraries and are valued as a window into the past.
Frank H. Taylor soon built his summer home at the foot of Round Island and named it "Shady Ledge." He had a strong attachment to Round Island,  [Shady Ledge illustration to the right] including it in much of his work.
NOTE:   All illustrations are from the collection of Robert and Prudence Matthews, Fisher's Landing, NY.
Taylor's first Thousand Islands project was a full page collage illustrating various river scenes including cottages on Round Island. If you're fortunate enough to view this page in the August 13, 1881 issue of Harper's Weekly, you will notice that at least two cottages have experienced little change to their outward appearance and are still recognizable after almost one hundred and thirty years.
The 1884 book (Glimpses of St. Lawrence Summer Life), pictured at the left, was written and illustrated by Frank H. Taylor. Thirty of the one hundred and ten pages were devoted to the Thousand Islands and contain some very interesting information pertaining to that era. The cover and the  illustrations below from the book are early examples of his art work.
Two years later, Taylor wrote and illustrated the boat catalogue shown below.
It's obvious that he was one of the rare illustrators who could also write and design. Before photography became prevalent, a person who possessed these three skills was referred to as a "special artist." Newspapers could assign one person to do a job of three which was both cost saving and efficient.
In 1892 Frank H. Taylor designed, authored and illustrated the first Thousand Island "four track series" [shown left] for the New York Central and Hudson River Railroad [NYC&HRRR]. In 1893, the first "official" Thousand Island four track series, numbered "10," would be published. The NYC&HRRR would eventually have thirty five different four track series but to be number 10 indicates the great popularity of the Thousand Islands at that time. Notice that in the lower right hand corner is a blue stamp with the agent's name, located in London, England. The Thousand Islands was an international summer destination.
The pen and ink illustration below (The Critical Moment) appeared in the 1892 Thousand Islands four track series shown above on the left. It is signed "F. H. Taylor" in the lower right hand corner.
The next year, Taylor completed Estes Standard Guide to the Thousand Islands. Guide books were very uncommon at that time as hotels, railroads, and steamship companies all published their own marketing pamphlets which, for all practical purposes, were also guide books. These pamphlets also promoted each others services as, what benefited one, benefited all. Therefore there was little need for a "pure" guide book.
Frank H. Taylor's last year at the Thousand Islands may have been 1901. In 1895 he was listed as a member of the Thousand Island Club. Why is this relevant? Because the Thousand Island Club changed its name to the Thousand Islands Yacht Club in 1898 but Taylor's name did not appear on the 1903 membership roster. One of his last known work is the 1901, sixty four page booklet shown at the right. The cover is a great example of Frank H. Taylor's talent as an artist and designer.
Also attributed to 1901, are the two Frank H. Taylor's illustrations shown below. These appeared in the Thousand Island St. Lawrence River Steamboat Companies Limited pamphlet of 1901.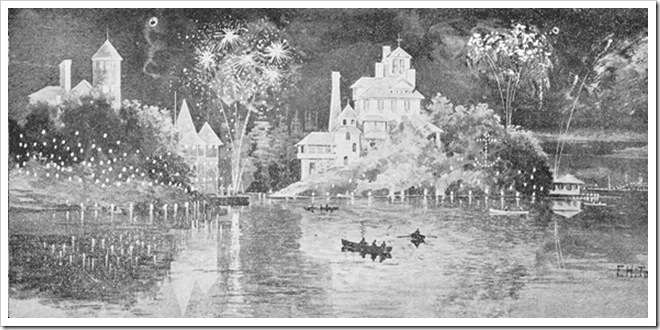 Illuminations Opposite Alexandria Bay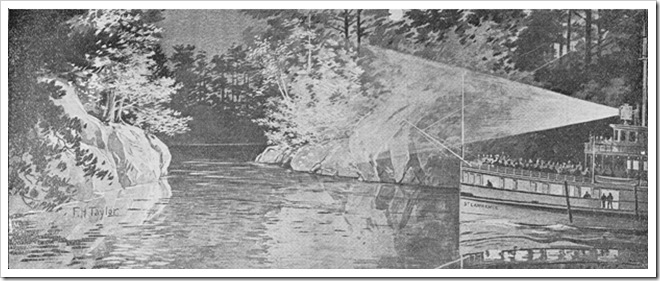 Scene on Electric Searchlight Trip
By Robert L. Matthews
Robert L. Matthews (Bob) was introduced to the Thousand Islands when he married his wife Prudence (Hooked on Prudence).   It wasn't long before they realized that they were both collectors and after many false starts settled on hunting for Thousand Island memorabilia.  For the past eight seasons the Matthews generously loaned their collection to the Antique Boat Museum.  Bob is the author of two popular books:  Glimpses of St. Lawrence Summer Life: Souvenirs from the Thousand Islands: Robert and Prudence Matthews Collection, and in 2009 he published A History of the Thousand Islands Yacht Club.  The Matthews have one daughter, two sons and five grandchildren. When not at their beautiful River cottage at Fisher's Landing, they live in St. Petersburg, Florida.